Checking in with the Football Team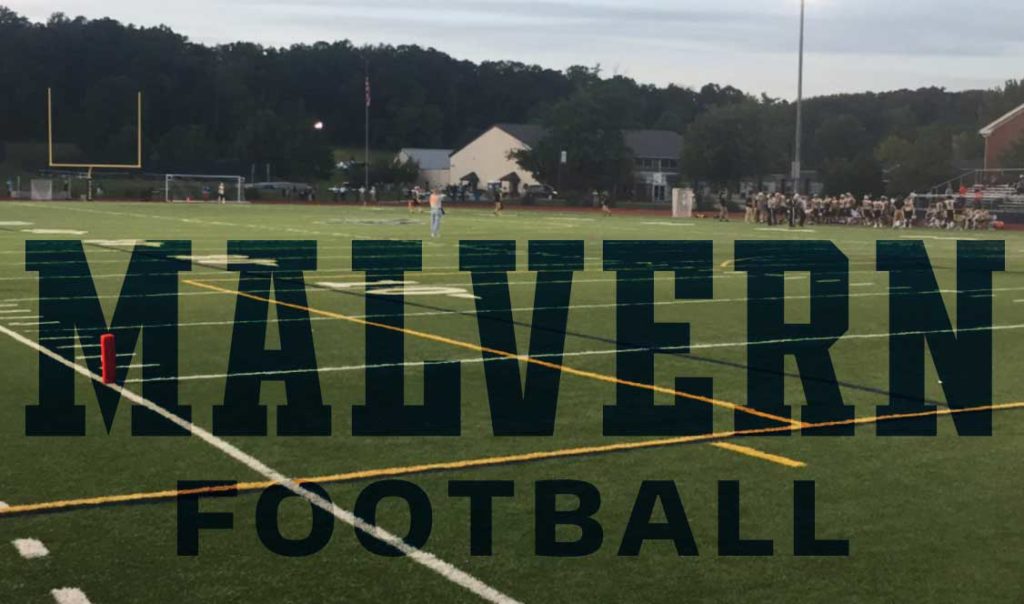 Kyle Leonard
September 27, 2017
The Malvern football team sits at 1-3 to start the year and looks to bounce back after some hard fought losses to tough opponents.
To start the year, Malvern, led by head coach Dave Gueriera, thrashed St. Augustine Prep 27-7, and then lost their next three games to LaSalle, Pope John Paul XXIII, and McDonough by scores of 45-21, 27-10, and 27-9, respectively.
Despite the losses, Gueriera saw a lot of positives from each of their games.  In the Lasalle game, he saw a lot of good things, but singled out the areas of improvement for the team.
"I think we saw some positives in the LaSalle game. I thought offensively we moved the ball pretty well against a good defense," Gueriera said. "We sputtered in the second half, which ultimately, I think, cost us the game. Defensively, we didn't play as well in that game as I'd like us to."
In the Pope John XXIII game, Gueriera and the team learned a valuable lesson going forward.
"We improved tremendously in the Pope John game, but offensively we kind of took a step back. Take nothing away from Pope John. They're a good team," Gueriera said. "Going forward, I think we learned we have to eliminate simple, mental mistakes. We are a very good team.  I tell them all the time: the only team that can stop us is ourselves."
Malvern lost possibly its toughest game of the year 27-9 on Friday, Sept. 22, a home game vs McDonogh (MD).  According to Maxpreps.com, McDonogh is ranked as the 27th best team in the nation.  
To get ready for the upcoming tests, senior and offensive lineman Joe Basiura said that the team's preparation has been intense.
"We're just going as hard as possible. We're simulating each practice like it's the game. I can tell you that it's been hard, and everyone's getting really serious," Basiura said.
A tough schedule like this, according to Gueriera, will put Malvern in a great position to play the Inter-Ac teams, starting on October 14 against William Penn Charter.
"I think we're going to be really battle tested. When we go into the Inter-Ac, it's going to be tough sledding, but these first five games we've caught really good teams," Gueriera said. "No excuse for us: I think we should've won both of them. That being said, I do think we're going to be ready and we're going to be hungry."