Malvern's Fall Teams Go Pink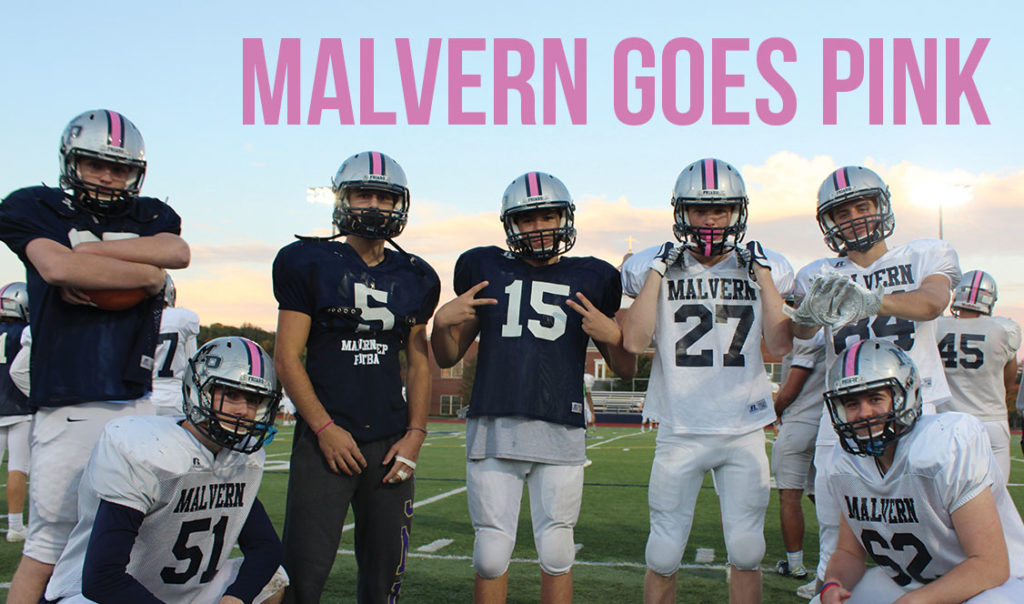 Sean Oates
November 4, 2017
This October, Malvern student-athletes have been showing their support of Breast Cancer Awareness Month with pink uniforms and equipment. 
Each of the past few years in October, NFL players and teams have caught the eyes of viewers by accessorizing their uniforms and equipment with pink accents in support of BCA Month.
This month, Malvern athletes have been seen joining in on the pink movement.
In 2009, the NFL launched their "Crucial Catch" campaign. Every game played in the month of October was to feature players, coaches, and referees wearing pink with their uniforms, pink ribbons painted on the fields, and other flashes of pink in stadiums and other merchandise.
At Malvern, the impact of the campaign can be seen on the field. Malvern's soccer and football teams have embraced the BCA movement this October, wearing special pink jerseys and equipment like gloves and sleeves for gameday.
The soccer team has been showing their support in their October games, wearing uniforms with "Malvern" written across the front chest in pink, as well as a small pink ribbon on the back.
"We have sick long sleeve jerseys this year," senior soccer player Phil Kramer said. "They are grey and pink, and they are really awesome."
In addition to the jerseys, the players have been wearing pink socks, sweatbands, and athletic tape. The recent home soccer games against The Haverford School and Episcopal Academy have drawn large student sections this year, and the team has taken notice of this.
"I know Friar Nation has seen us wearing them at our recent home games, and hopefully we will keep wearing them for the next couple of games," Kramer said.
Kramer also mentioned that fellow senior Mike Castaldi and assistant coach Kieran Kielan were the two who were responsible for acquiring the team's pink apparel.
Malvern's other fall squad bringing pink onto the field with them is the football team. Players all have a pink stripe running along the center of their helmets between strips of blue. While the team does not receive special BCA jerseys like the soccer team, football players accent their gameday apparel with smaller pieces of pink equipment. Players have pink mouthguards, towels, gloves, socks, tape, and sweatbands.
"We throw a lot of pink on. We like to show a lot of support," senior football player Dom Massimo said. "Everyone has got pink socks, mostly. A lot of people also have pink sweatbands. I pulled out the pink tape last game."
Since the team does not provide custom game uniforms, it is on the players themselves to show their support. From what can be seen from the stands, they have been doing a good job of this, as every player has some sort of pink touch on their attire.
"We all do it as individuals. We all buy it ourselves," Massimo said.
Malvern's support of pink has not been limited to the fields, however. Leaders of Friar Nation advertised a pink student section theme for the Saturday afternoon Homecoming games this year. Students filled the stands wearing pink, matching their peers competing on the fields below.