Frankenheimer prepares lacrosse team for season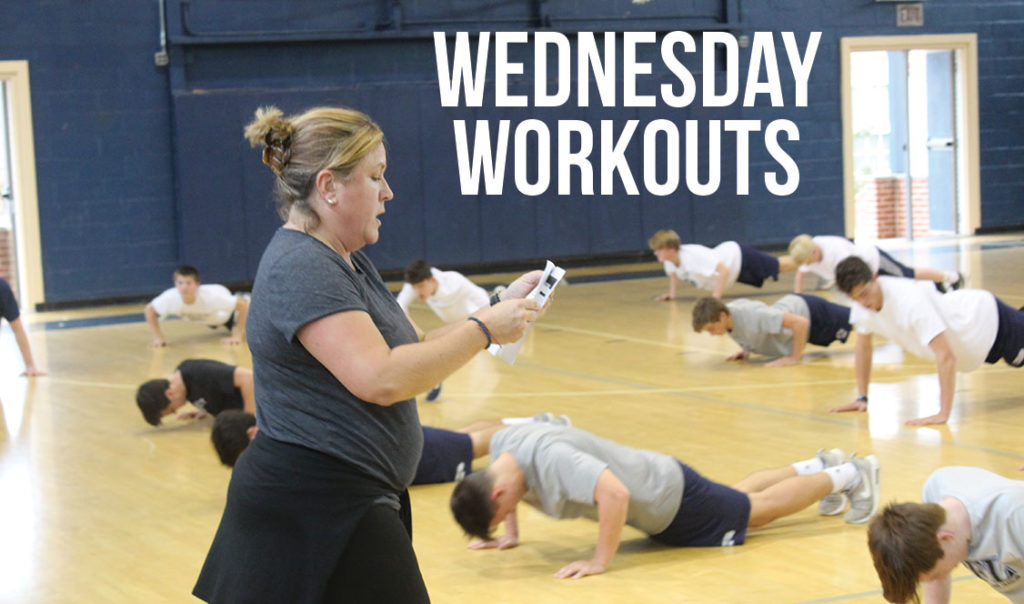 Kevin Boyle
November 7, 2017
The intense workouts get the team ready to face off in the early spring.
Wednesday workouts are not the lacrosse team's traditional weight training. When the weight room is closed, the team goes over to Dougherty Hall's gym to perform high intensity workouts.
Athletics Administrative Assistant Mrs. Mary Fran Frankenheimer has a group fitness certification, and has been leading the Wednesday workouts for the lacrosse team. She teaches group fitness classes in the area.
"I'm a certified GRIT trainer which is a small group workout class type thing, bodypump and body combat," Frankenheimer said.  "I got into all of this when I graduated from college and I had stopped playing a varsity sport."
Due to lack of equipment, the workouts mainly consist of body weight resistance, speed and agility training
"With these guys I do more bodyweight resistance," Frankenheimer said. "More speed and agility work because I have a bigger group so I don't always have enough equipment to give everybody, and I try to make the workout different every single time."
Senior lacrosse player Matt Hilburn said that these workouts prepare him for the last second in a game where you need to push and give that final effort.
"I feel it's better in that way so I can just dig deep and give it all I got for those 30 seconds," Hilburn said. "I know that I don't have to run constantly and I'm not going to finish for a while."
Senior lacrosse player Sam Sweeney said that the Wednesday workouts are a lot faster paced than their traditional lifts.
"Lifting, you can get bigger and bigger," Sweeney said. "This one cuts you down and makes you faster I guess, so we'll be ready for the season."
Short breaks keep the workouts up-tempo.
"I feel Mrs. Frankenheimer really focuses on pushing yourself as hard as you can for a short amount of time," Hilburn said. "Then you have a very short break then you have to get right back into it."
The workouts aren't just about improving your body physically.
"I think building trust and building a relationship so that they're willing to give me 100 percent because they trust me and my goal is to make them better," Frankenheimer said.
Taking these movements from the training sessions to the practice field helps the players.
"[Head Coach] Mr. [John] McEvoy asked me to do it another day a week," Frankenheimer said. "I feel like that's good sign that the kids are receptive, it works. And a coach's big thing is mental toughness so I feel like that transitions to a game very well."
Frankenheimer's workouts are not the only type of conditioning done by the lacrosse team.
"I think the workouts are going to prepare us well for quickness and speed because your overall core strength will help that," Hilburn said. "We sometimes have runs with McEvoy which will help us with endurance and everything like that."
Frankenheimer enjoys the friendships she has developed through working out the team.
"I have been a teacher my whole professional career and a coach, and working at Malvern I didn't have that component," Frankenheimer said. "Last year working with the kids has made me be able to to build those relationships again which is what puts you into the educational career in the first place."