My Day With Fr. Reilly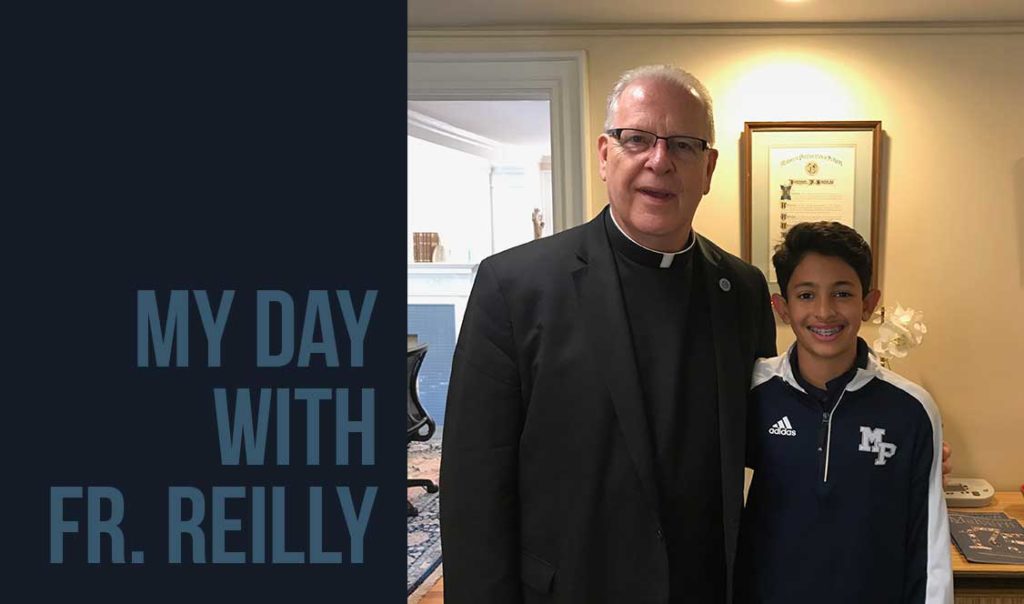 Cole Cherian
November 3, 2017
I spent a day shadowing Malvern's new Head of School, Fr. Don Reilly.
Last month, I had the opportunity to spend the day with Malvern Prep's new Head of School, Fr. Don Reilly. During the day, we went to a meeting, went to my classes, and had a chance to engage with other middle schoolers in the ModSpace.
The day started off in Fr. Reilly's office in Austin Hall. Fr. Reilly and I discussed my day to day life at Malvern, such as my favorite class, the time I arrived at school, and my experience at Malvern since sixth grade.
We also talked about his experience so far at Malvern. He talked about how he goes to Mass every morning with the other Augustinian Friars, how he looks forward to getting to know the student body at Malvern, and how he saw something special in Malvern—the sense of brotherhood among the students.
We then went to an alumni board meeting. Walking into the meeting, I was very intimidated, so I just listened to the conversation. Fr. Reilly discussed the state-of-the-art pedagogy Malvern is using throughout the middle school and some of the high school—project based learning.
As a lifer at Malvern, I am quite familiar with project based learning. Since I started attending Malvern in the sixth grade, I have had an "academy" of teachers that worked together to create engaging and interesting curriculums that weren't based on memorization or practice book pages, but building prototypes and research.
When one alumnus asked a question about what types of projects the students are doing, Fr. Reilly asked me to answer it. I told him that while my friends at my old school were memorizing the parts of a plant cell, I was creating an indoor LED grow box for carrots. I explained that as eleven-year-olds, my classmates and I had contacted a scientist from Finland who had done extensive research and studies on the topic we were doing a project on, and had a conversation with her.
Fr. Reilly was impressed with my answer, and pointed out that it was because of Malvern's innovative teaching method that I was able to answer a question in a board room full of adults who were much older than me.
After the meeting, we went to my music class. We had been learning about the different eras of classical music. We had memorized nine different compositions by classical composers. We had learned facts about the major composers of each era. We had also learned about program music.
Fr. Reilly was very impressed with the musical education the students are receiving at such a young age. He also participated in the class, and could name a handful of the songs we had memorized.
We then went to Community Time in the ModSpace, and Fr. Reilly got a chance to meet the other students in the middle school. During that time, Fr. Reilly talked to some of my classmates and me about what projects we were working on and what we liked about Malvern. Fr. Reilly then went around the ModSpace and greeted almost every single student in the building.
We then went to my Spanish class, where my group and I analyzed the data we received from the survey we took on social media use in the Malvern community. We translated the data into Spanish and created graphs and a presentation to share with our classes about our findings.
Fr. Reilly was astonished that we had such proficiency in the Spanish language that we were able to use real world data and give a presentation on it in the language.
As the day ended, I went home with some conclusions. Fr. Reilly is a leader who "walks the talk." He tries to act like Saint Augustine would have. Just like Augustine, Fr. Reilly believes in co-learning. He realizes that we students can learn a lot from him, and he can learn from us. Just like Augustine, he acts with truth, unity, and love. He made an effort to talk to almost all of the students in the ModSpace during Community Time, which is very impressive.
Overall, I learned that Fr. Reilly genuinely cares about Malvern and the community that surrounds it.