Smartphone overuse takes toll on teens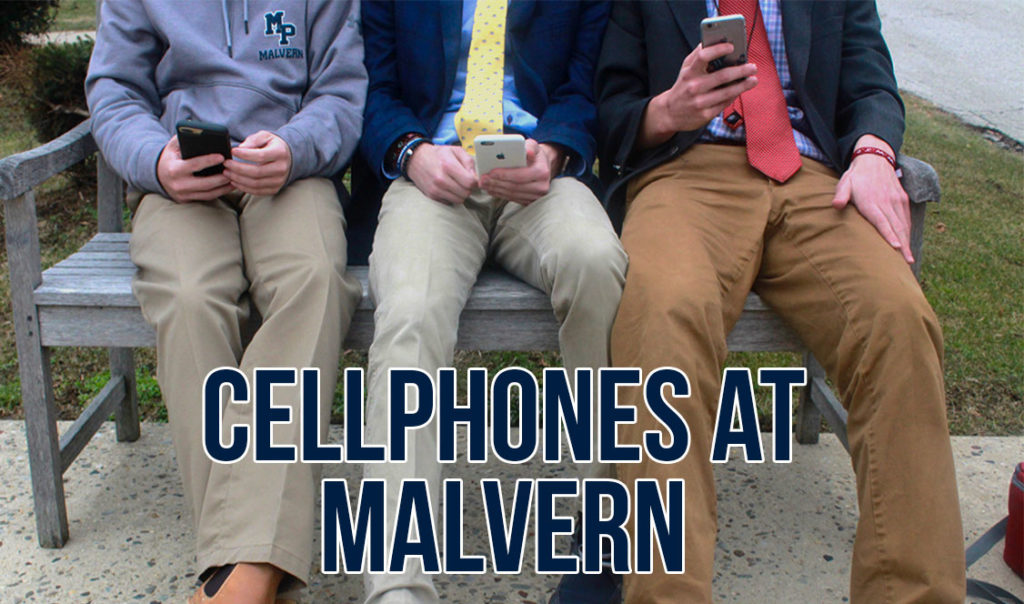 Gavin Canzanese
January 31, 2018
An addiction to phones is significantly affecting our mental health. Malvern may take steps to break the habit.
On January 9, 2007, Steve Jobs presented the iPhone for the first time. It combined the revolutionary touchscreen, internet capabilities, and of course had normal phone capabilities such as texting and calling.  Since that day, the iPhone and its competitors have advanced in such a way never thought possible at the time.
According to the Pew Research Center, 95% of Americans now own a cellphone. 94% of teens in America use their mobile devices to go online daily or more often.
At Malvern, these statistics are even higher: 100% of students in the freshman class report owning a smartphone, and over 57% of Upper School students surveyed report using their phones for two or more hours each school day.
Malvern's student handbook policy on phones permits students to have a cell phone on campus, but not to disrupt any academic classes with their phone use. According to Dean of Students Mr. Tim Dougherty, the Upper School phone policy varies from classroom to classroom, mostly at the discretion of the teacher.
Dougherty worries about the effects of smartphones on Malvern's students. "You'll hear me in the hallways—stop staring at your phone, it's stealing your soul. Talk to someone," he said. "I think they are getting to be a distraction."
Dougherty is concerned about academic integrity when it comes to smartphones in classes. "Kids who are taking a test, it's almost training now: You get a text, you reach into your pocket, not looking for an answer, but for someone's text," he said.
Others outside of Malvern are also concerned, and with good reason. In September 2017, The Atlantic reported that "teens who spend more than average on screen activities are more likely to be unhappy. Significant effects on both mental health and sleep time appear after two or more hours a day on electronic devices."
"There's not a single exception," author Jean M. Twenge said, citing results first reported in the national survey "Monitoring the Future," funded by the National Institute on Drug Abuse. "All screen activities are linked to less happiness, and all non screen activities are linked to more happiness," the survey stated.
The survey also provided input on the effects of social media. "Eighth graders who spend 10 or more hours a week on social media are 56% more likely to say they're unhappy than those who devote less time to social media. Teens who spend three hours a day or more on electronic devices are 35% more likely to have a risk factor for suicide, such as making a suicide plan," the survey said.
According to Dougherty, some changes may be ahead for how Malvern handles phone use during the school day. Malvern's middle school has already adapted the phone policy in the student handbook to a stricter version: students must ask their teachers to use their phones at any point during the school day, and can be written up for a phone violation if they have not done so.
Dougherty cited a recent NPR report about some schools that ask students to lock their phones in a pouch at the start of the school day. Those pouches, developed by the company Yondr, lock your phone in the pouch and do not allow you to unlock this case without a specific unlocking base.
Over 60% of Malvern students surveyed report that they are not as focused in classes if they are using their phones. 42% of Malvern students surveyed agreed that smartphones should not be used in class.
Junior AJ Wirtel thinks that students should be able to use their phones in most classes—with a few exceptions.
"You should be able to use your phone. You are responsible for your own performance," he said. "But if you're in a science class or a class with group work, you should not be allowed to, because other students are depending on you."