Plows leaves after 11 years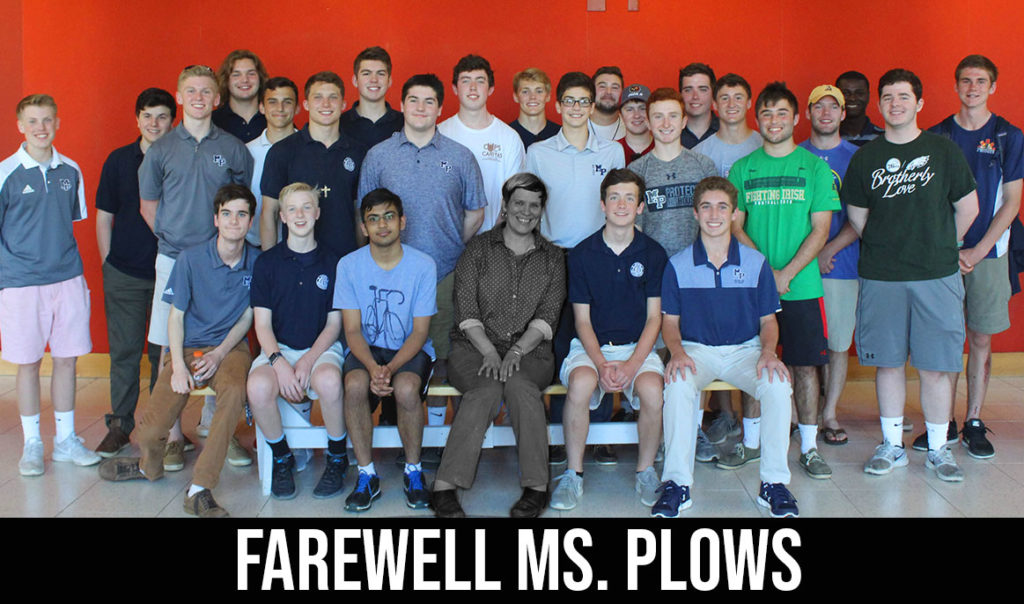 Ms. Kate Plows is moving on from Malvern Prep after this year, leaving huge shoes to fill.
When you walk into Duffy 118—also known as the newspaper homeroom—the first thing you notice is the wall. It displays every issue of The Friar's Lantern (or Blackfriar Chronicle) in chronological order over the past six years.
The second thing you'll notice is probably a blue-haired teacher and adviser, who has most likely been there since well before 7:30 a.m.
Art teacher and Friar's Lantern adviser Ms. Kate Plows came to Malvern originally as a ceramics and eighth grade art teacher. Since then, she has inspired many students to take up the craft.
"I kind of only took ceramics because of other people's recommendations," junior Claudio Chieffo said. "Then I ended up really liking it, and I finally took the chance to take it again as a junior."
Chieffo thinks that it's Plows' teaching methods that have kids excited for her class. "Her patience with teaching all the steps is what really makes her a good teacher. It can get boring and probably get tedious if you are doing it over and over again, but she never gets annoyed with us or anything," Chieffo said.
Plows took over advising for the school newspaper six years ago. At the time, she was a ceramics and graphic design teacher with no previous journalism experience.
[perfectpullquote align="right" bordertop="false" cite="" link="" color="" class="" size=""]
"I graduated Malvern an alumni of two great things: the school and the Friar's Lantern. I am forever thankful to call her a mentor, a teacher, and a friend. Wherever she calls home next is a lucky place."
-Tyler Pizzico '17
[/perfectpullquote]
"When the previous adviser stepped down, I thought the newspaper could be a good way to start showcasing the work of my graphic design students," Plows said. "I really wasn't all that interested in journalism."
English teacher Mr. John Bohannon was the previous adviser. He handed her one Editor-in-Chief and four other students willing to write and design for the newspaper.
"She took a very mediocre publication at best when I had it," Bohannon said, "and has turned it into a nationally recognized and awarded newspaper."
Plows immediately jumped in the role, determined to create something out of the small staff she had. In one of her first issues as an adviser, the 2012 Editor-In-Chief Tom Verdi wrote an editorial claiming why Malvern should not have taken away sugary drinks in the cafeteria.
"It was the first time in a long time that there had been an editorial or a column written at Malvern that was any type of pushback," Plows said.
Plows said that some previous articles published in the newspaper had been written by the communications staff at the school. She noted that Verdi's editorial got a lot of attention because it wasn't all public relations.
"People started picking up the newspaper a little bit more and reading it a little bit more. It just kind of grew from there," she said.
Plows still had no idea that she would eventually be putting nearly as much time into the newspaper as she did into her full-time job.
"The turning point for me with the publication had to be the Fall 2014 JEA Convention I attended in D.C.," Plows said. "I didn't know that there was a world of high school journalism before that convention. I remember riding in the subway full of high school journalists to the convention who were so excited about their papers and what they were doing. That whole convention made me realize that this was a 'thing.'"
At the convention, she was also able to make connections with people outside of the Malvern community who were willing to help in any way. When she returned from the trip, Plows said that she was extremely energized to share all of the new styles and techniques that she learned with the rest of the staff.
"I guess the moral to this particular story is that when you're starting to figure out what it is you care about, look for examples outside of your bubble," she said. "A lot of times there a lot more people who care about that quirky little thing you care about than what you see here."
Plows said the impact of The Friar's Lantern is best measured by the growth of the individuals involved.
"There are alumni now who look back on their work for this newspaper as life-changing for them," Plows said. "For some people, this helped them find their voice. It helped them find what they were good at, what they cared about, and I hope that carries on for a long time."
Former Editor-In-Chief Tyler Pizzico '17 said the newspaper is as great as it is because of Plows.
"I graduated Malvern an alumni of two great things: the school and the Friar's Lantern. I️ am forever thankful to call her a mentor, a teacher, and a friend. Wherever she calls home next is a lucky place," Pizzico said.
Bohannon also sees the self-growth of the students on staff as one of the reasons why the newspaper has become so successful.
"[Ms. Plows] was able to improve the newspaper by enabling students to lead, to discover, and to realize their full potential," he said.
Since Plows became the adviser to the Friar's Lantern, she has won several awards as adviser, including the 2017 Pennsylvania State Journalism Teacher of the Year, 2017 National Journalism Education Association Rising Star, and 2018 Special Recognition Adviser from the Dow Jones News Fund.
In her job as adviser, Plows helps manage students in getting their stories done, reads every single story, helps design and layout the paper, and also helps manage the website. This is all atop of her primary job as an art teacher, teaching five or six classes each semester and running Cups for Caritas.
The ceramics project Cups for Caritas, formerly known as Empty Bowls, raised over $100,000 over the last ten years for Bethesda Project, an organization that helps Philadelphia's homeless.
Many people, including our staff, sometimes wonder how she does it all.
"It's definitely a huge loss for the arts department," Chieffo said. "I love the newspaper, and I think she has one of the biggest roles in that. And then also, [with] ceramics I just think its sad to see her go when good teachers are so hard to come by."

Chieffo took Ceramics I one as a freshman, but made sure to take Ceramics II as a junior "It's definitely sad, if anything," Chieffo said. "Honestly, her charisma makes you want to just keep trying. Even though [class] might be done, you still want to keep going."
For Plows, she does it all because she wants to instill lifelong values into her students. Chieffo has already found values in the form of pottery.
"[She taught] the whole idea that something doesn't have to be or look perfect for it actually be worth something or have value," Chieffo said.

Plows gets the most out of all her hard work when she sees that her students have grown not only as students, but also as young men.
"I think there is something very powerful that happens in learning when people begin to develop the empathy to tell each others' stories. You have to listen very closely, you have to reframe and edit and ask clarifying questions. You have to be selfless in a way," Plows said. "If there is one thing that I want Malvern students to develop more of, it is empathy. You guys are well-positioned to become leaders in our world, but you have to lead with empathy and with an open ear and open heart to get there."
The next time you are on Malvern's campus, look at the wall in Duffy 118. It is pretty remarkable to see the growth the newspaper has experienced in only six years when looking at the front covers of each issue. Underneath the issues from the past two years, you will see a physical representation of the term "hard work pays off."
In the past few years the newspaper has won many awards from national write-off competition winners to national journalist of the year finalists to a gold rating by the Columbia Scholastic Press Association, one of the highest honors in student journalism.
None of these would have been possible without the hard work and incredible dedication from Plows. From all of us and the rest of the students you have impacted during your time at Malvern: Thank you, KP.