Construction comes with growing pains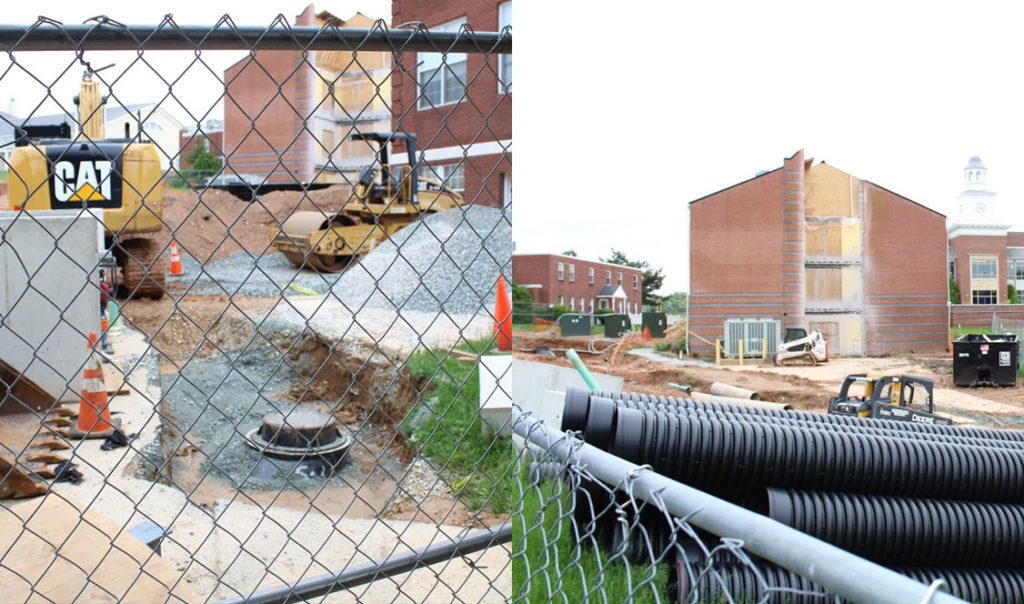 Jack Guardiola
May 29, 2018
As construction on the Center for Social Impact progresses, difficulties regarding health and class logistics arise.
Over the past month, construction workers have been demolishing parts of Carney Hall to make the connection of Carney and Sullivan Halls possible.
"The process is you do all your rough-ins, you get all your electrical roughed-in, get all your sewers and your storm drains. A lot of that stuff is running between Carney and Sullivan," Director of Maintenance Mr. Jeff Kinney said.
In order to connect Carney and Sullivan Halls with the Center for Social Impact, all of "that stuff" must be removed from the ground and moved elsewhere.
After everything is out from under the ground, foundation will be laid for the new building. After that, steel structures will be set up.
"After all the foundation is done, you'll start to see steel structures going up. That'll be by August. Before that, demo work will be done on Sullivan, everything is being gutted," Science Teacher and Eleventh Grade Academy Leader Mr. Kevin Quinn said. "From June 11, it's 100 percent off-limits to all Malvern employees and students, it's a job site."
[perfectpullquote align="left" bordertop="false" cite="" link="" color="" class="" size=""]"It's bittersweet: on one hand we know the spaces we are in right now, we're not going to see them again. It's like moving out of a house. But it's exciting, because we know what's on the other hand of it."
-Mr. Kevin Quinn
[/perfectpullquote]
With progress on the new building, some students might have to find a new place to park their cars in September.
"There will be a larger area disrupted from the construction. There will be a large part of the parking lot, around 50 spaces that'll be taken over by a construction trailer and construction equipment, but we'll still have full access to Carney Hall," Board of Trustee member Mr. Kevin Traynor said. Traynor serves as Chair of Facilities on the Board.
According to Traynor, the campus will have up to 50 construction workers working on and around the building in the 2018-2019 academic year.
"We will be doing all the interior fit out, meaning building the walls, finishes, electrical, mechanical, inside the building," Traynor said.
Kinney has heard some complaints from teachers about classroom fumes and noises over the past few weeks with construction. Math teacher Mr. Kevin Moore began the year in Carney 206. He now teaches in Tolentine 331 because of construction noise.
"A student asked a question, and I couldn't hear him ask the question," he said.
From there, the decision was easy for Moore. It took "about five seconds" to decide to leave Carney.
"My goal is to create the best possible conditions for my students," he said. "I felt that there were areas on campus that could better suit learning at the time."
Since Moore left his original classroom, he has had a more regular teaching experience. However, despite consistency in classrooms, Moore still has had some problems teaching.
"Some of my classes are in the LC, and at times that's as distracting as well, depending on the type of class I have set up," he said. "If I'm trying to instruct, it's challenging, but if students are working in groups, it's productive."  
The problems in Carney  are not limited to noise. Teachers and students have also experienced classroom odors from construction fumes.
School Nurse Mrs. Catherine McGettigan did not know that there might be these issues when construction started.
"In the last few days, teachers have come to me because of the odor that has been occurring in some of the classrooms," she said.
If any health hazards were to come up, then the nurse's office would have to deal with it, according to McGettigan.
"We would work in conjunction with the construction company and Mr. Kinney. That's who we worked with when we felt that the odor was pretty predominant on the lower level," McGettigan said.
With construction ongoing, Malvern ended up taking more precautions to keep classrooms safe.
"We didn't realize the outside air ventilators were on, so all the air that was outside, which was the exhaust, was coming into the classroom," Kinney said. "As soon as we were made aware of it, we turned off the outside air ventilators, and that stopped the problem."
Kinney made sure he was vigilant in taking care of the issue.
"As soon as we were aware of [the fumes], the nurse came down and checked it out, I came down and checked it out, the superintendent came and checked it out, and we shut the job down," Kinney said. "There was nothing going on until we corrected the problem, then we started the job back up."
In addition to turning off the ventilators, the school has solved problems with fumes in another way.
"We have a fan at the end of each hallway which is blowing out into the stairwell, and the stairwell windows are open," Kinney said.
Despite fumes possibly entering the building, Kinney said people should not worry. "As far as a hazard, you would have to have long-term exposure to that."
Sullivan Hall was built in 1951, 38 years before asbestos was made illegal, and 27 years before lead-based products were made illegal.
"When Sullivan was remodeled back in the 1980s, there was some asbestos left in there that was taken care of," Kinney said. "In the day, a lot of pipes were wrapped with asbestos, and all that has been removed."
Kinney says that any residual asbestos would be taken care of by construction.
"Now that we're gutting the whole building in Sullivan, all that will be exposed, and if there is any left, by law, we'll take that out," he said. "If there is any left in Sullivan at this point, we'll have it taken care of while the kids are off campus."
Lead paint will not be a problem either, according to Kinney.
"Every time they do a renovation or remodeling job, by state law we have to have certain inspections done. One of them is for asbestos or lead paint abatement," he said. "For many of these contractors to come on or even to accept this job, there are things that have to be done by the state and there are certain requirements."
[perfectpullquote align="right" bordertop="false" cite="" link="" color="" class="" size=""]"We're trying to stay on the schedule so we can get the school opened next September."
-Mr. Jeff Kinney, Director of Maintenance 
[/perfectpullquote]
Moore understands that these problems are temporary issues with available solutions.
"I think it's a fair thing [for construction] to happen and I believe if we continue to be proactive with planning of where to learn and where to have our classes, we'll be okay," Moore said.
Finding classroom space is being solved by bringing in additional modular classrooms. Students have seen the new modular classrooms as they are being installed on the far side of O'Neill near the lacrosse wall. According to Quinn, these modular spaces, which will contain six classrooms, are intended to hold the science classes that are typically held in Sullivan.
"The students will be able to conduct their science classrooms completely [in the mod spaces]," Traynor said.
In addition to moving classrooms, the Learning Commons will be relocated to the current school store space and area outside of it in Stewart Hall, which will have a domino effect on other facilities.
"The LC is going to get moved, that's going to be where the existing bookstore is. The existing bookstore is going to be where the health room is. The health room is where [Mr. Kurt Ruch] was. And [Ruch] has already moved down to the old building where Jay Schiller used to be in the old equipment room," Kinney said.
In a school-wide meeting on May 23, Assistant Head of School for Academics Mr. Patrick Sillup added that all of Stewart Hall will be open to students for collaborative learning during all periods except third. Sillup also discussed the idea of transforming hallways of Carney into an area of intellectual space, not just a transit area. Possible examples for redesign stated during the meeting included furniture and access to electricity.
For Kinney, opening the CSI for Malvern students on time is his primary goal. "We're trying to stay on the schedule so we can get the school opened next September," he said.
Although the campus may feel some of the strain of a new building on campus, many are hopeful for what is to come.
"It's bittersweet: on one hand we know the spaces we are in right now, we're not going to see them again. It's like moving out of a house. But it's exciting, because we know what's on the other hand of it," Quinn said.
[button link="https://www.malvernprep.org/page/about-us/construction-progress" type="big" newwindow="yes"] See week-by-week progress on the Center for Social Impact here.[/button]