Ms. Metty Vithayathil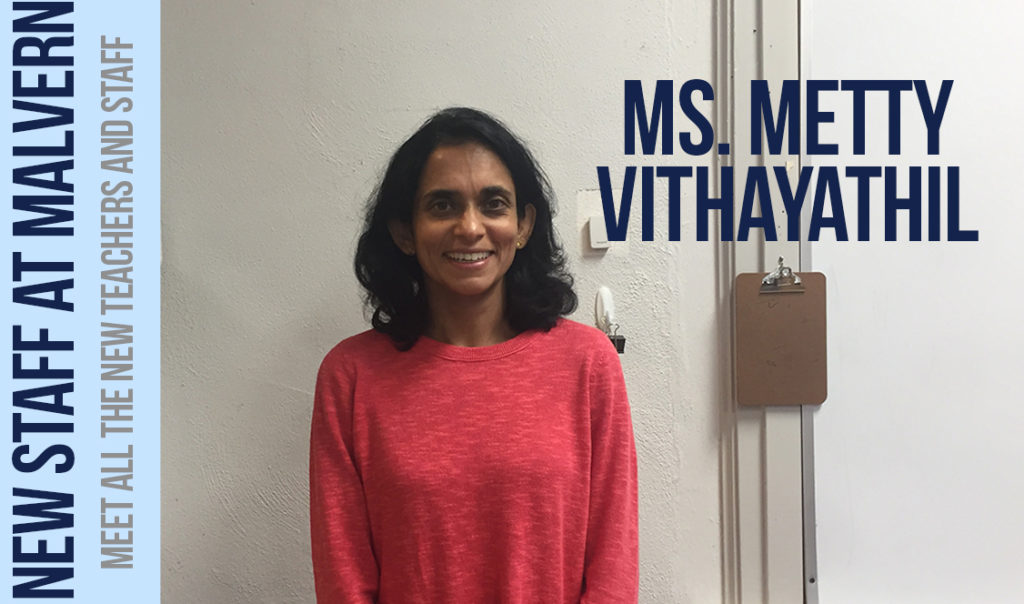 Joe Lister
September 23, 2018
After teaching freshman theology last year, Ms. Metty Vithayathil has made the move to eighth grade English as the next step in her career
Vithayathil hasn't always been a teacher, but she's still comfortable in the classroom.
"I taught law students and graduate students, and I did a teaching fellowship after practicing for a couple of years… working with law students at Villanova," she said.
While Vithayathil has taught theology before, she's taught English in the past. "Teaching students how to write and read closely is what I've mainly done in the classroom," she said.
Although she is currently teaching in the middle school, Vithayathil previously taught in the upper school.
"I think there was a big difference between working with the older students at Malvern and the ninth graders," she said. "I think eighth graders might have the same type of energy in the classroom… it's about finding ways to channel that energy."
However, Vithayathil believes there are some similarities between older students and younger ones.
"Working with students to improve reading, writing, listening and speaking skills, there are a lot of parallels," she said.
Vithayathil is enjoying her new role, including her new co-workers.
"I'm enjoying the faculty I'm working within the Middle School, and I am really enjoying the students that I am getting to meet," she said. "I really like [working with the Eighth Grade Team]. It's a really enthusiastic team, they have a lot of great ideas."
While Vithayathil does enjoy the Eighth Grade team, she enjoys teaching even more.
"[The opportunities are] really in the classroom and exposing the students to literature they haven't read and hopefully they can get excited about; as well as looking forward to working with them on their writing," she said.
Keeping students engaged in the classroom can be difficult, but Vithayathil has a plan to channel student's energy into new and interesting material.
"Choosing literature that I think they will enjoy, and then creating opportunities in the class for them to engage with it in different ways to keep the class active… that's my first-trimester goal," she said. "Then as we move forward in the next two trimesters we'll look at how, within an English class, we can engage with the larger community."
Engaging the larger community around Malvern will be an important part of Vithayathil's lesson plan, as the class's main project will revolve around just that.
"Their research project is a proposal [so] the middle school [students] can have a social impact," she said. "They'll be looking at various issues such as inequity in education, they'll be looking at homelessness, they'll be looking at displacement."
 Vithayathil works a lot with students, but she knows what she loves the most.
"[My favorite part] is just being in the classroom with students and thinking [how] I can most effectively present material to them and engage them," she said.