Ms. Bethany DeWitt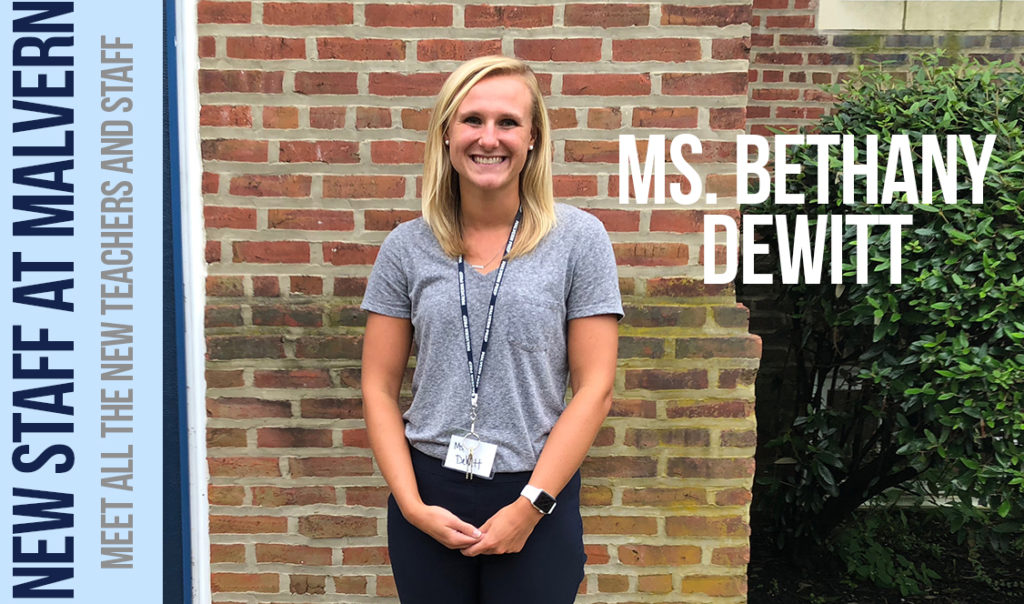 Garrett Hallinan
October 7, 2018
The deciding factor for Ms. Bethany DeWitt coming to Malvern was its amazing sense of community, which made her feel right at home.
Growing up in West Chester, Pennsylvania, DeWitt grew up with a strong faith and a passion for sports, which helped her fit right into Malvern.
"Every year, we would have a swim meet here [Malvern] when I was at Rustin, so I was able to check out campus," Dewitt said. "It feels like it is a college campus, which is really cool and very different from my high school experience."
Although she played so many sports: basketball, softball, soccer, lacrosse, and swimming: the latter is what DeWitt decided to go with in college. After four years at Rustin High School, DeWitt went to the University of Pittsburgh for her undergraduate degree.
"I liked Pitt a lot because of the size of the school," she said. "I wanted a big, city feel and I was interested in going to the football and basketball games. With athletics too, I felt like it was going to be a really good balance between swimming and their academic programs."
Shortly before coming to Malvern Prep, DeWitt finished her master's degree in School Counseling from West Chester University.
"It was a relatively quick turn over, but I am really excited," she said. "While it has been really overwhelming with having so many buildings to navigate, everyone is willing to help, [which] makes that transition that much easier."
Aside from being a counselor at Malvern, Dewitt plans to be a coach for the swimming team.
"I have been talking to Mr. Schiller about [coaching the swim team], and I am willing to see what else the community has to offer at Malvern and how I can help students," she said.
During the freshman orientation, DeWitt connected with the students before school.
"A lot of the Adelphia members during the freshman orientation were very helpful to me," DeWitt said. "As a whole, that  group was very supportive, helping the freshmen and also the new teachers, myself included."
She looks forward to getting more and more acclimated to the Malvern community.
"I am very excited to be at Malvern this year," DeWitt said, "and I am very open to meeting everyone so feel free to stop by and introduce yourself."