Fr. Thom retires from teaching after nine years at Malvern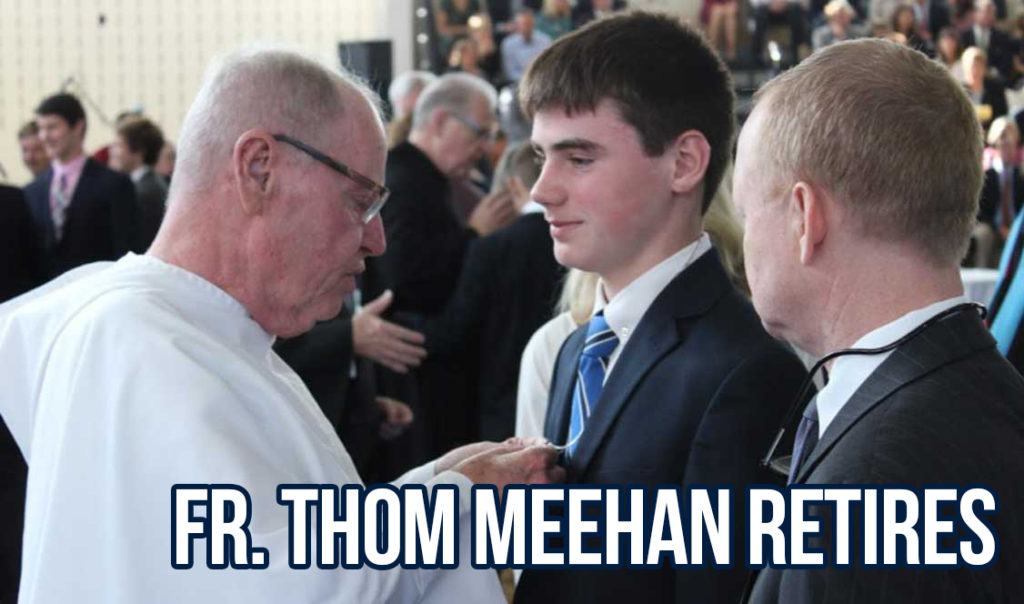 Chris Ayres
October 7, 2018
After suffering a stroke this past January, he has decided to retire to focus on his health.
Most students and teachers were shocked when they found out that Fr. Thom Meehan O.S.A. had suffered two strokes on January 23. However, after coming back to live on campus, it seemed as though everything would soon go back to normal.
Fr. Thom was rushed to the hospital after suffering from two strokes at the beginning of 2018. He had enough strength to get his phone and call Director of Mission and Ministry and fellow friar, Fr. Chris Drennen O.S.A..
"We were getting ready to have prayer, so I was awake," Drennen said. "He could not make it downstairs, so I immediately called 911."
The ambulance took him to Paoli Hospital, where it was confirmed he had suffered two minor strokes.
"It was scary, but I tried to keep calm because I wanted him to be calm," Drennen said. "I had originally thought it was a stroke, though I was hoping I was wrong."
After spending a few weeks at Bryn Mawr Rehab, Fr. Thom briefly returned to campus on February 1, before moving to St. Thomas Monastery on Villanova University's campus. During his absence, some teachers needed to fill in to teach his classes.
"Fr. Cassidy, Mr. Zagursky, Mr. Legner, and myself all stepped in to fill his place," Drennen said. "Then Mrs. Vithayathil became available to teach long-term and we were glad to get her."
However, Vithayathil is currently teaching eighth grade English, so another teacher had to be found to fill her role. Luckily, Malvern found a solution.
"Before Fr. Thom's decision was made, there was talk about the possibility of having a student seminarian come," Head of School Fr. Donald Reilly O.S.A. stated. "Brother Bill was on his way to ordination, so this is almost like a internship for him."
Even though he is new to Malvern, Brother Bill has made a strong first impression with the community.
"I don't know [Brother] Bill all that well, but he seems like a great addition," ninth grade Biblical Studies teacher Mr. Dave Zagursky said. "It seems like his students really like him and enjoy his class."
While Brother Bill has been welcomed into the Malvern community, it will be difficult to replace someone who has impacted the school like Fr. Thom has.
"We lost Fr. Thom, who has been here for a while, and have Brother Bill to fill in," Zagursky stated. "He has big shoes to fill, but I think he seems like a great guy for the job."
Head of School Fr. Donald Reilly O.S.A. mentioned that Fr. Thom greatly misses Malvern and being on campus.  
"Thom's commitment to the students at the school is strong," Reilly said. "He misses the place, as a teacher it's hard to make this adjustment."
Although he is not on campus anymore, Fr. Drennen said that students are welcome to visit him.
"On weekends he is usually around and they have a visiting parlor where people can come and some people have already stopped by," Drennen stated. "I know he really appreciates [having visitors]."