Hornibrook commits to the Stanford Cardinal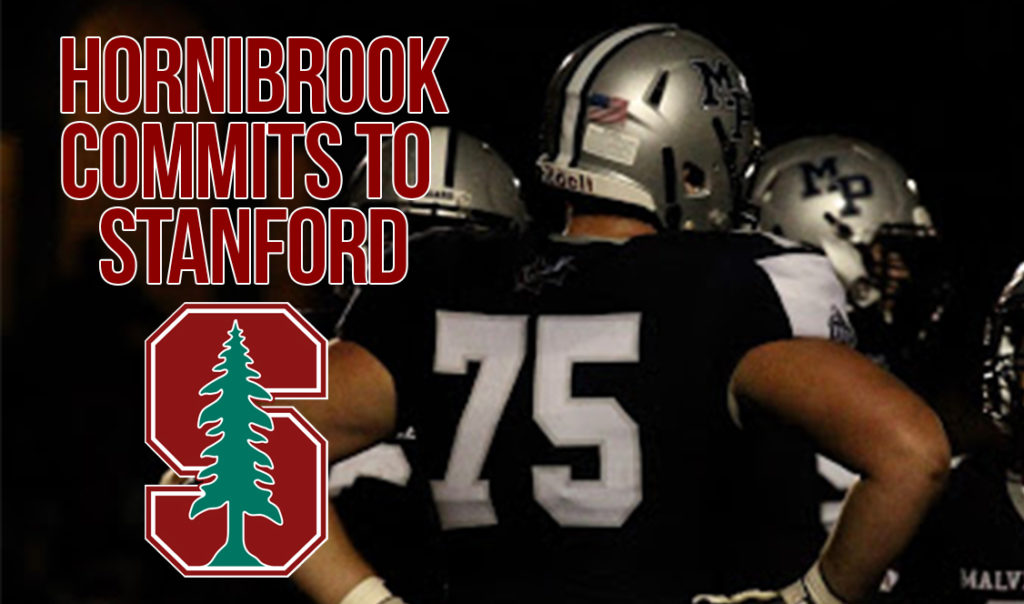 Kyle Leonard
October 8, 2018
The senior offensive lineman made the decision to play for the Cardinal in July.
Coming into Malvern, Hornibrook measured up at 6'1, 185 pounds; now, he stands at 6'4, 275 pounds, and is the key cog to Malvern's offensive line.  His size and performance on the field attracted 25 Division I scholarship offers.
Hornibrook's impressive list of offers were headlined by his three finalists: Wisconsin, Clemson and Stanford. After visiting and talking with the coaches out at Stanford, Hornibrook felt it was the perfect fit for him to continue his academic and football career.
He was really excited when Stanford made their offer; at the same time, this was when his recruitment really skyrocketed. At one point, he received four scholarship offers within 24 hours.
[perfectpullquote align="left" bordertop="false" cite="" link="" color="" class="" size=""]
"I think Stanford's probably the best fit Jake could have. There's always aspirations and dreams to go to the NFL, but if that doesn't work out, he's going to Stanford, he'll be fine. It's pretty awesome."
-Luke Digiacobbe '19[/perfectpullquote]
"Stanford was my first big time offer," Hornibrook said.  "I would say Northwestern and Stanford, and then I got Clemson and Wisconsin, so that's probably when it started to pick up."
According to Hornibrook, there are different ways football players, specifically offensive linemen like him, get noticed in the recruiting process.  
"There's a lot of camps, and they do 1 on 1s; there's usually no pads, so it's a little different than an actual game situation. College coaches can see your footwork and how you move, and that's mainly the biggest part. How you move, what you look like, and also your game film is a big part of it," Hornibrook said.
Head football Coach Dave Gueriera plays a big role in his athletes' recruiting process, helping them out with making connections and deciding on a fit.  
"I usually talk between the college and the player until there's a relationship that's forged between the player and the recruiting coach. Then, I give my opinion," Gueriera said. "I make sure that the kid, the players, ask all the tough questions that they need to go over before they make the decision. So a lot of behind the scenes stuff."
Gueriera was one of the first to know that Stanford was really interested in Hornibrook.
"The person who just fell in love with Jake the first time he saw his film was his offensive line coach from Stanford, and his name is Kevin Carberry," Gueriera said. "He has an NFL pedigree, so he was an NFL coach, an NFL player, and when he saw Jake's film, [Jake] jumped off the screen to him as a kid he wanted to have."
Hornibrook paid two visits out to Stanford. After the second, he felt like Stanford was a great fit for him. Ultimately, the people there played a big role in his final choice.
"I would say the coaches and the type of players on the team made it easier," Hornibrook said.  "When I went out there for a second time, stayed overnight with some players, it seemed like there were a lot of great guys on the team that I could fit in with."
Picking a school was not the easiest process for Hornibrook. Thankfully, his brother Alex Hornibrook, the starting quarterback for the University of Wisconsin and Malvern alumnus, was there for him every step of the way.
"He definitely helped make things more simple. I remember giving him a call one night and him saying 'Go where you want to go, don't let anybody pressure you.  Wherever you go, it's gonna be a good choice, and wherever you go you're going to love it'," Hornibrook said. "He helped me the whole time."
Senior Luke Digiacobbe, who has known and been friends with Jake since middle school, is really happy for Jake and speaks highly of their friendship.
"He's always been a jokester. He's always been really funny. He's a really good kid," Digiacobbe said. "He knows his rights from wrongs and he's a good decision maker. Obviously being committed Stanford now, he makes good decisions. Just a good kid."
Digiacobbe believes that Hornibrook made the perfect choice in choosing Stanford.  
"I think Stanford's probably the best fit Jake could have. I know he was between Clemson, Stanford, but Stanford's the best school he was looking at," Digiacobbe said. "There's always aspirations and dreams to go to the NFL, but if that doesn't work out, he's going to Stanford, he'll be fine. It's pretty awesome."
Gueriera was also not surprised by Hornibrook's choice.
"I think that with an opportunity like that to go to Stanford, it had had to be high up on his list. I was excited for him," Gueriera said. "I think that the combination of football and academics is extremely hard to compete with."
Another big component in his college decision was the world-class academics Stanford offers.  
"I like the academic piece because our family values academics a lot, so I think that fits me pretty well," Hornibrook said. "I've always had an interest in academics, so I'm excited about Stanford."
Not only does Stanford provide Hornibrook with exceptional academics, but Hornibrook is also looking forward to new opportunities.
"A whole new experience [awaits me] out in California. Everything's going to be different, I'm going to meet new people. It's gonna be pretty fun," he said.
Before heading out to California, Hornibrook has a few goals for his senior season.
"Just be the best leader I can be, set a good example for the younger guys, and lead the team to the Inter-Ac title, and hopefully go undefeated," Hornibrook said.
Digiacobbe speaks for the rest of Hornibrook's family and close friends in having full confidence that he will achieve success at Stanford.
"He's just a really good kid and I'm really happy for him. I know he's going to do great things."