Lafayette lacrosse lands three Malvern commits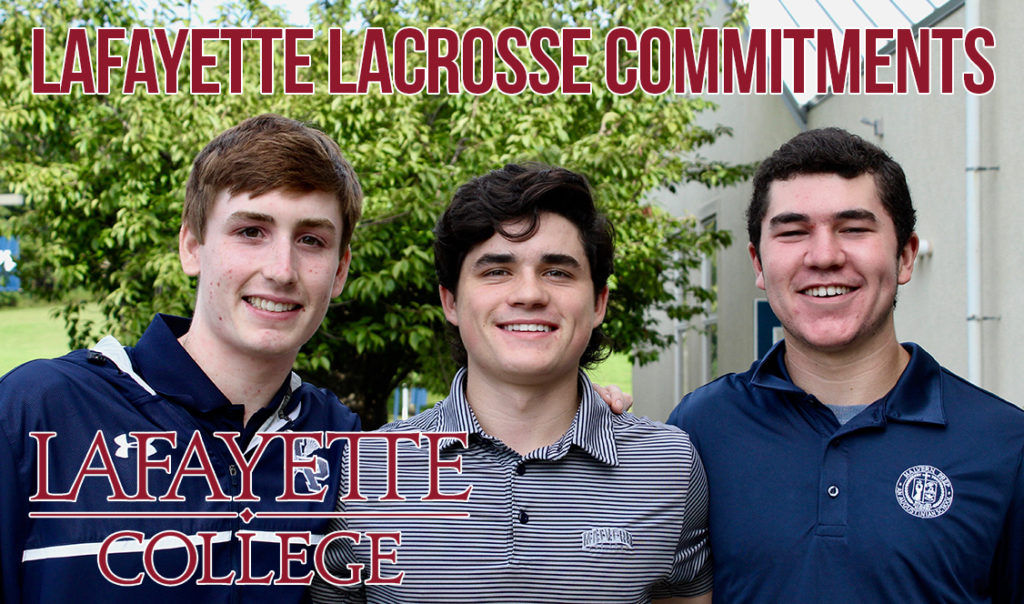 Luke Guenthner
October 8, 2018
Strong academics and promising athletics attract three students in three weeks.
With a new coach and an exciting energy around an up and coming program, seniors Evan Lotz, Gavin McGill, and Sean Rushton decided to join in on building a strong class of incoming lacrosse freshmen at Lafayette.
The three senior Friars had been heavily recruited by new Lafayette head coach Patrick Myers, who has been in contact with the three seniors, along with Malvern lacrosse Head Coach John McEvoy.
"I dealt mostly with the coaches. I spoke to the virtues of whichever kid we were talking about, why he would be a good fit, and answered any questions they had," McEvoy said. "Sometimes the conversation starts with me with these things, but this coach really liked these three guys.  He really wanted them."
[perfectpullquote align="right" bordertop="false" cite="" link="" color="" class="" size=""]
"These guys play in an environment now that will get them ready for [college lacrosse] for sure. All three will have a big role to play for us this year, which should prepare them for Lafayette and for the Patriot League for sure."
-Head Coach John McEvoy
[/perfectpullquote]
Because the Lafayette team is looking to build their program, the recruiters were looking for players in all positions. As a result, they approached Evan Lotz, who mainly plays attack, Gavin McGill, a midfielder, and Sean Rushton, a long stick middie, a position that is defensively focused.
McGill began his lacrosse career in first grade, playing for the Collegeville Cougars. McGill has played other sports over the years, such as football, soccer, and ice hockey but always had a fondness for lacrosse. McGill has always put more energy and time into lacrosse, and knew that he had a future playing it.
"Lacrosse has always been my favorite sport. I always knew I wanted to focus on just lacrosse because it has always been my favorite to play," McGill said.
McGill was recruited by other competitive programs like Boston University, Drexel, and Amherst, but what Lafayette was promoting to him grabbed his attention.
"They just got a new coach, and he really is supposed to turn this program around," he said. "It's really exciting and I can't wait to be a part of it."
Both Lotz and Rushton had a similar attraction to the idea of having a chance to build upon this program. McEvoy spoke to this point, commenting that having this mindset speaks to these three seniors.
"Because of the small size of the school and the fact that they are going to be a part of a program that is building itself up, it will give them avenues to step up as leaders I would hope," McEvoy said. "They play a big role here for us, and hopefully they can step up for them when the time comes."
Lotz is a lifelong lacrosse player, beginning to play at age five. By seventh grade he was playing for the MESA Fresh club team, and getting noticed early by recruiters.
"I've always put a lot of extra time and effort into lacrosse compared to other sports with extra training and workouts," Lotz said. "I've known that I wanted to play college lacrosse because it was my best sport."
There were a lot of things that Lotz enjoyed about Lafayette that he couldn't find elsewhere.
"The academics are amazing, the social side of it is great, the lacrosse team and where the coaches head is at totally convinced me, and the location is close to home," Lotz said. "I love the thought of staying local."
Rushton started the sport at an older age than McGill and Lotz, but knew very soon that this was the sport he wanted to continue with.
"I played football until freshman year and really liked it, but decided that I wanted to stick to the sport I wanted to play in college, and that was lacrosse," he said.
Rushton was intrigued by many factors, but the one that stood out to him the most was the culture that was being created by this recruiting class and the team at Lafayette.
"The program is growing, and I wanted to be a part of that new culture that I was feeling. I love the coaching staff and I love the school," Rushton said.
These three seniors have one more year with Coach McEvoy and the lacrosse squad, and McEvoy believes that what this year holds for these three players will set them up to be prepared for college lacrosse.
"These guys play in an environment now that will get them ready for [college lacrosse] for sure," he said. "All three will have a big role to play for us this year, which should prepare them for Lafayette and for the Patriot League for sure."