Club Feature: Robotics
After nearly two decades, the Robotics club celebrates its prosperity and looks forward to the new year.
In 2003, there was a vision for an engineering and robotics club at Malvern. It started in the basement of Alumni Hall with a few students, and now has a state-of-the-art workshop and nearly thirty middle schoolers involved. 
Dr. Kevin Quinn, Departmental Leader of Interdisciplinary Studies and co-robotics club moderator, along with Mr. Lou Osinski, Science Curriculum Coordinator, value student learning and innovation.
"The [Robotics] club started in 2003, and at the time, we were one of the only Inter-Ac schools to have a FIRST robotics team. FIRST is the organization that we compete with," Dr. Kevin Quinn said.
FIRST Robotics, which runs the competition the robotics team competes in, has a 120-pound limit robot competition. The robotics club is not just limited to the competition itself but is also closely tied in with the engineering club. 
"We have the Engineering Club which does all kinds of projects not related to robotics at all. The golf cart is a perfect example," Dr. Quinn pointed out.
The idea of fixing the golf cart was created and carried out by students. If the golf cart or other things happening in the workshop are interesting to you, it is not hard to get in on the action.
"If you want to be in the club, be here, and if you're in the club, the shop has an open door policy. I have had some of the most successful students come through this program that just poke their head in," Dr. Quinn said.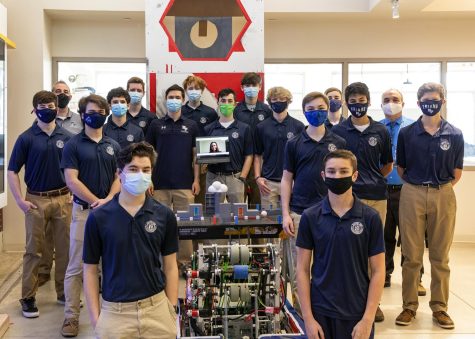 Dr. Quinn recommends that interested members come down to the robotics room once a week, even if it is to simply look around. Watching the team and other students work can give an interested student a sense of how they might want to get involved. 
Billy Yacovelli '23 is a very engaged member of the club. Dr. Quinn spoke on the weekly schedule for the club saying, "Mondays we have middle school meetings, Tuesdays are our programming team, Wednesday is electrical, Thursday's is mechanical, and Friday's are business," he said. "Billy's here every day. He's here in the afternoon, he's here in the morning, and he's here during open periods," Dr. Quinn said. 
Some students do not work on the robot itself, but work on getting funds for the team.
"A requirement for FIRST is they don't want to be handed a pile of money and then build a robot with it. They want to run an organization, and running an organization means making the case to customers that [Malvern Robotics] is a worthy investment," Dr. Quinn said. 
This ties in with the philosophy of the Club as well. Something that is very important to moderators Dr. Quinn and Mr. Osinski is that the students in this club learn valuable lessons in the competition and while working on projects. 
"We're more committed to students' learning, than being successful at the competition. That doesn't mean we don't want to be successful in competition, but when push comes to shove, if Billy is going to learn more by having something go wrong, I'm going to let it go wrong and have him learn from that," Dr. Quinn said. 
In robotics clubs at other schools, the adults are very involved in the assembly of the robot, while at Malvern, students do the majority of the work themselves, learning from their mistakes and gaining helpful experience for the future. For students who want to pursue this path without getting involved in the club, Dr. Quinn recommends a few classes to take.
 "Intro to Computer Science is a great class to learn a little bit about computer science without committing to a full year of taking it," he said.
Additionally, having a good understanding of Math and Physics is important to becoming successful in the field. Taking Engineering classes as upperclassmen is a great way to learn about the subject as a whole.
The new workspace in the basement of the CSI has done great things for the Robotics and Engineering club.
"It's almost incalculable. The biggest factor has been putting it out in the open so people can see what's going on and attracting the interest of students on campus," Dr. Quinn said. 
The club's popularity is growing rapidly, allowing middle schoolers to be a part of the process.
"The middle school robotics and engineering club has come to light. We just had an interest meeting for middle school, and twenty-seven students showed up. We've had years in the past where our entire robotics team was five students, so it is just huge to be in a space where people can see what we're doing," he said.
The robotics team is looking forward to competition this upcoming year. With leadership from juniors Billy Yacovelli and Joe Verrekia '23, they are preparing for one of their most successful seasons yet.