Malvern's new entrance and updated technology usher in a new decade
Each year, over the summer months, Malvern's campus typically goes through many different renovations and changes. This year was no different, with the renovation of the entrance to campus, as well as the addition of a Media Lab.
After a tumultuous 2020-2021 school year, Malvern's school leadership hopes that a few new additions to campus will help transition into a new stage of excellence. 
As a continually growing community, Head of School, Father Donald Reilly feels there is a great responsibility to keep campus clean and current through different renovations, remodels, and redesign projects. 
"The campus facilities are in constant use. While this is a very good thing in order to accommodate our varied programs, it also requires a lot of maintenance and, at times, replacement of equipment, roadways, roofs, etc," Fr. Reilly said. "Much of what has happened over this summer was exactly that, repairing and updating our facilities."
The first major renovation made to campus was the update to Ring Road at the entrance. 
"The primary motivation for renovating the entrance and the road way to campus was safety. Setting the Malvern sign back twenty feet off of Warren Avenue enables sightlines for drivers leaving campus to better negotiate turning right or left," Fr. Reilly said. 
Assistant Head of School for Academics, Mr. Patrick Sillup, agrees with Fr. Reilly that safety was undoubtedly a priority in redesigning the entryway. 
"We were hearing things like the concern around safety entering and exiting campus, so if you've noticed, that entrance has been pulled back to have a much wider field of vision making a left hand turn out of our campus, which is really good," Sillup said. 
He also mentioned the use of Malvern's master campus plan and the influence it had on the new project. 
"This was directly connected to the master campus planning that we've been doing over the course of last year. I was fortunate to work with the committee. We had a variety of stakeholders represented from faculty, to staff, to alumni, to families, to students who participated in different interviews, around what are the priorities we have as a campus over the next ten years, and some different themes emerged," Sillup said. 
In planning for the renovation, Malvern worked with Centerbrook Architects and Planners to solidify a design plan for the entrance to campus. 
"Centerbrook was the company that we've been working with. They're an architecture and design firm, and they are listening to all these interviews and walking the campus and kind of putting some things together," Sillup said. "I'd say that the entrance was identified as maybe the cover page to the larger story that we want to tell for the next decade," he said.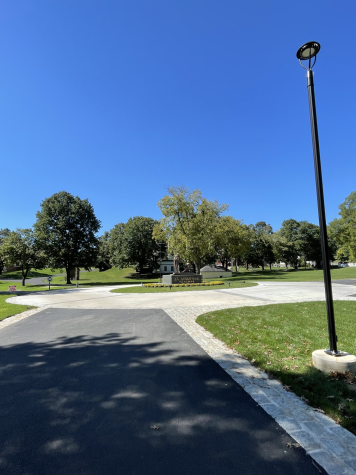 When entering campus, the Malvern Prep sign and Saint Augustine statue will be some of the first sights one will observe, so having the entrance serve as the "cover page" was an important quality that was kept in mind during the renovation. 
In company with the need to address campus safety, Sillup and Fr. Reilly agreed that the new projects will also add a fresh and pleasant look to campus. 
"The new signage and entrance roadways beautify our campus and accommodate the flow of traffic," Fr. Reilly said. 
Along with the new campus sign and road expansion, there have been new plants and shrubbery which have been added to the entrance.
"You'll see a rain garden in the middle [of campus' entrance], it's certainly very welcoming, which I think is in step with who we are as a community. The idea was from a master campus planning perspective. The cover kind of leads you into the book itself and starts to set the stage of what Malvern can be," Sillup said.
In keeping with the idea of meeting the needs of students and faculty, Malvern made a major addition to campus to help cultivate the next generation of a creative, hands-on learning experience. 
Due to the COVID-19 pandemic, Malvern had to be innovative last year with regards to how they went about virtual classes, assemblies, sporting events and large community gatherings. The technology department and TV studio both took on major roles in helping to facilitate the streaming of athletic events and virtual classes. 
A full year later, Malvern now has a fully functioning Media Lab to facilitate the use of technology and provide students with a designated area to use state of the art equipment to further their technological interests.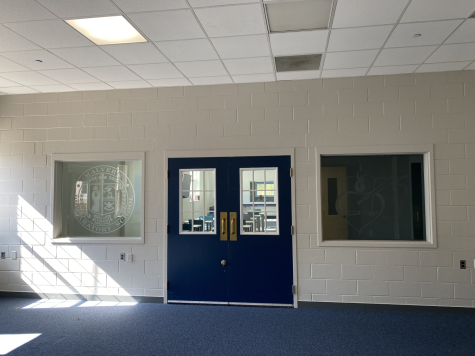 "The Media Lab was born from a need, and there are sort of two parts to this need," Sillup said. "One was that we were noticing this incredible uptick in guys using film and audio to tell their story from a project based perspective, or faculty that were asking students to do that in some way. And what was happening was that we have a recording studio in Duffy, but we can't put such demand in that space where everyone can go into one recording booth."
In addition to the recording aspect of Malvern's media, there is also a film aspect that really developed last year with the filming of Malvern sporting events coming in handy when spectators were not allowed in the stands. 
"We had cameras that we could sort of farm out and use, but we didn't have a dedicated space to do it and we had this TV studio that was sort of stuck in the bottom of Tolentine. And I would say in large, that [they] did a fabulous job of working with it, but we felt like [the TV studio] needed an updated space," Sillup noted.
All of these needs compounding on each other led to the idea of compiling these types of media into one specific place. 
"So we said, well what would it look like if we had a Media Lab that would help us to embrace all of these different things that we're moving towards and put them in one central location," Sillup said. "In this Media Lab, you're going to have a dedicated podcast studio,  you're going to have a TV studio, updated equipment, green screen wall, things that these guys have really worked towards and set us up to be able to do."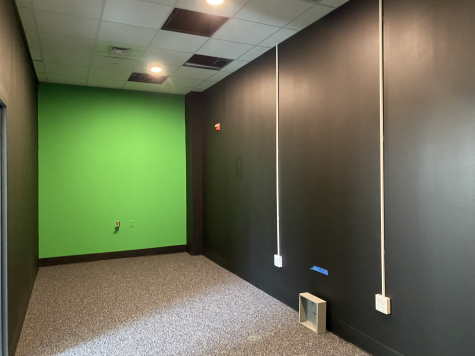 Fr. Reilly is particularly excited about how the Media Lab could be used for the benefit of Malvern in regards to their own social media and advertising campaigns. 
"Much of what we have done by way of the media has been outsourced. While the products of this outsourcing have been good and effective, it is expensive and it did not offer our students the opportunity to learn and assume a role in a needed medium for the school. Live streaming, video design and productivity, newscasting, etc. in house will not only put students on a possible career path beyond their Malvern days, it will meet a felt need of the community now," Fr. Reilly said. 
Billy Mullray '22,  who has spearheaded many technological operations on campus, such as live streaming sports events, leading the TV studio and working on many virtual videos and displays last year due to COVID-19, is particularly excited for the Media Lab's opening. 
"I think that the space will be used mainly as a place where students and clubs can gather and collectively work on media projects for clubs, classes, or even just for personal uses. This is something that I have been very excited about because I know of many students that enjoy editing video and making content and this space gives a great advantage to anyone who may be interested in this to grow their knowledge and experiment with professional equipment," Mullray said.
By having the dedicated space on campus, Mullary feels there will be many more technology- based opportunities for Malvern students and faculty to take part in and unleash their creativity in a new and unique way.
"I am mainly looking forward to improving the content we already produce while also bringing back Malvern traditions such as the Morning Show. I also can't wait to see what else we can think about and create in this new space with the advancements it promises," he said. " I think this space really allows for better content overall because of the professional aspect it brings to Malvern's Media Production. To have a designated space for multiple different types of content creation really broadens the horizons for the future of creating content."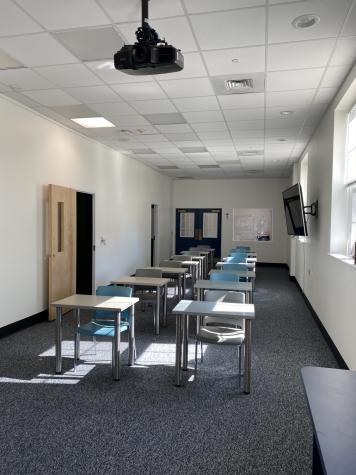 While there is no regulated plan as to how the Media Lab will function on a day to day basis, both Mr. Francis Rogai, Upper School English teacher, and TV studio moderator as well as Mr. James Wasson, Middle School Academy Leader, will be overseeing the space and its usage and hope it can be a popular space to better the community.
"It would be nice for students, if they know they have projects that are multimedia, that they have a space they can go and speak to students who are well versed in technology," Rogai said.
Having students help  in this space will give many of them the opportunity to gain a leadership role in facilitating this new space on campus. 
"We are trying to lean into student leadership and make sure we have students that are visible  and capable and can help out their younger Friar brothers," Rogai said.
As for Wasson, he too believes this space will be a great opportunity for students to take advantage of a society, he feels, is increasingly geared toward a media based demand. 
"I think my hope is that it's going to foster the creation of media. Because when you think about it, the kind of the world that students are living in now and if you were to look at what high school students are doing, and then college students are doing, and then in the business world, media is a huge, huge part of it. The idea of the slideshow, and the PowerPoint, they're still very much a part of it, but things are becoming way more dynamic and I think this is just a great place to create," Wasson said.