Many Roles, Many Memories: Mr. Gerry Ellis
[button link="http://www.malvernprep.org/pages/about/news/retirement_ellis" newwindow="yes"] See this story at malvernprep.org[/button]
Mr. Ellis reminisces about 31 years at Malvern Prep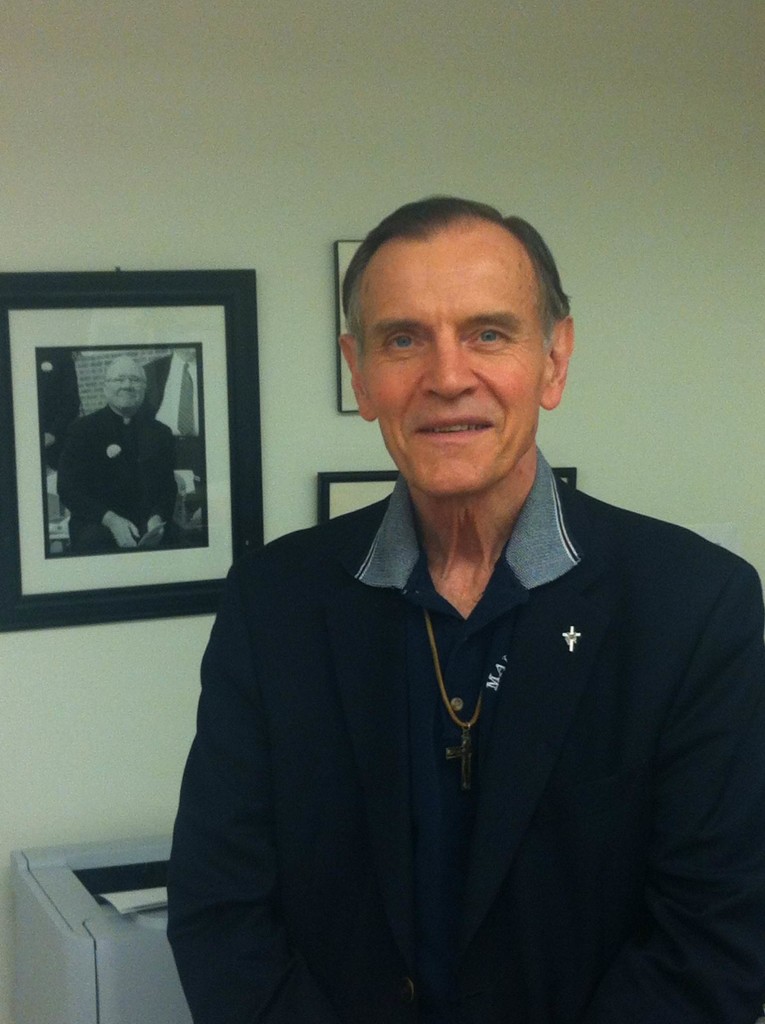 After years of teaching young students grammar and writing skills, working the admissions of the middle school, and managing Malvern's literary magazine, Impressions, Mr. Gerald Ellis is stepping down from his many positions and retiring at the end of this year.
While saying goodbye to the classroom, Mr. Ellis made clear that he will not be saying goodbye to the Malvern community.  We sat down with Mr. Ellis to reminiscence on his years at Malvern and talk about the future for him and the school.
TH: How did you first get started teaching at Malvern?
GE: I've been working full-time for 45 years and 41 of those years I was a full-time educator. I came to Malvern in 1983, so this is my 31st year at Malvern Prep.
I've been blessed work in so many different capacities, particularly at Malvern. English teacher and counselor (both upper school and middle school), admissions director, its been such a great privilege. I was admissions director of the middle school for 20 years, which was a joy. In terms of involvement, I have been blessed to be involved in things that a love as a whole person. Its kind of typical, I think, to be a fully immersed Malvern educator. I've been able to coach football over the years, I've been the moderator of the Impressions literary magazine, I've been involved with MECO for about 29 years. MECO, which is a joy. It's such a strength of the school. I've worked with Christian service. One of my greatest privileges is to be the eucharistic minister at Malvern. I continue to love what we do, things like Best Nest.
I think that covers many of the things I've been fortunate enough to be involved with at Malvern.
TH: So, you're retiring at the end of this year?
GE: Yes, I'm retiring at the end of this year, technically. I will teach summer classes in June and my last day as an employee at Malvern will be August 31st. But "retired" does not mean excommunicated from the Malvern family, in fact its the opposite. We all plan to continue to be part of the Malvern family. I'll definitely be involved with supporting the teams, the theater groups, the music program, Best Nest, and especially MECO. We all plan on attending graduations. [Retirees] are still part of the Malvern family. I think that's important.
TH: What would you say is your favorite experience of Malvern?
GE: The relationships have been and continue to be the most wonderful part of the Malvern experience from the first day I set foot on campus in 1983 and met Father Duffy and Mr. Stewart. My goal at the time was (and continues to be) to build Malvern one relationship at a time. To this day, I still firmly believe that the caritas at Malvern makes Malvern unique. It makes Malvern very very special, among other things. The caritas and the people. You can take that anywhere. The people in the classroom, the people on the wrestling mats, MECO, wherever we are.
TH: So, as one who has been at Malvern for a while, what are you thoughts on 21st century learning and all the changes it brings with it?
GE: Project-based learning is interesting. It seems to be something going on across the country. I believe its important that we follow where the future is going. I also think it's important to blend the best of learning experiences. Project-based learning is important. Collaboration is very important. Learning content is important. So the students need to learn fundamental skills to have the ability to compute and calculate. I think its important to take the best of educational techniques and utilize them in a beautiful blend that'll foster maximum learning.
TH: What would you say is your opinion on the destruction of the library and creation of the learning commons?
GE: (Laughs) Oh gosh. It's hard for a guy my age to go into that building and not see the stacks of books and all those things. I loved it. That was very difficult for me to accept, but accept we have and I bring my classes over there quite often to learn in that environment using the chromebooks and those facilities.
TH: What do you plan to do after retirement?
GE: After full time for 45 years, I have plans to spend time with my beloved family and friends, especially my dear wife. It's not like I'm gonna just jump out and run around like a crazy man in retirement, because there's plenty that I can do. My wife and I are very involved in our parish, St.Teresa of Ávila, and we can do so many things because it's like an extension of our family. I think our goals are to do what our Lord calls us to do each day. There's also plenty of work I do at home. Getting the house in shape and things like that.  There's some writing to put together, collections of years of poetry, or "prosetry" as I call it. There'll be opportunities to serve, and we'll open ourselves up to that.