Basketball season looking up
Malvern's basketball team is coming off an 11-16 season, and are looking to improve with their young and athletic team in Coach John Harmatuk's second year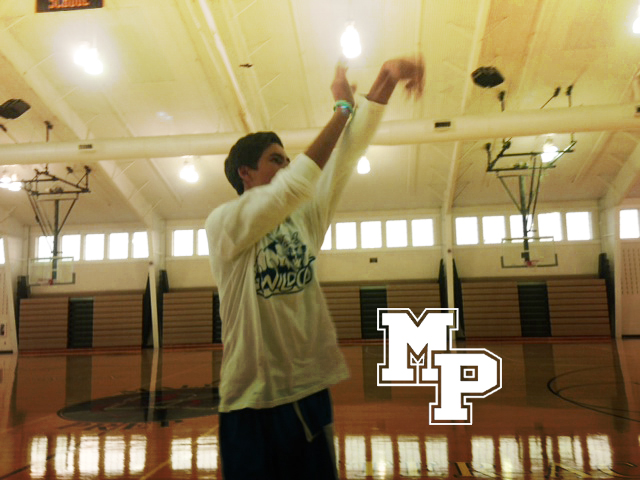 The Friars were far from winning the Inter-Ac championship last year. To make matters worse, Malvern has lost some key seniors who will have to be replaced.
However, this gives a chance to the younger players to serve as the leaders of the team.  Players like  sophomores Zac Fernandez, Tommy Wolfe, and Raymond Baran are all hoping to help the team in any way possible this year.
"The team will definitely be affected this year by loss of last years seniors because they were leaders on and off the court", says guard Raymond Baran '17, "They really helped build chemistry. The seniors this year need to do the same but be even better."
To add to this young team, Coach John Harmatuk will enter his second year as the head coach. Coach Harmatuk came last year to  Malvern Prep from Cypress Springs High school in Cypress Texas, where he was the head coach for twelve years. Harmatuk enjoys running a fast paced offense, as well as having the players being able to get out and run on the fast break.
"Last year was coach Tuk's first year and he stressed being a fast paced team", said guard Tommy Wolfe. "This year he wants to be the fastest team in the league. Tuk wants us to be fast, smart and tough."
The Friars went 3-7 in Inter-Ac play last year, only beating Springside Chestnut Hill twice and Penn Charter once. Their biggest problems seemed to be Germantown and The Haverford School. In the four games against the two teams, they did not get within ten points in the final score.
The Friars' season last year was far from perfect. There were obvious improvements to be made, and it looks as though they are on the right track. This team has many young, athletic players who can run the break and get to the rim with ease. Once these players start to get older and gain more experience, the team will show major improvements in no time. For now, these young players can only learn from the more experienced players on the team and focus on getting better for the future of Malvern Prep Basketball.
Eric McLaughlin '18 also contributed to this story.