Sixers make moves to brighten future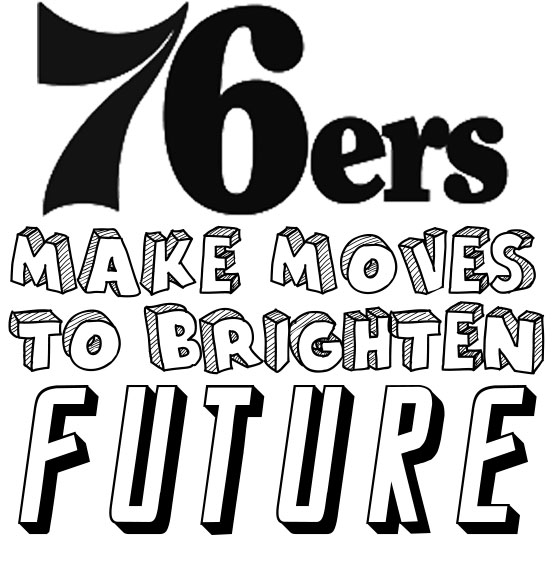 During the all-star break, the Philadelphia 76ers made a huge trade in an attempt to build a team for the future. Although this sparked numerous negative reactions from fans, this move was genius.
Entering the all star break, the Philadelphia 76ers were the second worst team in the NBA. Leaving the all- star break, the Sixers made a trade that won't help them win games this year- but in the years to come.
SIxers fans had to departure from two of the promising young stars they had in their organization; reigning rookie of the year Michael Carter-Williams and KJ McDaniels. Both were dealt in a three team trade.
So what exactly did the Sixers give up and what did they receive in return? They gave up, like said before, MCW and KJ McDaniels. But, they received a first round draft pick from the Lakers that is nulled until next year iif the Lakers get a top five pick this upcoming draft. Also, they got Javale Mcgee, a tall, athletic center who has not lived up to his potential. In addition, a new point guard, Isaiah Canaan.
But, maybe the most surprising trade made was when the Sixers gave up an unknown foreign player for the Oklahoma City Thunder's first round pick this year unless it is in the top 18. Both the fisrt found picks we received are pick protected.
I love all of the moves that GM Sam Hinke made for his franchise. He realizes that they will not win this year. So, he took his most talented players and knew that they had enough talent to attract teams willing to give up draft picks, that can be used to rebuild a franchise.
Some people do not like this idea and hated seeing the Rookie of the Year leave the team. But, news flash, Michael Carter-Williams could not shoot the ball. Yes, he did win ROTY, but in a very poor showing from the other rookies, winning the award was not much of accomplishment.
Also, Carter- Williams was not the point guard that Sam Hinke and coach Brett Brown wanted. His lack of three point success for a team that thrives on them was not a good mix, and also he is known for turning the ball over too many times. By trading him for what could be a top-10 pick in the future is almost a steal. Sam Hinkie is not accepting 'good' when he knows that there is 'great' to be found. Bold.
Also, it is a double whammy, because by trading the best player, there is no one left to fill his spot, except the new point guard Isaiah Canaan who can assimilate into his new role. This will result in even a more terrible record by the end of the year. But, since they were not going to try to make the playoffs anyway, their chances in getting a higher draft pick are raised. By raising the white flag and surrendering this season, he has allowed for three potential high draft picks that will rebuild the franchise.
The McDaniels trade is a more complex to understand. He has shown potential that he can shoot and has talent to play the shooting guard position. This deal dealt with money. He is under a strict one year contract that is up at the end of the season. By showing his talent to other teams, it will be hard to resign him in the rigorous world that is free agency. While also being outplayed at the current moment, it made sense to trade him for whatever we can get.
These moves are amazing for the 76ers organization. It has the ability to recreate the team with potential high draft picks. This involves much risk, but with great risk, there is great reward.