Students to attend Finding Neverland on Broadway
After seeing Les Miserables in the Fall, Malvern is offering a trip for students to see a new musical before its opening night.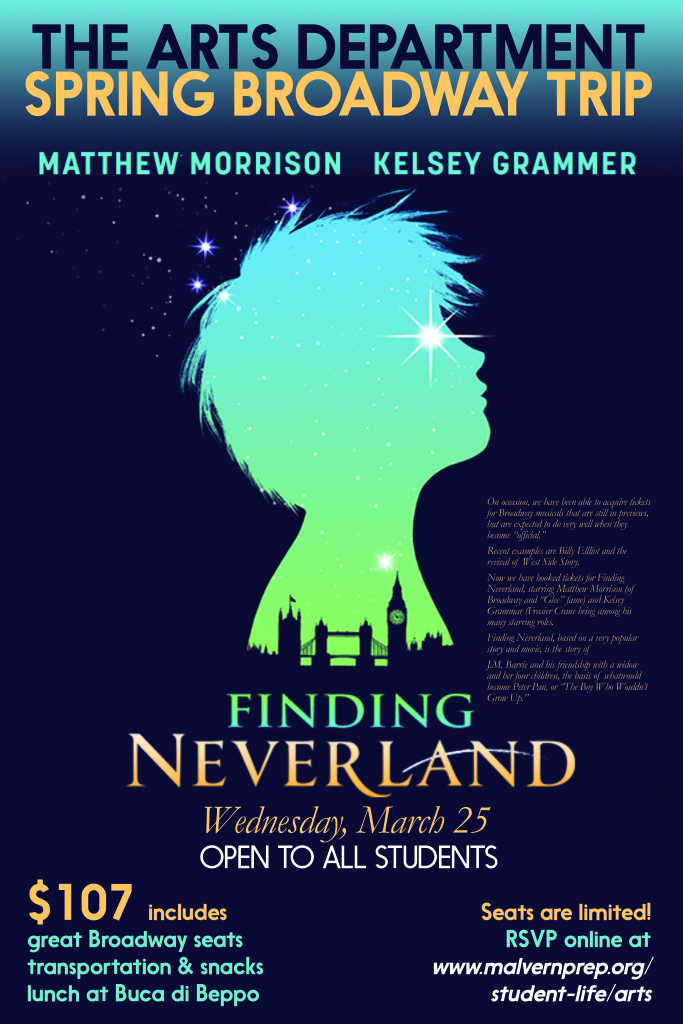 On Wednesday, March 25, the Malvern Arts department will travel to New York City to see Finding Neverland in its preview period before the show has its official Broadway debut on April 15.
Tickets for the trip cost $107 and include transportation, snacks on the bus, show tickets, and lunch at Dallas BBQ. Students in all grades, including middle school, are invited on the trip.
On an ideal trip, students would drive to New Jersey and take the Staten Island Ferry into New York City. Then, students would visit St. Patrick's Cathedral, have lunch, and see the show.
The plot of the show is a variation of the novel Peter Pan in Kensington Gardens by J. M. Barrie. The musical was also influenced by the 2004 movie of the same title.
Broadway.com describes a show that "explores the power of imagination to open up new worlds, and the pressures put upon those worlds by the inevitability of growing up." Noted stars in the show include Matthew Morrison of Glee and Kelsey Grammer of the sitcoms Cheers and Frasier.
The preview period for a Broadway musical lasts generally from two weeks to a month. It works as a way to test the show on an audience in case things need to be changed before opening night when critics can come.
"In the last several years, we have been able to see a show that has a good word of mouth going before it officially opens. We were able to see Billy Elliot that way and a revival of West Side Story," said Malvern English teacher and founder of the trip Mr. Rich Roper.
''There's a chance that what we see will not be what the final product is, but that's part of the excitement," said Roper.
Despite this, preview ticket prices for the general public are not significantly cheaper than shows after the musical has officially opened. However, Roper praised the tour company Go With Us that organizes the trips for getting tickets at a lower price.
"It's worth it. You won't find a better deal on the high school level," said Roper.
Roper and Arts Director Ms. Jackie White decide which show to go to by listening to suggestions and "word on the street," according to Roper. They also try to pick a popular show that Malvern has not seen – or has not seen in awhile.
Roper started the Broadway trip when he started teaching at Malvern, about 39 years ago, but he told Ms. White that it didn't "officially" start until 15 years ago.
Roper described the trip as a great tradition that Malvern has built up over the years.
White says that the educational benefits of the trip include the cultural experience of walking through New York City.
She also says there is a benefit from mixing all grade levels to experience theatre, and "watching the best of the best, live on stage right in front of you."
UPDATE: Contrary to what was advertised, the students on the trip went to Bubba Gump Shrimp Co. for lunch instead of Dallas BBQ.