A peek into the relationship between recruiting and admissions
How big of a role do sports really play in the Malvern admissions process?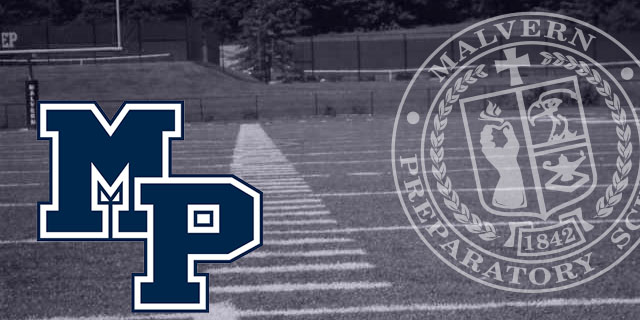 Malvern's incoming Freshman class will be the most diverse in the school's history, and coaches Mr. Aaron Brady (football) and Mr. John McEvoy (lacrosse) are also excited for their new players.
"I feel great about [the incoming class]," Brady said. "We have some really great families we are adding to the school and young men that are hungry and excited to be a part of our program."
"There is a small group of kids coming in that I think have really good potential to be good high school players," McEvoy said. "There are some good kids that I am pleased with. There aren't a lot, but there are some good ones."
On Friday, May 15, the school's athletic department announced via Twitter (@MPFriars) that 32.5% of the senior class will be playing college sports. With college athletic recruitment becoming more high-stakes for students and teams, what does it take to form an incoming class that will be strong on the fields and courts?
In the Inter-Ac constitution there are 11 guidelines that Malvern should follow in terms of recruiting. Athletic Director Mr. Kurt Ruch refers to these guidelines as suggested best practices.
"These guidelines were set so that none of our schools would do the things you hear a lot about right now where, [for instance] you're going to watch a 5th grader, and say we're going to give you all this money, and we're going to give you a starting position and such," Ruch said.
Ruch notes that the Inter-Ac guidelines were set well over 12 years ago. "We've tweaked them a little just to keep them updated and use the terminology that's being used, but for the most part, they're all in place to try to keep us all at the same level," said Ruch.
Guidelines of the Inter-Ac Constitution mention "scholar-athlete scholarship programs that meet all standard admission requirements," and "maintaining comparable admissions standards for all students."
Director of Admissions Mr. Sean Kenney, who had not seen the Inter-Ac constitution prior to the interview, indicated that standard admissions requirements most likely mean the usual transcripts and recommendations that are part of a student's application.
Kenney noted that Malvern looks at two profiles for student admissions – academic and personal. Academic criteria includes test scores, grades, and recommendations. For the personal profile, he stated that Admissions considers other questions like, "What are they involved with? What are they doing outside the classroom? How are they contributing to the community?"
The concept of comparable admissions standards for all students is more of a grey area.
Kenney noted that Malvern has no specific academic cutoff for grades or test scores. "We don't say, 'You must have a certain test score and higher, or a certain GPA and higher.' We're looking at the bigger picture," he said.
Some believe that certain students only gain acceptance to Malvern through sports. Malvern Admissions states that this is not the case.
"We're not giving preferential treatment to somebody who is deemed an athlete. It's the same for everybody – athlete, artist," Kenney said.
"At the end of the day, as long as the student is academically qualified, and we feel like they are going to contribute to the community, the fact that they play a certain sport will factor in only just sort of confirming that we want that student here," Kenney said. "If a student has played a sport with a Malvern coach prior to applying to Malvern, it plays a role only in the sense that we know who they are."
"Mr. Ruch and I work very closely together," Kenney said.
McEvoy, who also serves as Associate Director of Admissions, said "Do I use my role as an admissions director to get a kid in? No, not necessarily."
"If I advocate for kids, I have kind of become smarter about who I advocate for," McEvoy said.
Another part of the standard admission practices at Malvern is that the school gives no athletic scholarships. Malvern's website states that aid will also be available under needs-basis criterion for alumni sons and students with special extra-curricular skills, but in all cases, students so chosen must be academically qualified.
According to Ruch, this may be somewhat different at some of Malvern's peer schools. "Some schools in our league will have scholarship programs, where an alum has donated money that would go to a student that fits a certain criteria. Some schools in our league, they set their bar at a different level for a scholarship entrance exam, or for admission into the school," Ruch said.
Sports are not a major factor in how financial aid is determined at Malvern, according to Ruch. "It's all going to be based on how they do on the entrance exam, how they do with their application, essay, recommendations, the test," he said. "When all that stuff comes together in a file, that calculation is based on what they need for students here."
Ruch, Kenney, and McEvoy all noted that Malvern looks for well-rounded students. "If a student plays the piano and plays sports, sure, that's going to help him. I think Malvern looks for those kind of kids," Ruch said. "But no, if a kid's just an athlete… no."
"Yeah, there are always rumours that some schools have [athletic scholarships], but we have financial aid," McEvoy said.
McEvoy believes that a lot of people confuse financial aid with scholarship. He explained that scholarship is merit-based. Malvern has merit-based scholarships that are academic, or test-driven.
"For our world, wouldn't it be great if that kid was also a 6'6 offensive tackle? But that is not based on anyone's family need. For us, ours is based on a family's demonstrated need, which we don't decide. Someone does it for us," McEvoy said.
According to Malvern's website, the school belongs to the School Scholarship Service through the National Association for Independent Schools (NAIS), which collects financial information from parents and forwards an estimate to schools where students are applying.
The website states that approximately 30% of the families who request aid and demonstrate a need receive grants. Malvern awarded about $2.7 million to 32% of its students in 2014, with an average grant of $12,940. "Excellent students who have a demonstrated need with various talents are considered for grants to enable them to attend Malvern," according to the website, and repayment of financial aid grants is not required.
"So, who do we give the financial aid to? The [students who are] well-rounded and can help Malvern in many ways," McEvoy said.
To get a scholar-athlete into the thick of the admissions process, Brady, McEvoy, and Ruch use a multitude of strategies.
"We go to youth football games, youth basketball games, and [through] a lot of word-of-mouth we find these guys interested in Malvern," Brady said. "We [also] run football camps here."
"During all of our home games we have informational meetings, almost like a college visit," Brady said. "We have a meeting where we have a couple of speakers, the admissions guy, [myself], [and] usually our Freshman coach….We give a tour of the campus and then they come watch the game."
McEvoy takes a more relaxed approach. "I talk to kids all the time. But… no, I'm not standing there at the gates of the youth field, saying 'Hey can I talk to you about Malvern Prep?'"
Ruch, Brady, and McEvoy all have reservations about recruiting middle school students for athletics.
"The way the colleges work, to get juniors and seniors, now you've got freshmen and 8th graders making oral commitments. I hope we never have to go to those kind of things," Ruch said. "I want kids to want to come to Malvern for the right reasons. It's an education first."
Brady who noted he likes to use the word "opportunity" rather than recruiting said "I just feel like it sets a bad precedent for that kid and puts them in a situation where he feels like he's getting recruited and pulled, rather than making a decision on what's best for me in high school."
McEvoy said, "I feel a little uneasy doing that to a 7th grade kid."
Ruch noted that word of mouth may be the best way to continue growing strong athletic programs. "Our hope is that all of our students are out there loving Malvern so much that they're saying, hey, you'd be great for Malvern," he said.