Parker Abate's Graduation Speech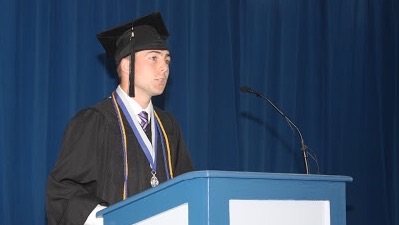 June 4, 2015
Good morning, Father Flynn, Mr. Talbot, Mr. Valyo, Mr. Algeo, members of the board of Trustees, Faculty, Parents, Family and Friends, and my brothers.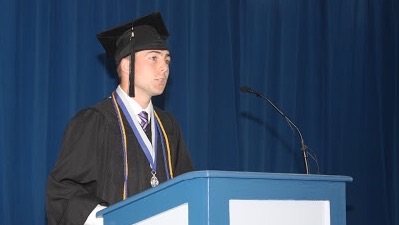 A few weeks before I was to begin my Malvern experience, Mr. Algeo, the head of the Middle School at the time, spoke to the incoming sixth grade class at a family picnic. He said the Malvern experience was like a roller coaster. It starts, and you're having an incredible time. Then, in the blink of an eye, it's over.
I remember thinking, wow thats going to be awesome, I'll be 7 years older and I'll be done with high school. But on the other side of things, I'm pretty sure Mr. Algeo was probably thinking wow….. I'll be 7 years older.
But that's beside the point.
Mr A. couldn't have given this experience a better analogy. One moment, I was in sixth grade sleeping through Mr. Wasson's English class, and then I found myself waking up in Mr. Boccuti's environmental class. And whoa. All of a sudden it is senior year, and I am standing here in front of you.  It was almost as if my time here at Malvern was a dream. This dream had its highs and its lows, but it was a dream that I didn't want to wake up from, because if I woke up, it would mean that it was over.
So much took place during this dream. I went to Jamaica on a mission trip and met children who had nothing, yet were happier than any children I had ever met before. I went to prom on  a boat.  I slaved through math classes, and also got yelled at because I was wearing a sweatshirt when it was 5 degrees. I  tried to understand something about 21st century learning and played some baseball too. But all of these things were secondary. The dream had a recurring theme. I could bet that the 124 guys sitting in front of me could guess what that theme was. Brotherhood.
The concept of brotherhood is truly unique to Malvern Prep. Can I explain it in full? No, but what I can tell you is this: this dream would not have been nearly as hard to wake up from, if that recurring theme of brotherhood didnt continue to pop up. Whether it was the student body rallying behind my family and me when my brother was diagnosed with cancer, more than 50% of the senior class attending Nick Algeo's grandfather's funeral, a simple "hey man" on campus, or MECOS 110, 111, and 112, brotherhood was ever present during this dream.
Throughout this dream, I was involved with giving campus tours to prospective families interested in Malvern. The first question from them was always, "What do you like most about Malvern?" I would answer with brotherhood, then they would then ask why. My response always seemed to be "I don't know." During this dream, I realized that there are some things that happen in life that simply can't be explained. Brotherhood is not really a tangible topic. Yeah, you could see me run over to one of the guys and give them a big hug, but that doesn't even begin to explain what brotherhood truly is. When I first came to Malvern in this dream, I wasn't sold on it like a lot of guys, but it slowly grew on me, and I wasn't sure why. It just became easier and easier to come to school every day.
Now, how does Brotherhood relate to this group of guys specifically? Why is the Class of 2015 better than any class ever to walk through Carney Hall? Well, I'll explain why. Let's use the word Malvern.
M-for Malvern Theatre Society- At a school where sports are big and the athletes seem to talk up their teams a lot, MTS stepped up this year. The production of Grease was the best play I have seen while here at Malvern. The Stations of the Cross were better than ever, and I'm pretty sure we all can agree Phil Daubney has the voice of an angel.
A-for Athletes- 39. That's how many guys are going on to play a college sport. That's more than 30% of the class. That's really special in my opinion.
L- for Leadership- We are the first class to actually start a Leadership Club here at Malvern. Now I can't take any credit because it wasn't my idea, but this class has again and again showed that we love to help the community.
V- for Valued- I have asked so many teachers about our class and they have all said this is one of their favorite groups ever to pass through Malvern. We have gained an outstanding reputation and, despite our flaws, the faculty and staff here love us.
E- for Energetic- Never was there a dull break or lunch period. We're always making each other and the ones around us laugh.
R- for Rowdy- I think this term explains itself. We always knew how to get loud to support each other, our student sections never disappointed, and we truly knew how to have a good time.
N- for Never. Never did we ever back down from a challenge. This class was always up for the task in the classroom, in the auditorium, on the field, and even outside of school.
I asked ten seniors if they could use one word to describe their Malvern experiences, and this is what I got. Brotherhood, Blessing, Family, Home, Love, Paradise, Unity, Life-Changing, Incredible, Impactful.
Not many schools have seniors who speak so proudly about their school.
Now, I'm waking up from my dream, and I am standing here in front of you. This dream; however is not one of those moments when I wake up and forget what I dreamt. I remember the whole experience and I couldn't be more proud of what we have accomplished. The last 4 years, and even the last 5, 6, and 7 years with some of you, have been incredible. Yes, the experience is  over, and we're moving on, but this class won't be forgotten. We all have recurring dreams, and this is the one that will play over and over in my head as I move forward in my life.
Congratulations to all my brothers here today. I love all of you. Thank you.