Malvernians march through the rain for CARES Walk 2012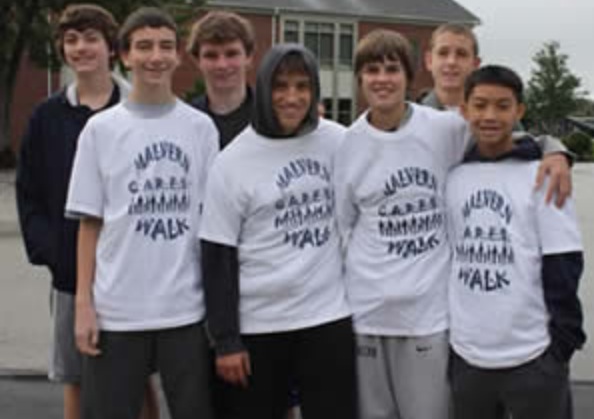 Malvern Prep hosted the annual CARES Walk this year on the rainy day of October 7th. CARES is an acronym meaning Cancer and AIDS Reach Everyone Somehow, and the walk functions as a fundraiser for local organizations that support families and help people directly affected by cancer and/or AIDS in their daily lives.
The CARES walk is incorporated into Malvern's Christian Service Program. All freshman and sophomores are required to participate in the walk and raise money by acquiring sponsors; however, the CARES walk is not exclusive to the 9th and 10th grade students. It is open to each and every member of the Malvern community. Every year a large gathering of parents and students from all grades (including the middle school), all wearing the same CARES Walk t shirt, crowd the Dougherty Parking lot to participate in the journey which starts after a CARES walk mass. The 5K walk begins at Dougherty Hall, goes out the ring road, through the Malvern Retreat Center, through the town of Malvern, and ends in Stewart Hall where the participants are greeted with a bar-b-cue lunch. This year, even with the rainy weather, the CARES walk attracted about 400 participants who completed the course.
Malvern raised a total of $20,934.00 this year; just shy of the $25,000 goal. "The weather cut down on the number of walkers and the funds are a little lower than last year." said Mr. Legner, the organizer and director of the event. The money will be divided; Evanfest, Siloam Ministries, Cancer Support Community, and Bringing Hope Home (Great Guys Group) will receive the donations.