New rocks installed on campus walkways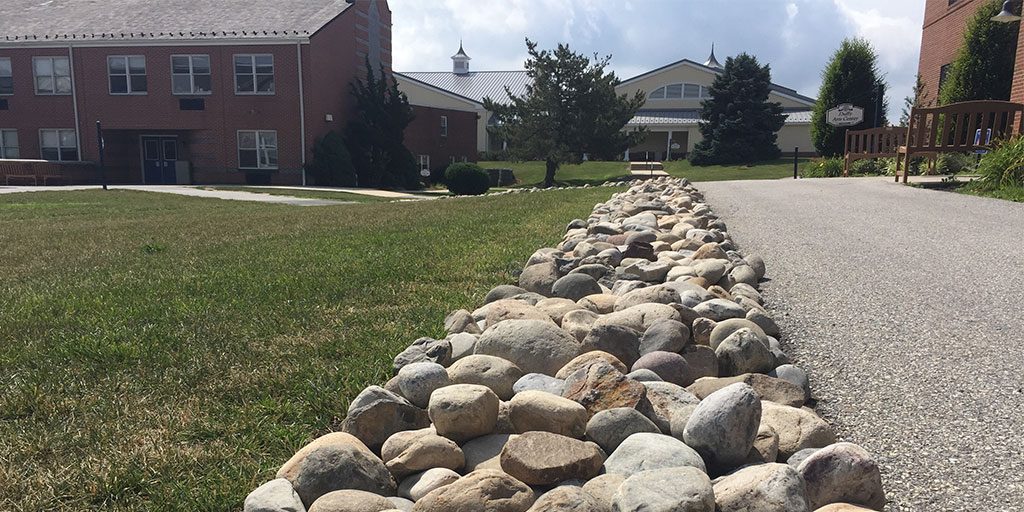 Joe Pancerella
October 27, 2016
Most students have noticed results of a major summer landscaping project.
New rocks have been built in along the pathways of campus to help prevent erosion and prevent overrun from rainfall. The maintenance team helped with the rocks over the summer.
The idea came from Eastern University, according to Maintenance Staff Member Mr. Steven Lennox. Lennox along with the rest of the maintenance team decided to install the rocks over the summer.
"The people in charge of the school wanted to make the appearance of the school better," Lennox said.
There were also many other reasons the rocks were added along the walkways. "The rocks help prevent erosion, helps prevent the grass being stepped on, and also helps from water coming through," Lennox said.
Lennox said there were complaints about students walking all over the grass instead of using the walkways. "The idea was to try and keep everyone along the paths and to make it look a little better too," Lennox said.
The process included digging foot long trenches, clearing out the trenches, putting a weed mat down to make sure that no weeds would grow, and then just putting the rocks in. This all took place while the Malvern Prep students were on their summer break.
"It was a pretty long process," Lennox said. "It took a couple of weeks."
Lennox said upkeep has been on his mind since laying down the rocks. "Every couple months or so, you just have to reset the rocks'" Lennox said. "It is almost like maintaining a flower bed."
Students at Malvern Prep have had different reviews when it comes to the new rock beds.
"I do not really care about the rocks at all," senior Matt Schellenger said. He said he has been at Malvern since seventh grade and he has not really noticed the rocks, and does not think they make a big difference to the campus.
Senior Jadon Diehl had a much different perspective about the rocks. "The new rocks on campus are really cool," he said. "I could tell the maintenance men put a lot of work in over the summer and it seems to have paid off."
Senior Tommy Wolters also liked the idea of the rocks on campus. "There has not been a huge rain out yet, but when there is let's hope the rocks do their job," he said.
"I came here in ninth grade and the walk from Duffy to Stewart has become much cleaner and nicer," senior Richard Pinola said. "Also, I have noticed the students have been sticking to the walkways and not walking along the grass from Carney to Duffy."
Lennox said this is exactly what they had hoped for.
Story produced in senior Journalism and Media Literacy elective class.