Student of the Issue: JD Triolo '20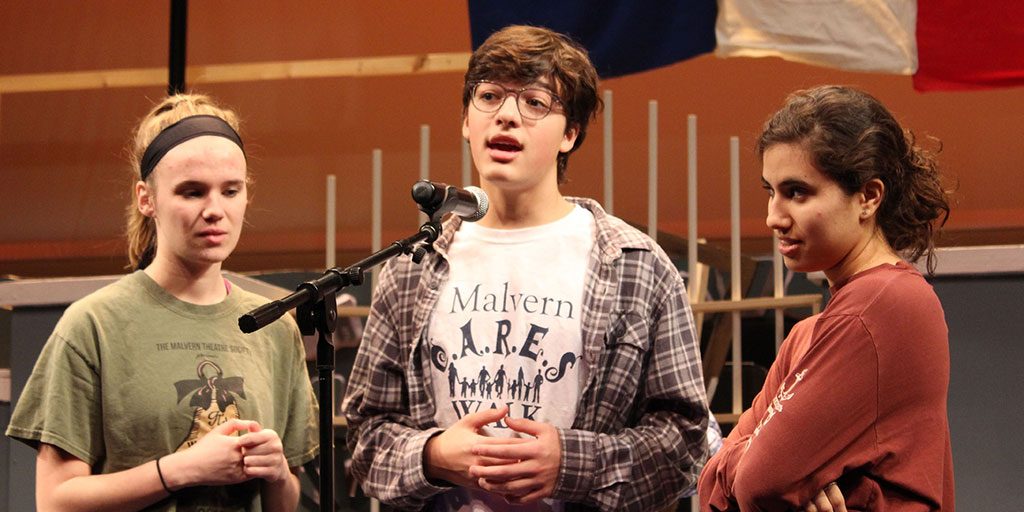 Owen Preston
March 1, 2017
Being a student athlete or performer is no easy task, but JD Triolo is able to juggle academics, athletics, and the arts.
From the pool to the stage, there's never a dull moment in the life of freshman JD Triolo.
Triolo always has something going on in his life to keep him busy, but that doesn't stop him from excelling. Besides being a full time student, a Malvern swimmer, and a part of Malvern Theatre Society (MTS), Triolo also does swim club in the summer and performs at Media Theatre and Walnut Street Theatre.
Triolo is set to perform in the MTS production of "Les Misérables" in March playing the role of Marius.
"It's a great experience to be in my first MTS show and everyone should come see it," Triolo said.
Early on in high school, Triolo already can manage his time very well.
"Since I'm always busy I have to find the little times of the day to do my homework or study," Triolo said. "I work well under pressure."
Before tests, Triolo either makes a set of flashcards or looks over his study guide over and over again. "Repetition is what helps me most," he said.
Triolo's parents have a big influence on his commitments.
"My mom pushes me with my schoolwork," Triolo said. "She's hard on me and makes me check my homework meticulously. My dad is more pushy on my acting."
Another influential person on Triolo's success is Choir Director and singing head of the Upper School MTS show, Mr. Edward Liga.
"Triolo is always punctual, he always comes prepared, he comes ready to sing, he asks questions when he doesn't understand, and he is always focused," Liga said.
Liga noted how Triolo is able to translate his musical talents into his athletic and academic career.
"Music is a universal language," he said. "To understand the language, you have to have an incredible ability to focus. You can use that ability and translate it into other subjects. I think JD has that ability, and when he's focused he stays focused."
Malvern Head Swimming Coach Mr. Jay Schiller has been coaching Triolo since he was four years old and has seen his talents develop.
"I've seen significant improvement in not only JD's swimming performance, but also the level of performing that he has reached from his school to big township productions," Schiller said.
Schiller also mentions the good characteristics Triolo possesses that help him succeed in all of these activities.
"He is a good communicator. Whenever he's going to miss a practice due to a prior commitment he lets me know right away," he said. "He also has a great demeanor and has the ability to take things in stride and juggle multiple tasks while keeping all parties happy."