Commitment Corner: September 2021
Malvern's commits throughout the month of September
Chris Datz '22: Washington and Lee Lacrosse
Close defenseman Chris Datz takes his talents to the next level at Washington and Lee University. After a long and difficult recruiting process, Friars' defenseman Chris Datz is proud to call Washington and Lee his new home. Defenseman Chris Datz recently announced his commitment to Washington and Lee over the summer. "I've been playing lacrosse for thirteen years now and so it's kind of become a part of my life, I can't imagine not playing lacrosse, so I was wanting to play in college," Datz said. Datz will continue to play the sport he loves as a defender for the 11-5 team and is a huge addition for their program. "[Out of] the options I had, Washington and Lee had the best academics, good lacrosse culture, right social aspect and all that, so it's kind of a no brainer for me," he said. According to Datz, playing at Malvern has allowed him to grow as a player and was a crucial part of his commitment. "I think Malvern was essential in me becoming the player I am. Without Malvern, I definitely wouldn't be where I am now…Coach O'Grady, Coach McEvoy, Mackrides all of them. They made me so much more of a better player than I was, especially Coach O'Grady. He's taught me so many things and he's going to continue to teach me more, I know that. I'm really thankful for what Malvern has given me," Datz said. What's next for Datz? For now, he's keeping his eye on the prize looking to take Malvern to another inter-ac championship and then take his talents to the next level. "I have some unfinished business here. [We've] got to try to win an Inter-Ac championship this year, but I think that going off to college will be a new start, a new opportunity with a really good program and really good coaches and somewhere I want to be," he said.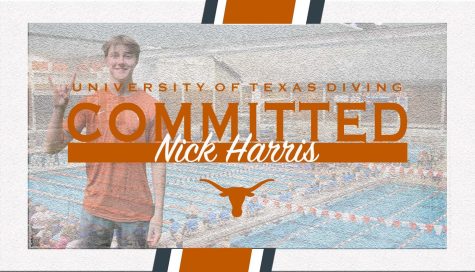 Nick Harris '22: University of Texas Diving 
The commitment process went smoothly for Nick because the University of Texas made him feel at home and accepted. When Harris visited Texas, he loved the campus and team there. "I went down there and loved everything about it. That's when I made the decision," Harris said. He loved that it was located in Austin, Texas. "What separates Texas from other schools is that, well obviously the city of Austin is beautiful, and a lot of other campuses aren't completely in a city," Nick said. When Harris met the team, it seemed like he was already a part of it. "I was with the team a lot and they were really welcoming and everything about it was just amazing," he said. The most influential person during Harris's Malvern's experience was head swim coach, Mr. Jay Schiller. "Jay Schiller, the swim coach, helped me a lot with the process," Harris said.  His  advice to a younger athlete or diver is: "Just keep working really hard if you have something you want to work towards, don't give up on it, and just keep working towards it." Harris's goals are to finish this year strong and work hard in college.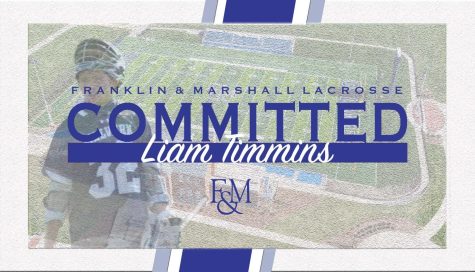 Liam Timmins '22: Franklin and Marshall Lacrosse
Friars' attackman Liam Timmins recently decided to join the Diplomats next year. The talented player will join the 7-0 Diplomats next year after announcing his commitment to Franklin and Marshall. He is relieved to see his hard work and dedication coming to fruition. "It was definitely a weight off my shoulders… F&M is a great school; it's a great lacrosse program so I was really excited about that," Timmins said. "But after a year of trying to decide where I wanted to go, it was definitely a relief that I found a place that was so great." The rigorous practices of Malvern's lacrosse program have helped many athletes improve their game, and Timmins is another beneficiary. "Malvern lacrosse is definitely really intense, and being on the team for four years helped me develop my game. I don't think I would be in the position I am without Malvern," he said. Franklin and Marshall finished 7-0 last year, coming in 7th in their region for lacrosse. In addition, F&M is held to a high regard being described as a great liberal arts college. Timmins is excited to be a student-athlete there next year. "I think it's definitely a good fit," Timmins said. "I wanted a smaller school, I didn't really want to go to a huge school. I think it definitely checks all the boxes socially, academically and lacrosse wise, so I'm super psyched. It's gonna be a good four years." Timmins also had some parting advice for potential athletes going through the recruiting process: "Be patient, and I think you always end up where you should be… wait for a school that you feel really comfortable with and wait for a coach and a coaching staff that you feel really comfortable with," Timmins said.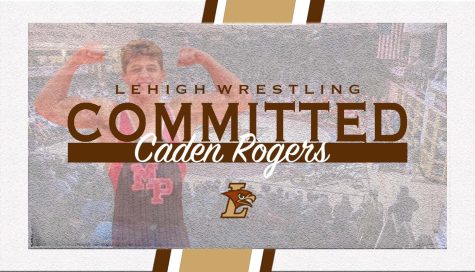 Caden Rogers '22: Lehigh University Wrestling 
Coming to Malvern as a freshman, Caden Rogers had different visions for his Wrestling career post Malvern, but as the years passed he set higher aspirations. "I thought maybe I could walk onto a Division 1 wrestling team. Then as I got better and better and better, the whole wrestling team grew as one and we all realized we have bigger, better goals for ourselves," Rogers said. He chose to commit to Lehigh University because it was close to home, had good academic programs, and a talented wrestling team. "When I went to Lehigh, it just felt like home. I know there were a couple of other great schools I was looking at, and I love them, but there is something that was special about Lehigh. There are good academics and wrestling there and it is a top talent [in the] country every year," Rogers said. As a senior, Rogers is looking to the future, and has even bigger plans, "My goal is to become an All American NCAA champion, and I think Lehigh can take me there."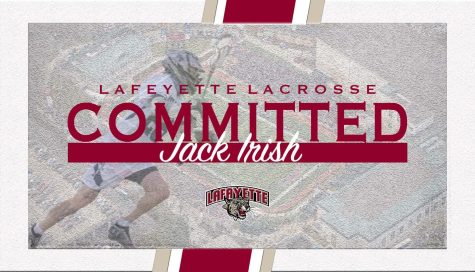 Jack Irish '22: Lafayette College Lacrosse
Friars' attackman Jack Irish has committed to Lafayette College to play lacrosse. The shifty player from Malvern talks about his commitment to play Division I lacrosse. With the recruitment process still reeling from COVID-19, many athletes have had a different recruiting process than years past. Irish spent quarantine working on his game, which paid off in his recent commitment to play at Lafayette College. "Lafayette was definitely one of the ones I considered at first," Irish said. "I know a lot of good Malvern kids who go there, and speak very highly of it. Coach [Patrick] Myers is a really good guy, and really close family is still something I take into account. I think it really honors the brotherhood code that we have in Malvern and it's definitely a big thing for me. Just from an education standpoint, I think that really fits for me when and what I decide to do for my major." In addition to the lacrosse and academic goals that Lafayette hopes to meet for Irish, the school also boasts a great alumni program and culture like Malvern. "Lafayette has a really good alumni program, kind of like Malvern, really strong AlumniFire [networking opportunities], " Irish said. "There are really good internships that come out of it and I think that's definitely a big turning point [in people's decision making]. On top of it, the coaches are really great guys, they want to win. I think I really connect with their vision." Irish attributed his commitment to the hard work he's put in and the competitive nature of Malvern Lacrosse. "I think Coach McEvoy does a very good job, and he's been here for twenty some years, so I think he's really familiar with what a winning team is and how to perform. I think definitely last year being part of maybe twenty-seven Seniors, fifteen of them going to top tier schools, definitely pushed me to be better, because you really have to try and stand out if you want to be [in] that low percentage of people that can get to that level," Irish said.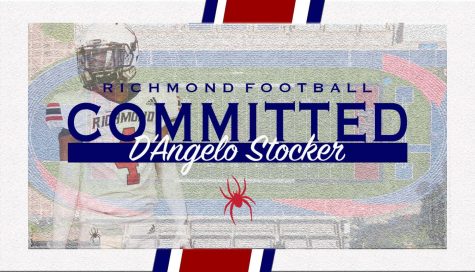 D'Angelo Stocker '22: University of Richmond Football 
For D'Angelo Stocker, the commitment process started last year. "I got my first offer and it led into the season where we only [had] four games. I'm grateful we had four games because other schools didn't have any because of COVID-19," Stocker said. The 2021 season allowed for more camps, making it easier for schools to see Stocker's talent. "This year, the commitment process was a little bit easier, because I got to go to camps and a lot of other schools like Richmond saw me. They saw my talent and decided to offer," he said. Stocker would like to thank his family for helping him during the commitment process and giving him advice. "I would say my parents helped me the most in this commitment process. They give me tips and tricks just like my brothers do. I have brothers who have already been through the process, they also give me tips and tricks on how to get through some situations," Stocker said. His mindset for this season is to improve every day, and he plans to continue working hard at Richmond. "My goal is to get one percent better every day and my goal for the season is to get some wins. For college, I would say get bigger, stronger, and faster, so I can get ready for college ball," Stocker said.