Nick Feldman '22 Ranked #1 Heavyweight Wrestler in the Country
Feldman speaks on the Who's Number One wrestling tournament, his match against Indiana native Christian Carroll, and a recent video of him during practice that went viral.
Hosted by Flow Wrestling in Dallas, Texas, the Who's Number One tournament was held on Friday and Saturday, September 17 and 18. It included 45 of the top high school wrestlers who battled head to head for prestigious rankings.
"The event as a whole was really cool," Feldman said. "We got a ton of really awesome gear and did a press conference, which was fun. All the wrestlers also got to run out of a tunnel for the matches with fog, smoke, and lights."
Feldman, who committed to Ohio State University in January, wrestled against Christian Carroll, the #1 220 pound wrestler, in the Big Man Super Match.
"Christian is a really big, strong, guy, but my game plan was just to wrestle smarter than him, give it my all, and see what happens," Feldman said.
Prior to this match, Feldman jumped up a weight class from 220 pounds to 285 pounds. His strategy was to prepare for the collegiate level.
"I want to be a heavyweight in college, so I figured it would be helpful to start now and get a year as a heavyweight under my belt," Feldman said. "I plan on staying at this weight, so I just need to keep lifting and eating, which is not a problem for me."
Feldman's game plan was to wrestle to his strengths and be confident. He articulates the
importance of relying on the hours of preparation and having faith in himself to succeed.
"Confidence is key for me. I knew I trained hard for this and wanted to go into the match with that mindset," Feldman noted. "I was able to carry that confidence throughout the whole match which helped me a lot."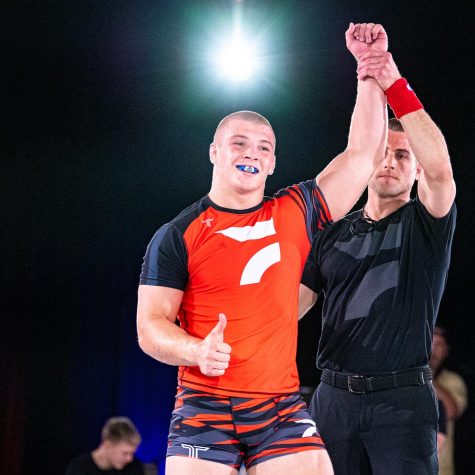 In a hard-fought match, Feldman was victorious over Carroll by a score of 3-2. This national stage victory will place him atop the heavyweight rankings. However, Feldman doesn't see this as a time to take the foot off the gas as he has additional goals already set.
"I am focused on winning the Iron Man tournament this year which is in December and will be our hardest competition. After that, I just want to win everything and wrestle my best every match," Feldman said.
A video of Feldman during practice in early September went viral, being posted by large media outlets such as ESPN. 
"When I saw the video was on ESPN it was pretty funny honestly," Feldman said. "I was just messing around and having fun at practice, and I guess it somehow got popular. A lot of people know this but I broke my finger back in eighth grade and it can move that way now. It's just a cool party trick."