Brendan Stec: Behind the Glasses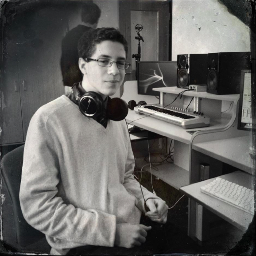 The Lantern sat down for conversation with Stec about his school career, his passion for music, and his plans for the future.
Quite possibly the epitome of the Malvern man, Brendan Stec is one of the most involved, committed, and well-known faces at Malvern. As a senior, Stec serves as a role model to many, and is often seen as quintessential friar. Why? you ask. Is it because Brendan is dedicated to his schoolwork and his future? Is it because he's one of the leaders of the Malvern cross country and track team? Is it because of his blossoming career in the music production industry? Or is it a combination of the three and many more that make Brendan such an inspiring character on Malvern's campus?
"Born and raised in Chester Springs, and I came to Malvern in 9th grade from Saint Aloysius Academy," he said with the dreaded uptalk.
(As a rising junior, I had only heard of that terrifying term, but Brendan explained to me that it was ending sentences with a raised tone of voice – an apparent cardinal sin in Mr. Roper's British Literature class – all the while vigorously correcting himself.)
He explained his involvement on not only the Malvern Cross Country team, but his leadership role on the winter and spring track teams as well. From that he moved on to his leading role in the Malvern Theatre Society. No, not on stage, but from behind the booth, as one of the leaders of the sound team (without him and the crew the show literally would not go on).
I asked Stec if he thought these things set him apart.
"No, I mean I spend the majority of my free time playing, editing, and producing music. I think my passion for this is really hard to define. A lot of musicians will say that they had this one moment in which they had this one fantastic revelation that made them say 'I want to do that.' I never really had that. It was somewhat of something that came to me slowly. I played and took lessons for piano for a while… until I quit. A while later I began teaching myself to make music on the computer like a 'robot,' and it grew from that. To me, music is just taking my interest from the focus of actually making music, and the perfection of the details. It takes away stress, because when I'm doing it, I'm just doing that."
When prompted to explain his work to someone who had no idea, Stec went on to say, "In one of the bedrooms in my house I have a small 'studio,' where I work. I have a keyboard, a microphone, and my mac (loaded with tons of software). That's all I need. Sometimes I'll take old music, and turn it around, or sometimes I'll create something from scratch. I put them on my website, and people buy those. It's definitely not about the money, it's really because I just enjoy it."
As he went on the passion and drive in his eyes for it was evident. Clearly, this was something that Brendan was "called" to do. When asked what his passion was Stec responded with something unexpected.
"Well, I don't even think that it's music. I don't have one defined passion, as an interest. I drive toward constantly improving, and always getting better at what I do. It doesn't always have to involve myself, sometimes it's getting involved and helping others. It sounds cliche, but I don't like to stay steady with anything, I am always challenging myself to improve."
And with that, Brendan had answered the question posed early on, and asked by so many: What makes him a representative for the Malvern man? It wasn't that he was successful, it wasn't that he was over-involved at school. It was that no matter what, Stec always drives himself to do better, all the while, giving of himself to others.