Baseball clinches Inter-Ac championship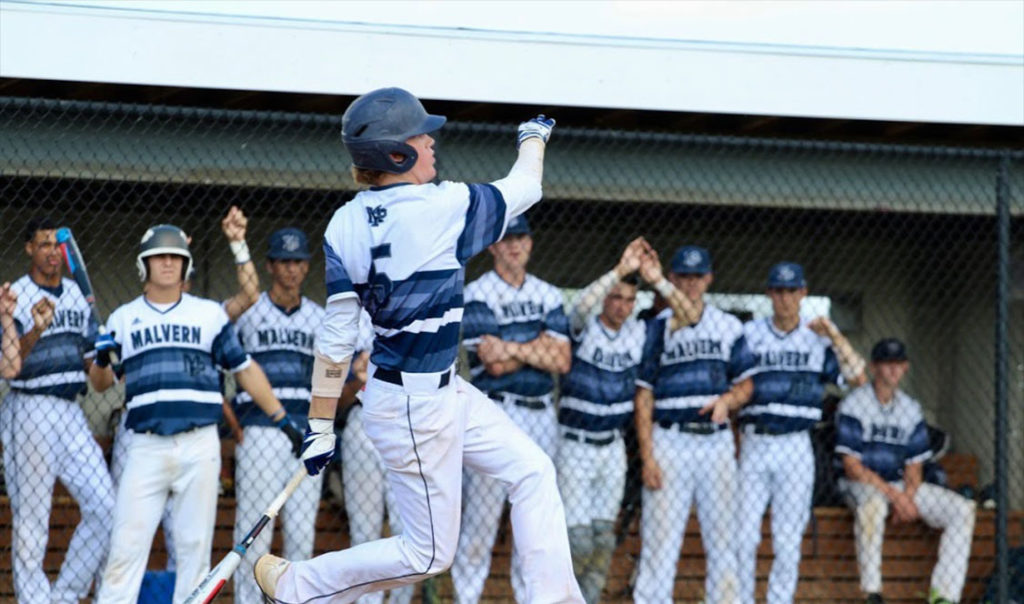 Stowe Milhous
May 29, 2018
Varsity baseball added to an already impressive season.
There was plenty of action, dispute, and drama in the baseball team's thrilling win over Springside Chestnut Hill that clinched the Inter-Ac league title.
Overall, Malvern baseball has 24 wins and 7 losses this season (as of May 14). Led by seniors Brady Devereux, Billy Corcoran, J.R. Byrne, Connor Dillon, and Ryan Dillon, the team has had strong performances all year with wins against top teams in the region.
"We beat St. Augustine's down at the Tom Hinkle Tournament, and they are the best team in New Jersey," Byrne said. "Beating Chestnut Hill for the Inter-Ac was a really tough game, and then we had a good win down in Florida."
After a rocky start to Inter-Ac play, the team was able to rebound well and win its seventh league championship, and its fifth outright championship, in eight seasons.
"We started off 1-2, losing to EA and Germantown, which is a really bad start and we thought we had lost the Inter-Ac at that point," Byrne said. "But everyone [in the Inter-Ac] started the season 2-2 which gave us new life, and now we clinched the Inter-Ac and we're 7-2."
The league clinching game saw Malvern down 3-0 going into the bottom of the seventh inning. However, the team's relentless character was put on display, with Lonnie White hitting a two-run home run to give the team life. Then, with the Friars down to their last out, Grant Burgess stepped up to the plate. He was struck out, but was able to reach first on the third strike bouncing in the dirt. Burgess would then steal second base and Connor Dillon would knock Burgess in with a hit up the middle to tie the game at 3 a piece.
The game would then go into extra innings. After not letting up a run in the top of the eighth, the Friars went up to bat with Lonnie White coming up clutch yet again. White reached first after being hit by a pitch, then made it all the way home for the winning run after errant pick off attempts.
Now on a hot streak, the team looks to continue their high level of competition as they round out the regular season.
"Really in these last ten to 15 games we started playing better baseball and it brought the season to be a successful one," junior Grant Burgess said. "We still have a chance to win 30 games which was one of our goals we set early in the season. We keep playing the way we are, we'll be good."
The hot streak can be accredited to multiple facets of the team, the first of them being great senior leadership.
"The senior leadership has definitely been a big part of [the recent success]," junior Colin Wolfe said. "We have some good leaders and good captains. They're always coming to the field ready to play, helping kids out who are younger, and keeping the program's culture. Just good leadership this year."
Two seniors specifically, Devereux and Corcoran, have been an inspiration to the team this year. Both seniors will be going on to play at the University of Pittsburgh.
"We try to learn as much as we can from them [Billy and Brady]," Burgess said. "They're the ones that talk to the team before the games, and someone's going to need to fill those shoes next year. Looking at the way they lead in practice and games, not only how they perform on the field but off the field too, where they bring a certain presence, like a mentality."
Not only have Devereux and Corcoran been good leaders for the team, but all the seniors have stepped up in their new roles this year as the ones the younger guys look up to.
"It's been a lot different [being in a leadership role]," Byrne said. "Like you have to make sure underclassmen are always doing their job and make sure they're buying into the system. It's been kind of cool to see us grow as a team."
Another characteristic of this team which has helped to bring about success is contributions coming from every player.
"[The younger talent] has definitely been one of the big things this year," Wolfe said. "A couple freshmen coming up playing some good time and playing well, and sophomores also. The underclassmen have been doing really well this year."
With a lot of young talent as well as the strong senior class, many players have had a heavy impact on the team this season.
"Chris Newell [junior] and his bat, he's been doing well and hitting the ball solid," Burgess said. "Lonnie White as a freshman has been stepping up. He's had a few really good games with big hits. Jordan Dissin [sophomore] as well, he's played a good part for us. Connor Dillon, a senior, he gets on base and makes stuff happen, so he's a good leadoff hitter for us."
With only a few games remaining in the regular season, the team will rely on these contributions and the senior leadership to continue their success in rounding out the regular season and into the Pennsylvania Independent Schools Baseball Tournament in which the Friars have been given the top seed.
"We're just going to look to pursue the private school state championship coming up, and that will be exciting," Burgess said. "Just taking care of business."