Athlete of the Issue: Will Redden '20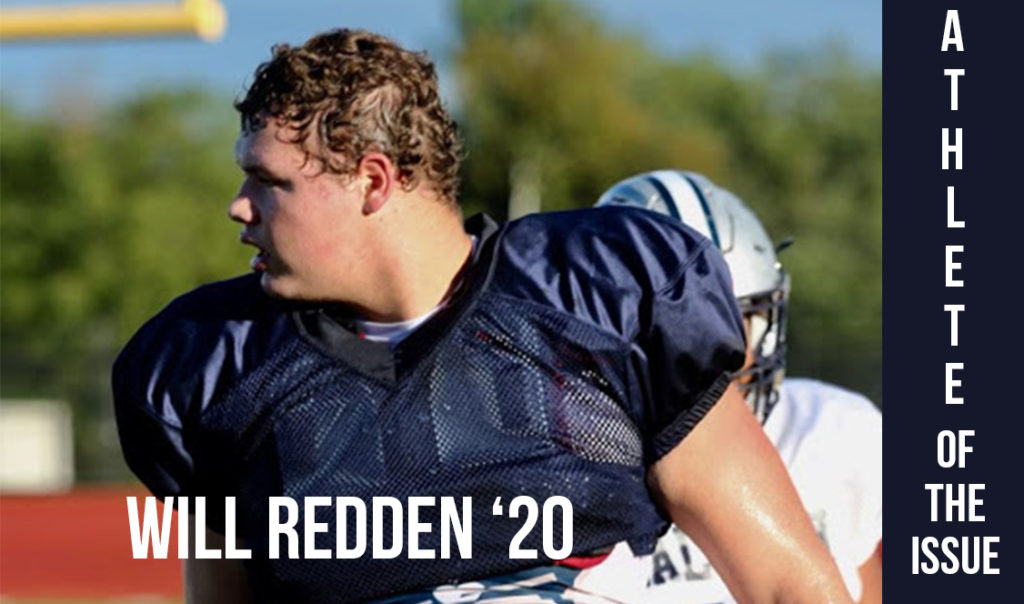 Louis Franzone
October 8, 2018
Listed at 6'6", 300 pounds, Will Redden is a powerful force that can make an immediate impact on the Malvern football team.
Coming to a new school and joining a new team can be a daunting task for anyone, even when you're already the biggest kid on campus. It was no different for junior Will Redden. However, his love for football and support from his teammates and family made the switch much easier.
Redden believes that his love for football is what really sets him apart from other players and helps him improve on the field.
"I love the game," Redden said. "I don't think a lot of people truly love the game like I do."
Aside from his love for the game, Redden credits Head Coach Dave Gueriera and offensive line coach Jeff Carroll for helping to improve his mentality and skills.
"I have a tendency to back pedal in my pass blocks," he said. "Coach Carroll's been helping me stay confident and keep a certain demeanor."
The dedication to improving shown by Redden has been acknowledged by his coaches and has shown on the field.
"He's a sponge, he picks everything up" Gueriera said. "Never makes the same mistake twice. He's definitely made the offensive line better."
Most kids have been playing their whole life and have gotten to where they are over years of practice, but this is not the case for Redden.
"I started in 8th grade," Redden said. "I played flag football my whole life but my dad didn't want me to play tackle until I was older."
This didn't stop him from becoming one of Malvern's starting offensive tackles.
"We're a much better line when he's playing," fellow teammate Buck Walsh '19 said. "He stepped right in and we play great together."
Coach Gueriera agrees. "He's been a great addition and he's fit in great too," Gueriera said. "It's been great having Will here."
[perfectpullquote align="right" bordertop="false" cite="" link="" color="" class="" size=""]"I love the game. I don't think a lot of people truly love the game like I do."
-Will Redden '20[/perfectpullquote]
Gueriera has also been impressed by Redden's skillset.
"He's athletic and really coordinated for his size," Gueriera said. "That was kinda surprising to me but it has been a good surprise."
Along with playing football for Malvern, Redden will throw shot put in the spring.
"I'm gonna throw for the track team," he said. "I threw at Kennett too."
Redden is quite happy he made the switch from Kennett High School.
"I wanted to get a better education as well as be on a better team," he said. "I feel like I get better opportunities at Malvern than I would at public school."
Being part of Malvern's football team has helped Redden adjust to Malvern.
"Coming to a new spot, he's been trying to find his sea legs a little," Gueriera said. "But he's been finding a way on that front and as a junior he's not afraid to be a leader.
Expect to see big things from Redden for the rest of the season and into next year. As a senior, and with a whole year under his belt, he'll be a leading force for Malvern football.