Rahdir Hicks '21 commits to play basketball at Towson
Malvern's starting point guard is going to be continuing his career playing Division 1 basketball in Maryland.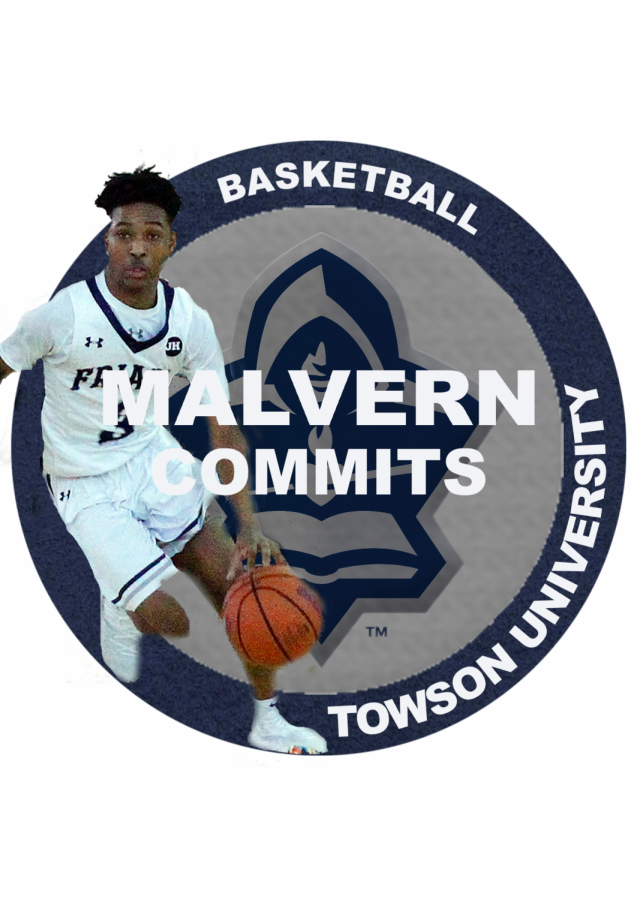 Chris Ayres and Matt Powers
November 10, 2020
COVID-19 has had a huge impact on the recruiting process of athletes, but that didn't stop Hicks from deciding on his next home.
"COVID-19 definitely played a part in the timing of my decision," said Hicks. "I didn't know what would happen with recruiting during this time and I got tired of waiting."
While quarantine slowed down the recruiting process, Hicks made the most of his newfound free time.
"During the long break I worked out, watched a lot of movies, listened to a lot of music, and occasionally saw a couple of friends," said Hicks. "I've been working on my jumpshot and creative ways to score during quarantine."
Hicks said that Malvern's Head Coach John Harmatuk, was very involved in his recruiting process.
Coach [Harmatuk] has helped me become a way better leader and allowed me to play free which helped me get recruited," Hicks stated. "He also talked to college coaches and sent film when they couldn't see me play this summer. He was a very huge influence."
Hicks decided on Towson shortly before committing, and believes the school will help him grow as a player.
"I knew I wanted to go to Towson about three days before I committed," Hicks stated. "I just felt comfortable that I would be able to grow there and get better."
Hicks said that Towson's coaching staff and the school's location were both big influences on his decision.
"I really liked Towson's coaching staff and how they constantly showed interest in me and stayed in contact with me," said Hicks. "I also liked Towson's distance from home and their playing style."
Harmatuk agreed that Rahdir would fit well into Towson's playing style.
"They are a heavy ball screen offense and [Rahdir] is great in ball screens with the ball," Harmatuk stated. "He will also be an instant impact guy on defense."
Defense is also the central focus of one of Harmatuk's favorite memories of Rahdir.
"Sophomore year at Haverford, we lost by 3 in overtime," said Harmatuk. "Jameer Nelson Jr. is Haverford's point guard and he can't get the ball across half court because Rah is defending him so well. His defense can completely take other team's point guards out of the game."
Harmatuk's confidence in Rahdir's abilities extends all the way back to Rahdir's freshman year.
"We asked him to be the point guard as a freshman, not sure if he weighed 100lbs," joked Harmatuk. "He's a pure point guard. Give him the ball from day one and he will be able to run the team." 
If winter sports are played as planned, Hicks has high expectations for himself and the team this season.
"If we have a season this year I expect another Inter-Ac championship," said Hicks. "I'd definitely be the leader and the main catalyst this year for that."