Ryan Rosenberger '21 commits to Boston University for track and field
The reigning Inter-Ac Track and Field Co-MVP becomes Malvern's first D1 runner since 2018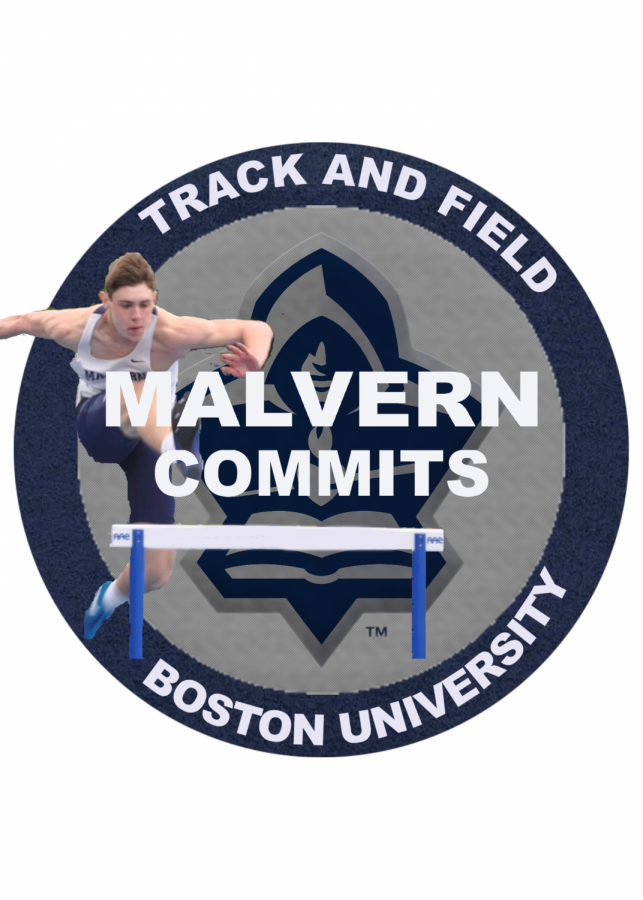 Chris Ayres, Sport's Editor
November 10, 2020
For Rosenberger, BU was a top college choice even before contacting the coaches.
"I really liked BU when I visited it sophomore year when my sister was deciding on colleges," said Rosenberger. "It's a very good school academically and has a strong finance major, which is what I'm looking for."
Rosenberger's recruiting process started when he reached out to the track coaches last winter.
"I first contacted them in mid-January by email and their jumps coach responded pretty quickly," he said. "I've been talking to them the whole time through my commitment, usually about once or month or so when I would get new grades or a new PR."
Unfortunately, like many other athletes, Rosenberger's recruiting process was negatively impacted by the global pandemic. 
"I was coming off a fourth-place finish in States for long jump and I was improving week-to-week and I was personally expecting a pretty big Nationals meet," he stated. "But we missed out on that and had no season at all in the spring, which is really the biggest recruiting season. I feel like that was a big loss."
Through the summer, Coach Koenig, Malvern's track and field coach, was a big help according to Rosenberger.
"He knows the programs better than we do and I was able to get his input on a lot of them," he said. "He reached out via email to my top few schools during the summer following up on what I was saying and reiterating it from a coach's perspective. I think it was helpful for the colleges to hear that from someone other than myself."
Koenig agreed that Rosenberger was going to have a strong performance at Nationals had it not been canceled. 
"I felt bad for him because I thought he was going to have a big day up at Nationals and then Nationals got canceled," Koenig said. "I think for most programs, he would have gone from a borderline Division 1 scholarship athlete to a guy that everybody wanted. I thought he could do that in one meet."
At the end of the summer, after talking with the coaches periodically for months, Rosenberger received his offer, and announced his commitment shortly after.
"One thing that really drew me to them was their coaching staff. I talked to the head coach and the jumps coach a good amount via zoom, and they were both very personable and I think they emphasize what I was looking for in a program which wasn't just running all the time," he stated. "I got my official offer in August and then I ended up committing about a week later in the beginning of September."
Koenig believes that BU is a great place for Ryan to grow as a runner.
"For a guy like him you want to look for a program that supports the events that he's in as well as a program that's consistent with years of showing that they commit to those events, and BU has done that," Koenig said. "They have arguably the world's best indoor facility. The school has made a commitment to high-level track and field and bringing in competition from all over the place."
Rosenberger is looking forward to being able to contribute more than just jumping to BU's team.
"As well as jumping, I will be doing hurdles and it's possible I could be doing decathlon or pentathlon indoors," he said. "If I work with them and kind of try out some of the events and we decide that that's where I can contribute the most, then that's definitely an exciting possibility."