New Head Squash Coach, Kama Khan, wants to take Malvern Squash, "to the next level"
With Malvern Prep's nationally ranked wrestling and lacrosse programs, the rising Squash program doesn't get much attention. New head Squash coach, Kama Khan, hopes to change that.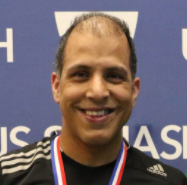 With Coach Dominic Hughes's departure from Malvern, new Head Squash Coach Kama Khan hopes to develop Malvern into an elite program
.
It is no surprise that Khan has such ambition, when taking into account the greatness he was surrounded by growing up in Germany and Pakistan. 
His father and cousin, Karim Khan and Jahangir Khan respectively, were professional Squash players. His cousin, Jahangir Khan, is widely regarded as the greatest squash player of all time producing the longest winning streak of any squash player ever. He is also the inspiration of Malvern's new coach Kama Khan. 
"I wanted to be like him, I wanted to do anything," Khan said.
Kama Khan went on to play squash for the national teams of Germany, Switzerland, Austria, and Poland. Towards the end of his playing career, he coached for the Ukraine and Polish national teams. It wasn't until 2014 that Khan would play in the U.S. and visit Malvern for the first time. 
"My cousin Imran [Khan] was the head coach at Malvern; he was a very good player and a great coach," Kama Khan said.
Khan moved to Malvern with his wife and three children where he developed a local squash program: K2 Squash. This past summer, Khan was named the head coach of the Malvern Prep squash team, which he hopes to develop into an elite, nationally-ranked program. 
"This is my biggest goal: to take the Malvern Squash team to the next level," Khan said.
Khan admits he cannot accomplish such a task alone. 
"I will need a lot of [Malvern] kids to try squash…it's such a fun game," Khan said.
He also said playing squash presents a great opportunity for kids to be recruited into very prestigious schools. 
"There has been a lot of recruiting from Brown University, Harvard, Princeton," Khan said. 
Khan explained that, within the K2 Squash program, a lot of his players receive attention from prestigious colleges around the country.
Khan wants to train Malvern students in order to prepare them for the next level and he knows that Malvern Squash has the opportunity to develop into an elite high school sports program.