Brotherhood Ceremony Welcomes New Upper School Students
Malvern's annual Brotherhood Ceremony officially inducted the class of 2025 into Malvern's community.
The longstanding tradition has, despite some hurdles, remained an integral part of the Malvern brotherhood and will continue to welcome the new classes into the Friar community. 
Students are alphabetically called down with their parents, where they receive a blessing and medal, put on by their parents. Then, they sign the book of names, finalizing their induction as a Malvern brother. 
One freshman, Anthony Sindoni '25, reflected on his participation in the tradition.
"It was really cool because it's like you're signing the book with all the people before you who signed it so it's the whole history of the school going into one book," he said.
Mrs. Susan Giordani, Faculty Academy Leader for the ninth grade team and English teacher, sees the change in her students immediately after the ceremony. 
"I believe our students begin to get the sense that Malvern is a special place of community, especially with their upperclassmen and families being present. As an introduction to Malvern's brotherhood, the ceremony represents the start of their journey. Whenever they swing or touch those brotherhood medallions they proudly wear around their necks, they have a reminder of inclusion into a very special community," Giordani said.
Giordani also got to experience the ceremony from the parent perspective when her son, Logan Giordani '21 was welcomed into the brotherhood in 2017.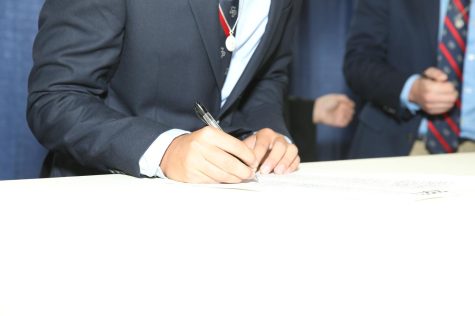 "I very much appreciated having my son be welcomed into such a warm and caring community. It was actually quite an emotional experience for me, and in talking with other faculty members, they have shared the same sentiment. You see, we understand both sides, the faculty side and the parent side. We know that our sons are safe and secure with such wonderful, passionate faculty," she said.
The ceremony has been a little different the last two years with COVID-19. The planning committee was still able to work with pandemic protocols to allow this opportunity.
Father Christopher Drennen '73, Director of Mission and Ministry, touches on how the event was planned around COVID-19 and was made possible.
"We thought of doing it virtually, we thought of doing it without parents, and the parents very much wanted to be part of it. In the spring, we were beginning to lift restrictions, so we squeezed it in on the last Wednesday of the year before graduation. It was just the freshmen, the Adelphia Society, and the parents. This year is the first year in two years that we've had everybody in the upper school," Drennen said.
Drennan also shares what role he thinks the faculty has in the Brotherhood. 
"I think it has a great effect because I think our faculty, for the most part, if not everybody, are totally dedicated to the kids. Malvern isn't a place for faculty to come in, teach something and leave. It's a place where faculty get involved in the lives of the kids and they let them know they're supported," he said.
Mr. Jeffrey Carroll '02, Ninth Grade Student Academy Leader and Social Studies Teacher, speaks on the freshmen experience before the Brotherhood Ceremony existed, when he was a student at Malvern.
"There was nothing official, but our freshmen orientation was a lot more involved, so we felt like that was the official welcoming. We had one day where we did all sorts of boring stuff where we had to learn how to just get around campus. We didn't even have email my freshman year, but there were a bunch of logistical things one day, there was some team building, and then we had a campout," Carroll said.
Carroll believes that the Brotherhood Ceremony makes Malvern a special place compared to many other schools. 
"I have heard that the other schools are a lot more competitive, where I think we have a sincere and genuine desire to see each other do well here at Malvern," he said.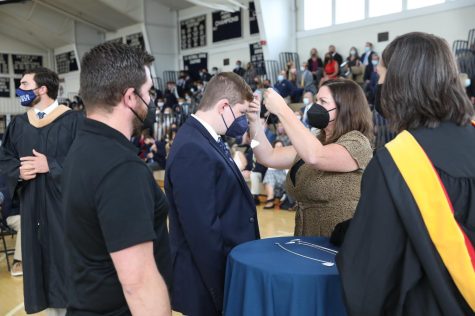 Adelphia Society member, Aidan Fowler '23, noted how he has a greater understanding of the Brotherhood Ceremony now that he is a junior.
"I definitely have more appreciation for the Brotherhood ceremony as a junior than I did as a freshman. I think now I see the holistic view of it, and I realized how important it was, bonding relationships with the freshmen," he said.
Fowler continued speaking on the importance of the tradition. 
"I think that this time around was even more special to realize that we're almost done with our high school experience here and it really showed how much of a leader we have to be this year, and how much people look up to us," he said.