Students of the Issue: Alex Hamill, Cole Cherian, Joe Sheridan, Nolan Horan, Sumant Sharma
Students Cole Cherian, Nolan Horan, and Sumant Sharma proudly earned recognition by the National Merit Scholarship Program. Alex Hamill and Joe Sheridan were honored as Commended Students. Both of these opportunities were provided by scoring in the top 50,000 out of roughly 1.5 million students who took the PSAT/NMSQT nationally.
Having high achieving students is nothing new for Malvern; with five students qualifying for the National Merit Scholarships, the Class of 2022's high intellect is on display.
When asked about their initial reaction qualifying for National Merit Scholarships, the five students had varying answers.
"I was very excited to be recognized by the program. I was a little surprised and was told by one of my friends during lunch one day," Hamill said.
Alex Hamill was not the only student to be taken aback by his selection, as both Sumant Sharma and Joe Sheridan were surprised to see their names as high as they were.
"I was pretty surprised when I first got the award. Looking at the data from the past years, the cutoff was getting harder and harder and I would either barely make it or not make it at all so that's what surprised me the most about it," Sharma said. 
"Very surprised, I didn't think my score was high enough," Sheridan said. 
On the other hand, students Nolan Horan and Cole Cherian were less surprised and more excited by the opportunity brought to them.
"I was very excited to see the opportunities that come with national merit once I looked into them," Horan said. 
"I was very grateful for the opportunity and I was very humbled to be selected among like all the kids in my class who I really admire for their work ethic and intelligence," Cherian said. 
As for the opportunities and recognition that come with national merit, a mix of responses was seen by the five scholars. 
"Semifinalist also gives you the opportunity to apply to be a finalist. You are a finalist for national merit if you receive scholarship money after your application," Horan said. 
Meanwhile, Sheridan saw this in a different light rather than a chance to receive some scholarship money. 
"For me, since I already know where I am going, it is more like recognition," Sheridan said.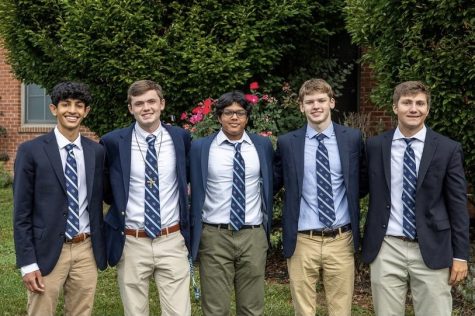 The process of preparing for the PSAT varied between all the students as well, with some having previous experience preparing for the SAT.
"I grinded out my SAT during sophomore year. Before that, I had been studying 7 hours a week for the SAT over the summer and was hammering practice test after practice test during the school year," Sharma said. 
Others, like Alex, had no previous experience at all taking the test. 
"I did not prepare for the PSAT last year. After taking the test, I studied for the real SAT and did really well," Hamill said. 
When asked if test-taking came naturally, Cherian and others all believed that they were luckily blessed with the ability to be good test-takers. Not only this, Cherian has an intriguing take on the variety of the PSAT in accordance with success in other aspects of life. 
"I don't think tests are a great metric to judge intelligence or aptitude. I think all the PSAT test is really how good you are at taking the PSAT. I don't think it's a great metric for anything really like intelligence, work ethic, or readiness for college," Cherian said. 
Overall, a sense of excitement and gratitude was felt from the great achievement all five students earned, and as their senior years continue to wind down, college is on the horizon.