Christian Service reimagined
Through Malvern's social entrepreneurship class, a group of three seniors were able to design and implement a new form of Christian Service days.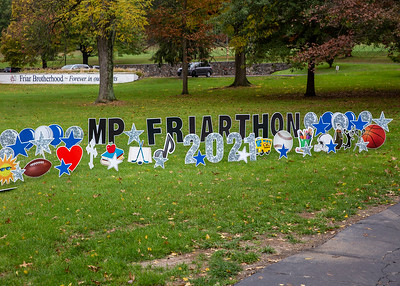 Malvern students are constantly taking initiative by creating new experiences for their classmates to enjoy. These experiences are often crafted to positively impact surrounding communities as students seek to help those in need, a core aspect of the Malvern community. Seniors Matt Powers, Kody Kolar, and Jack Walters were able to design a new format of service days called "FriarTHON" to enjoyably fulfill Christian service requirements. 
"FriarTHON was designed in a social entrepreneurship class," Mrs. Kelly Catania, Christian Service Learning Director said, who has been helping the students implement their idea since the Spring. "The group has designed specific activities and games to include in our Christian Service days. Their mission is to have a greater impact with the volunteer opportunities that we are offering to all students and faculty," she said.
As described by co-founder Matt Powers '22, FriarTHON is "a two day service event that has activities both on and off campus. It's going to be very hands-on. There will be a fun time at the end of the day in which students can celebrate the work they've done." 
Some activities include a ten mile walk to Villanova University and a five kilometer walk while holding heavy jugs of water.
"The walks are supposed to illustrate the hardships that people go through in third world countries to get water everyday… people in these countries have to carry big buckets of water for long periods of time just to drink for the day," Walters '22 said.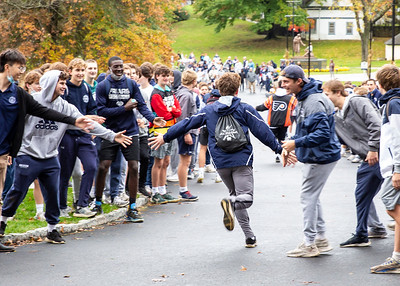 The traditional Christian service events will take place as well. Kody Kolar '22, the third co-founder, stressed the importance of the traditional service activities. 
"Rise Against Hunger will be coming to campus on service days for students to pack meals for people. It's a tradition at Malvern, so we didn't want to stop that as we implement our activities," Kolar said.
These events will take place over the two service days between terms. Aside from the walks for water, the team was able to continue the canned food drive in lieu of purchasing homecoming tickets. Students had the option to donate twenty five cans in exchange for a ticket. 
"The high school bins are filled to the brim… We are very impressed with the donations, and how much we were able to collect with such a simple plan," Kolar said. 
The students were able to take advantage of pre-existing relationships with organizations to help their food drive. 
"We're sending cans to St. Katharine Drexel [Food Pantry] and the Chester County Food Bank. Malvern has worked with them often in the past, so we are glad to be able to send more their way," Walters said.
The group also emphasized keeping Christian service days enjoyable. Activities are planned for the end of the service days for students to celebrate their hard work and to strengthen the bonds that Christian service often creates between peers. 
"We have plans for food trucks, a bounce house, and half court shot donations. Students will give a two dollar donation for a big tournament," Walters said.
The boys have big plans for the future of FriarTHON to keep it alive for the coming years and to improve upon it. 
Powers explained the future of the event, stating, "One of the goals we initially had was to make this an annual event. We are planning for the coming senior class to take over and make it their own, and to eventually pass it down to the next one… Currently we are getting some underclassmen involved, whether it be with the planning of the event, social entrepreneurship class, or Christian service event. If everything goes well, we should see FriarTHON in the coming years." 
FriarTHON has certainly generated some buzz within the student body and created excitement for the upcoming service days. 
"We're really excited about the event. We hope it will create a fun way for students to become more enthusiastic about service and to find new ways to get involved in our surrounding communities," Kolar said.