Malvern hosts first annual James H. Stewart IV Wall of Distinction Ceremony
After being postponed in the spring of 2020 due to the pandemic, Malvern was finally able to celebrate positive social impact by inducting eight community members into the St. Augustine Center's Wall of Distinction.
The idea of a Wall of Distinction first arose when Mr. Ron Algeo '87, Assistant Head of School for Leadership, and Mr. Michael Riordan '73 were collaborating on a leadership team.
"We [Mr. Algeo and Mr. Riordan] had this idea of a Hall of Fame for people who have made such incredible impacts in the world, on or off-campus," Algeo said. "That's where it was born so we put a committee together, and we started building it from there."
Algeo notes that this first class of eight community members will be the largest because they wanted to set the bar high and make a splash. In future years, they will induct two people every year.
"This year, we limited it to eight. Moving forward, we're going probably about two each year," Algeo said. "For inductees, we will go through the names recommended, look at the impact, hear their stories, and then we'll go to the leadership team."
Algeo shared that although there are no specific criteria to be inducted, the Committee searches for community members who not only live Malvern's core values of Truth, Unity, and Love, but also have a tremendous impact in their communities and on the world.
"Every year, we will look at who has left and made a huge impact in the community or larger. Doesn't matter how they did it, or anything like that," Algeo said. "We also look at friends of Malvern who have made a huge impact on this campus and this community and just the general impact on the culture and community."
After fighting through pandemic troubles, Algeo is humbled to be a part of this celebration and is thrilled to honor community members for many years to come.
"This was a dream for a long time and it was a lot of work," Algeo said. "But it is just awesome to be able to finally get it up and running after a year and a half of waiting to celebrate these people. It [the ceremony] was an incredible gift."
The Wall of Distinction is dedicated to James H. Stewart IV. Mr. Stewart, who spent almost fifty years at Malvern, serving as a teacher, coach, Headmaster, Head of School, and President.
Algeo tells the story of how this decision was determined.
"Mr. Stewart was on our Committee when this started and he had a huge impact. We [the Committee] said to him, 'Jim, we'd like to put your name in for induction.' He said, 'Absolutely not. I don't want to be in this. This is not for me.'"
"Unfortunately, that October, he passed away suddenly. The next meeting was extremely emotional and we all looked around the room and knew we had to name this after him and he had to be part of the inaugural class."
The Wall of Distinction Committee commented, "Regardless of his role, Jim sought first to listen and understand while serving with character, dignity, humility, and wisdom."
In addition to Mr. Stewart, another familiar face inducted was Mr. Chic Kelly '88. As a student at Malvern, Mr. Kelly developed powerful relationships with his classmates and was also a dedicated athlete, participating in a sport each season and winning the Flyers Cup in 1987.
"The four years I spent at Malvern are best described as a near utopian experience," Kelly said. "The leadership of Father Duffy and Jim Stewart understood the principal mission of Malvern Prep was the transformation of adolescents into intellectually prepared and morally responsible adults. My classmates and I flourished in a community-led by dedicated educators who were genuinely concerned about our academic progress and spiritual development."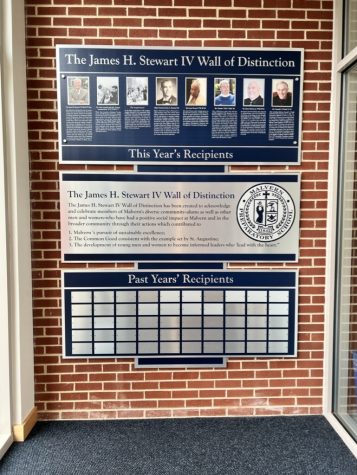 After successfully walking on to Merrimack College's ice hockey team, Kelly suffered a severe spinal cord injury in 1988. He was diagnosed with a C-5 Quadriplegic. 
In June of 1999, Kelly and his family created The Friends and Family of Chic Kelly Foundation. It was established to not only help pay the expenses of Kelly's injury but also to assist individuals living with spinal cord injuries.
"The foundation raises funds to offset expenses related to my spinal cord injury which are not covered by medical insurance," Kelly said. "The NCAA catastrophic insurance policy initiated at the time of my accident failed to cover the enormous expense of my custodial care. In addition to providing for my needs, The Friends and Family of Chic Kelly sought to improve the lives of individuals living with a spinal cord injury who lack the necessary resources to pay for medical expenses, home renovations, durable medical equipment, and various other expenses."
Twenty-two years after Kelly's initial injury, the NCAA agreed to pay the expenses for Kelly's care. This shifted the focus of The Friends and Family of Chic Kelly Foundation.
"Fundraising efforts are now primarily focused on assisting spinal cord injured individuals living in the Delaware Valley who need financial assistance with any expenses related to their disability," Kelly said. "Unfortunately, the pandemic forced the foundation to cancel all fundraising events scheduled for the past 18 months."
Like many others who have been on the receiving end of Mr. Stewart's wisdom, Kelly shares a story of how the two first met and the immediate impact Stewart had on him.
"Jim Stewart hired me to be an educator at Malvern Prep in 1994. Stew was one of the most inspirational individuals I have ever met," Kelly said. "I remember the day I was hired, primarily for the single piece of advice Jim Stewart offered me. He pointed to his head and said 'I know you have it here' meaning the intellectual tools, then he pointed to his heart and said, 'But if you don't have it here it doesn't matter.'"
Kelly is honored to be able to serve the spinal cord community as a mentor, sharing both experiences and expertise.
"I have been blessed to serve as a mentor to recently injured individuals learning to adjust to these challenges," Kelly said. "I am most proud of my role in providing light to individuals who might otherwise be trapped in a very dark tunnel."
Another inductee is Mrs. Joan Downs. A mother to three Malvern graduates, Downs has had a profound impact on the lives of many young men, introducing them to various sports and extracurricular activities as well as environments.
Malvern alumnus Mr. Toby Booker '96 commemorated Mrs. Downs's legacy during the ceremony. The two initially met when Booker was six and playing football with Mrs. Downs's son, Derrick.
"Derrick Downs '96 and I began playing tackle football together for the Colwyn Comets in Delaware County," Booker said. "She attended practice every day along with Mr. Dee Downs, and they would become steady fixtures along the sidelines for years to come."
Booker recalled Downs's instrumental role in his move to attend Malvern. He is forever thankful for the opportunity she provided him.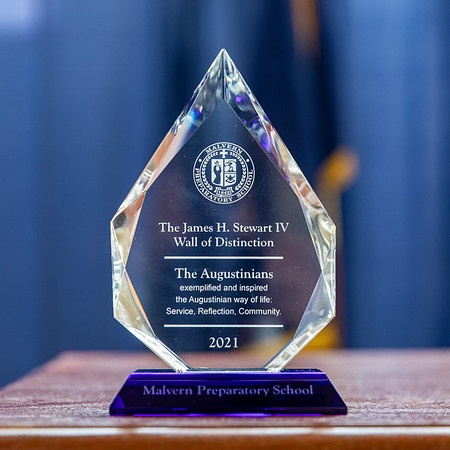 "During the spring of 1992, Mrs. Downs first introduced me to Malvern's campus and arranged for me to take the entrance exam," Booker said. "She shepherded my family and me through the Malvern application process, and then went on to successfully repeat this several times over the next two decades."
In addition to Booker, Downs did this for many other students. Downs's impact lies in helping expose students of color to all that Malvern has to offer.
"Mrs. Downs always pushed her Malvern recruits to stand up, stand out and strive for excellence," Booker said. "She often reminded us of why we were at Malvern, and that we could not waste our opportunities. It was not enough to just attend Malvern; she demanded that we study hard, find other ways to become involved beyond athletics, and lay a solid foundation for those young men who would follow in our footsteps."
Ryan Nassib '08 spoke on behalf of inductee Mr. James J. Murray Jr. During his time on MECO, Nassib was fortunate enough to spend a lot of time with Murray, and the two quickly developed a strong relationship.
When acting as the General Manager of the Philadelphia Eagles, Murray created the first Ronald McDonald House. The Ronald McDonald Houses serve as temporary homes, at little to no cost, for families of children receiving treatment at nearby hospitals.
"Mr. Murray has distinguished himself as a leader through a number of charitable projects that have served the community, including co-founding the first Ronald McDonald House in 1974," Nassib said. "The program now has close to 700 programs in over 60 countries with thousands of volunteers and these houses have and continue to give families of sick children support in some of the most difficult times of their lives."
Nassib describes that after reading Murray's book, "Life is an Audible," he truly experienced his greatness.
"His book details his life's journey, as well as many life lessons he had learned and wise messages that really resonated with me," Nassib said. "What I took from that message [life is an audible] is that sometimes, God blesses you with hardships and failures which can alter your life in a number of ways. However, the quote is a reminder that it's all a part of God's plan and extraordinary things can still grow from those challenging times."