"Squid Game": The TV show that took over the world
"Squid Game," Netflix's newest hit, has reached over 142 million viewers according to Yahoo News, smashing Netflix records along the way.
Prior to the South Korean hit, Netflix had lost the steam it had at the beginning of modern streaming services. 
Losing shows like The Office and South Park, which went to their family companies' streaming platform, was a critical loss for the content collection. Many thought that the Netflix collection, including its originals like Stranger Things, Cobra Kai, and Bojack Horseman, did not warrant paying an $8.99-$17.99 monthly fee. With the creation of services like Apple TV, Disney+, and HBO MAX, Netflix needed to make major improvements to their collection to hold the title of the most valuable streaming platform. "Squid Game " was the game-changer.
 "Squid Game" follows 456 people in debt as they compete in six children's games to win a prize of 38.6 million USD or 45 billion won, the South Korean currency. However, along with the game comes a deadly twist. After losing the game, contestants will be killed in cold blood, with some of them having their organs harvested and sold illegally on the black market. Despite some slow parts in the middle of the nine episodes, "Squid Game" delivers an entertaining mystery plot that keeps the viewer glued to their screen. In fact, 66% of "Squid Game" viewers finished the show within twenty-three days of beginning the first episode, reported Ryan General of Yahoo News.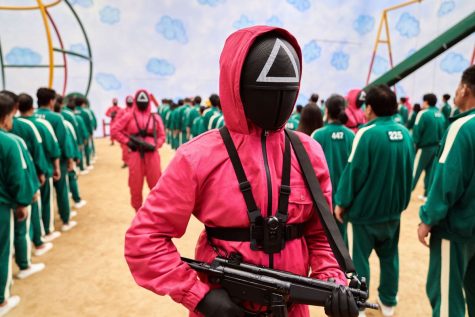 Despite its praise and impressive statistics, "Squid Game" receives a staggering amount of criticism. Its brutality in particular is pointed out for being over the top. The show is uncensored; however, the brutality is supposed to represent something about our current society: the darker side where things aren't so bright. The protagonist is a divorced father who lives with his dying mother. He recently lost custody of his daughter and is in massive debt. When accepting his invitation to the game, he risks his life by participating and is promised no reward. Along with the protagonist, every character who is participating in the challenge is there for a reason, and this works for the show. Every character is compelling and has issues in their life that fall into a deeper systematic issue.
"Squid Game" delivers a compelling storyline filled with emotion and attachment to the characters: the goals that any TV show or movie has. It's no surprise that "Squid Game" has taken over social media platforms and according to Ryan General's reporting, amassed 1.4 billion total hours watched on Netflix.