The Friar's Cup Official Opening
Malvern's new café in Carney Hall officially opens and serves as a connection point for the St. Augustine Center for Social Impact.
The new attraction to the campus, The Friar's Cup, is now open and has created a buzz within the community. It has remained a topic of conversation and continues to excite everyone.
Students are excited about the official opening of The Friar's Cup. It is open every day before school, during lunch, and after school. 
Mr. Thomas Gray, Director of Dining Services, shares what he has seen from the students so far.
"The idea that it was a classroom four months ago is astounding. I expected the novelty to start to wear thin and it hasn't started wearing with the students," Gray said.
Even though it recently opened, Gray states that the idea has been circulating for a couple of years.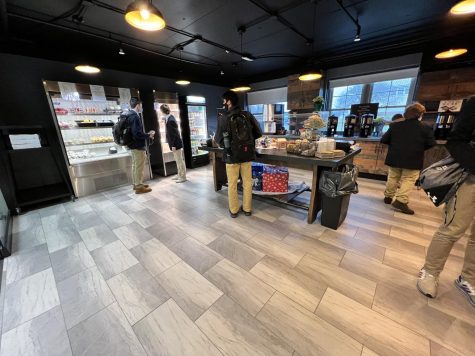 "It started a long time ago when they wanted to put a kitchen in the CSI. With the new schedule that they have now, the lunch periods to get food are a little bit more condensed. So we wanted to spread the lunches out," Gray said. 
Only a month in, Gray discusses future plans for Friar's cup.
"We're really just experimenting with what we're going to be doing. We want to expand the hours if we can get some more help. I also want to coordinate Stewart and the Cup together, the menus, and what we're offering" Gray said. 
The staple of The Friar's Cup, Ms. Williams, is excited about her new role. She has been at Malvern since September 2006. 
"With this, I think I've done just about everything. I've done everything except the chef," Williams said.
As she serves the students every day, she has seen a variety of reactions.
"Just the overall look of their face when they come in. How impressed they are and how amazed they are that it used to be a classroom. Also that we sell Wawa coffee," Williams said.
Wawa coffee has been the new and exciting product that gets all the attention. Gray knew a change had to be made.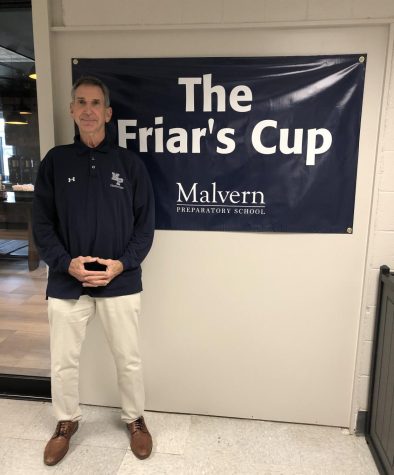 "We wanted to go upscale, and I thought the best way of doing that was with the coffee," Gray said.
As an insider, Williams has seen all the things that went into making the cafe what it is. She thinks that Gray has been amazing throughout the process. 
"I think he's honestly done a phenomenal job. For something that was just kind of thrown at him, I think he's hit the ground running, and he's done a great job" she said.
While Gray and Williams are the faces of the operation, Gray had to give credit where it was needed. 
"We had some designers come in and take a look at the space, but I would say 90% of this job was done through Mr. Kinney and the maintenance department," Gray said.
Students and faculty alike are thrilled to have an easy, convenient place to grab a bite, see a friendly face, and refuel for another Friar day.