Athlete of the Issue: Gavin DiEgidio '22
An impactful striker for the soccer team, DiEgidio has expanded his prowess on the field and closed out his time as a Friar in a positive way.
For DiEgidio, soccer has always been a passion. He began playing at a very young age and has played at all levels including recreational, club, and high school.
"I started playing soccer when I was four years old for West Chester Recreation," DiEgidio said. "After that, I played club soccer from 4th grade to 9th grade with Penn Fusion Soccer Academy. 
Now I just play for Malvern and have been for the last four years."
On the field, DiEgidio is a tenacious and creative striker for the Friars. However, that was not his role throughout the entire season.
"I played three different positions this year, starting at center back. I played there for the first part of the season and really developed from that," DiEgidio said. "I then played central attacking mid and that helped my [field] vision get a lot better. I finished at striker, but those other positions have made me a stronger player because of how I got to view the game in the different positions."
DiEgidio is a pure goal-scorer, racking up six goals in ten Inter-Ac games. He is a talented dribbler and has developed the skill of positioning himself in the correct spot to finish an opportunity.
"For me, I think the key to scoring goals is being at the right place at the right time," DiEgidio said. "It's a skill that is hard to get the hang of, but it is just reading the game and expecting what is going to happen off the ball. I also think my ability to make a lot of attacking runs and go at defenders helps me score goals."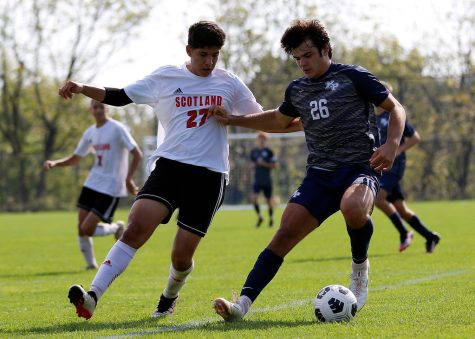 In addition, DiEgidio has a wicked shot. Head Varsity Soccer Coach Susan Barr, who has been with the program for the last three years, believes that this aspect of his game is the most dangerous, especially when taking free kicks.
"Gavin is a free-kick specialist. This is something he works on outside of training," Barr said. "He strikes an accurate, powerful knuckleball which requires removing most of the spin on the ball. The result is an unpredictable ball moving at speed through the air. Just ask our goalkeepers what it's like to shoot-block Gavin!"
Barr has observed that the majority of DiEgidio's goals have come from free-kicks and his ability to hold off a defender, create separation, and get off a shot.
"There are two particular ways that Gavin scores: taking players on in the run of play and his precision with direct kicks. Both are very hard to do," Barr said. "He'll take two players on, utilizing his strength and intellect at the same time.  He leverages the weight of the defender by drawing them in and then explodes out with a quick release shot."
As he reflects on his Malvern Soccer career, DiEgidio describes the lasting friendships that he formed and a memory that will last forever.
"I am thankful for the friendships I have created through Malvern Soccer over the years. It has been a great ride on the field with the winning these past two years and off the field with team dinners and such," DiEgidio said. "One memory is when we swept EA this year during their senior night and at home under the lights."