Commitment Corner: November 2021
Malvern's commits throughout the month of October
Tyler Lauder – Babson College – Basketball 
Malvern's starting forward is going to be continuing his basketball career playing Division III basketball in Massachusetts.
COVID-19 had a huge impact on Tyler's decision to play basketball in college. Due to the overall recruiting process being pushed back, it wasn't until late May and June when Tyler started considering playing basketball at the next level.
"Obviously with COVID It was definitely pushed back, and I started kind of late. I really didn't seriously start talking to schools until like, this past May and June. They watched me play over the summer, and then I ultimately decided like a month or two ago," Lauder said. 
Playing travel basketball for an elite team helped Tyler with his recruitment process. 
"I definitely say in the beginning, a lot of it was my basketball coach, John Armour, and that I play on a travel team called "Philly Pride". They helped me out a lot. The connections they have, and they were great throughout the whole process," Lauder said.
Drawn to the academics at Babson University and inspired by their exceeding entrepreneurship program, Tyler fell in love with the school. 
"It's in Boston. It's a D3 school. The main draw was definitely the academics. I could've played at a higher level, but they have like the best entrepreneurship program in the country, which is something I'm looking to do. And I just fell in love with the school," Lauder said. 
Tyler's dedication to pursue the sport of basketball helped him lay out a set of goals for his future at Babson University. He made it clear that academics should always be kept on par with his athletic goals.     
"My number 1 goal next year definitely, first and foremost is doing well academically. I want to start off the year well in my studies," said Lauder. "In terms of on the court, I definitely want to earn some time my freshman year and you know, of course win the national championship, I mean, they won 2018."
Tyler's passion on and off the court and his willingness to seek growth in himself by listening to his supportive peers is his ultimate advice to younger athletes.
"Honestly, just work hard and take advice from as many people. You've never learned too much. You've never heard of it. You can never hear too many opinions or voices from different people," Tyler said.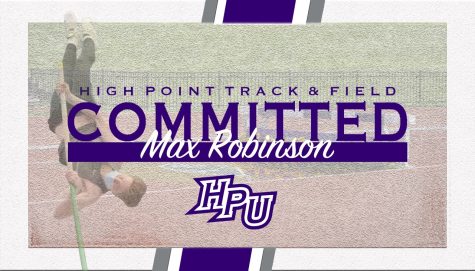 Max Robinson – High Point University Track and Field 
Star Track and Field athlete Max Robinson will be yet another Friar attending High Point University in the fall of next year. 
Max Robinson '22 began pole vaulting freshman year and has since become one of Malvern's star track athletes. While COVID-19 made the recruiting process difficult, Robinson was able to find ways around this through Malven and the help of his parents. 
"College seminar made it a lot easier. I also did a lot of the athletic stuff like with my parents, and then with my other coaches,"  Robinson said.
These types of things made his recruiting process much easier and allowed for him to go on an official visit where he fell in love with High Point.
 "I went there and I loved it. Our coach is going through the Olympic trials, so he's awesome and after I saw the campus it was decided," Robinson said.
 On top of having an amazing coach, Robinson is excited to meet his teammates and achieve one of his many goals. 
Robinson has many other goals on top of committing, "If I were to hit 15 meters, that would be ridiculous but really I just want to jump and stay healthy." 
Robinson hopes to stay healthy and hopes to inspire other athletes who want to compete in college. He advises athletes who also want to compete in college to "start everything early, and don't wait to reach out to college coaches".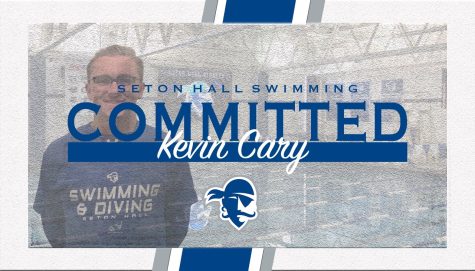 Kevin Cary – Seton Hall University – Swimming and Diving
Malvern Prep Senior Kevin Cary has committed to swim at the Division I level for Seton Hall University. Cary is excited to be able to participate in the sport he's known all his life at the collegiate level. 
"I've been swimming as long as I can remember. I think the earliest my parents put me into swimming was probably when I was three or four, maybe even before that, so it's been in my life forever," Cary said. 
For Cary, the commitment process started during the summer of 2020 when schools could begin to reach out and express interest. The commitment process was very long, but he is relieved that he has found the right fit at Seton Hall.  
"I didn't see much of it until going into this year because of the deadline structure. National signing day was November 10, and I had to make a decision by then in order to get scholarship money, so it was very odd to see how everything unfolded. But it was exciting to go through it," Cary said. 
Cary also mentioned the stress that came along with deciding where the right fit was for him. 
"There was a lot of stress and moments where I didn't know how it was going to work out. But it did eventually and it worked out really well," Cary said. 
Cary emphasizes how Seton Hall was a great fit, citing the amazing opportunities it has and his interest in their business program. 
"I think Seton Hall was very unique with regard to how it is located in line with a lot of major cities that have great internship opportunities. It may be in New Jersey, but it gets you connected to cities like New York and Philadelphia. It was the first thing that really caught my eye and going through on how they have a really good business school, which is something I want to major in," Cary said
Cary's long term goal for his time at Seton Hall is to get a degree that will set him up for success in the future. Cary is also seeking to improve on himself as a person and feels that Seton Hall is a good place for that. 
"I think that would mean the world to me if I can go [to Seton Hall] and come out not only a better person all around, but also a better swimmer and a better student," Cary said. 
Cary also has some wise advice for young swimmers looking to pursue the sport at the collegiate level. 
"I think I would tell them it's very hard, especially trying to get up to the next level and trying to work everything out with coaches and everything. What I needed was patience. It was a waiting game for a while, and eventually, it all played out. I think you've just got to keep putting your head forward and keep pounding away and eventually, it'll work out," Cary said. 
Cary will continue to focus on his swimming and making the most of the rest of his time at Malvern before it is time to move onto the next chapter of his academic and athletic career at Seton Hall.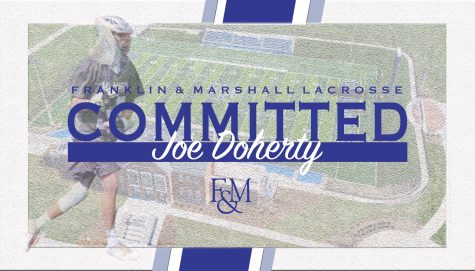 Joey Doherty – Franklin & Marshall College – Lacrosse 
The brick wall goalkeeper Joe Doherty will be heading to Franklin and Marshall in the fall of 2022. The star lacrosse goalie will play for the Diplomats in the fall and hopes to make an impact. However, getting his offer from them wasn't easy.
"It wasn't as smooth as I wanted it to be but I'm happy where I am," he said. 
Even though it wasn't super smooth, Doherty was still able to pick between multiple schools. Franklin and Marshall was the clear choice for him.
 "I just thought the best fit for me, it's a good school and allows me to further my education," he said.
Not only does he hope to further his education, but he also has many other goals.
"I want to win the inter-ac championship, have a good lacrosse career, and do well in college," he said. He then offered advice to those who also want to achieve similar goals "just stay the course and don't get too down if something doesn't work out."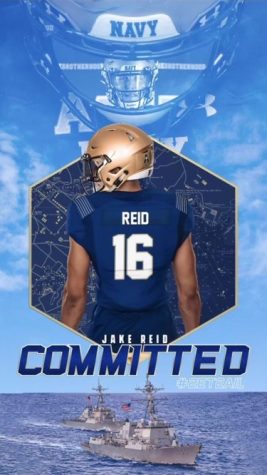 Jake Reid – United States Naval Academy – Football 
Senior football player Jake Reid will be attending the United States Naval Academy to kick and punt for the Midshipmen. "Ever since I was eight years old, I always knew I wanted to serve, regardless of where I went to school. It just ended up perfectly with Navy being a great academic and athletic school, along with being a military academy." Reid said. Touching on the importance of certain people in his decision, Reid said, "One of my dad's friends played a huge role in my commitment. When I was 8 years old, I attended his Change of Command Ceremony in the Navy, and ever since then I knew I wanted to serve." Reid spoke on the importance of hard work when achieving your goals," You got to work your butt off, you have to be out there [on the field] almost every day and just keep working on whatever your specific role is on the team."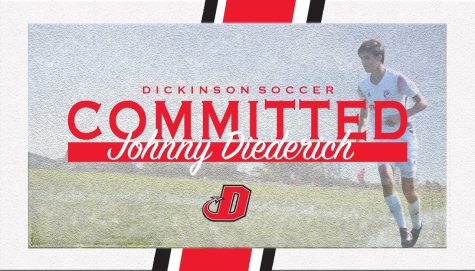 Johnny Diederich – Dickinson College – Soccer 
Wrapping up a successful last year of Malvern Prep Soccer, Johnny Diederich has committed to play collegiate level soccer at Dickinson College. Diederich is excited and grateful to be able to play the sport his dad introduced him to at the next level. 
"My dad introduced me to soccer and I've been playing ever since. He started me when I was young. I started playing rec leagues since I was probably five years old," Diederich said. 
For Diederich, the commitment process started towards the end of his freshman year and the beginning of sophomore year. He started by emailing schools his highlight tapes and getting his name out there. 
"It was a long process and was very annoying sometimes, especially with COVID. That [COVID] definitely didn't help because D1 schools couldn't look at us for a good amount of time. Although it was a long process, I enjoyed it," Diederich said. 
Diederich fell in love with Dickinson after his official visit where he experienced the amazing culture and opportunities the college had to offer. 
"When I went there for an official visit, the team was just awesome. I love the coaches, the campus, and everything the school has to offer academically. Everything about the school was just awesome, so I knew that was the place I needed to be," Diederich said. 
Diederich has set some new goals that he looks forward to achieving throughout his next four years at Dickinson. 
"I hope to win a Centennial Conference Championship and make it to the NCAA tournament at least one of my four years there. For an academic goal, to just graduate and get a good job so I can support my family when I'm older," he said. 
Diederich also has some parting advice for young soccer players looking to play at the next level. 
"Just keep working hard. It might seem like you won't have any opportunities to play but just keep persevering and keep working your hardest. Keep putting your name out there and coaches will notice your hard work and that offer will come and that's what happened for me," Diederich said.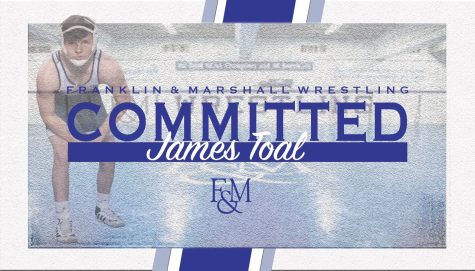 James Toal – Franklin & Marshall College Wrestling 
Toal's Commitment process began his junior year, and because of COVID-19 his process consisted of online meetings rather than in-person visits.
"For me it started early, over summer going into junior year, that first day you set up zooms, because of COVID it was just a bunch of talking so it took a while."
"Then eventually like you start narrowing down your list, the coaches help to start narrowing it down [too]. I talked to them all last year, and then in the summer. This past summer I visited [colleges] and really narrowed it down and got what had to be done," Toal said. 
He was supported by his family and coaching staff throughout his commitment process.
"My parents and my wrestling coach, Nathan Lautar, also helped a tremendous amount just to get me through the process," Toal said. 
In college, James' goal is to improve consistently on the collegiate level.
"I think for college, I want to do well, but also just want to just get better and stay consistent with it and not give up. I just want to get better every day and just work to be the best I can be," Toal said.
Toal already had a strong relationship with F&M, which helped him fall in love with the school.
"Just because I had already had a really good relationship with Coach Rogers there, and then when I went up, the first time I met the other coach,  I really loved it," Toal said.
Just like Malvern emphasizes the aspect of brotherhood, F&M's team felt similar to Malven's team for Toal.
"I really liked the team and I loved the campus. Then when I took my official visit and got to know the guys on the team, it was awesome. They're great guys, It was really, it was almost like a Malvern type thing,  they're a brotherhood."
When asked what advice he would give to a younger athlete or wrestler about committing to a college, Toal said, 
"I would say just stay patient with it, don't try to rush it because it'll work itself out. If you're rushing, you might pick the wrong school. Get to know every school, take your visits, do what you can to figure out your best option."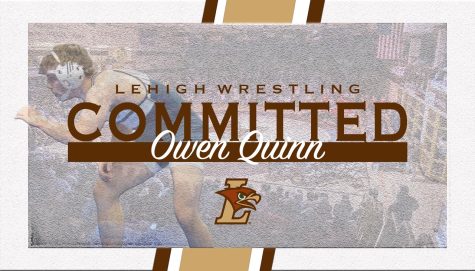 Owen Quinn – Lehigh University – Wrestling 
The commitment process was interesting and sometimes difficult for Owen, but Malvern was able to provide him with the tools he needed to succeed.
"It's actually not always that easy. It's definitely stressful at times, but Malvern definitely helps us out. Malvern helped with the recruiting process, because I did go to two other high schools, Germantown Academy and Wissahickon High school. Everyone wasn't really as into it, per se, but here everyone's like all let's get to the next level, let's do whatever you need to get to that next level. So it completely excels the process," Quinn said. 
Malven's head coach, Nate Lautar, helped Owen the most throughout his commitment process. 
"He really started helping me the first time I talked to him or texted him. He already talked to coaches for me before the school year. I started Malvern last year, my junior year, and he just was always on everything, talking to coaches, calling coaches, and letting me know what's going on. He was definitely the person that helped me out the most," Quinn said. 
One thing that separated Lehigh from the other teams was that the team was united as one just like the brotherhood here at Malvern. 
"The thing about Lehigh is when I went on my visit there, like, the biggest thing here about it, it's like the Brotherhood. When I went up there, I saw the same thing, all the guys were together. There weren't sections of friend groups on the team. Everyone was one body, everyone did everything together. And when I visited other schools, I saw their teams were really good, they have really nice facilities and everything, but it was like a team of individuals. It wasn't like that camaraderie or brotherhood that we have here," Quinn said.
Another big factor was the level of communication the coaches offer.
"That's also the coaches, they're awesome. They're so communicative, they get back to you really quick, and they're really excited about everything. They're always checking up on me. So that's a big factor," Quinn said. 
Quinn's advice to a younger wrestler is to take advantage of opportunities, by working hard everyday.
"Luckily, at Malvern, we go to the best tournaments and all the best tournaments, so just take advantage," Quinn said. "Don't skip practices because they'll bite you in your back. Just take advantage of every opportunity they give you. They'll find you the good tournaments you need to go to to get looked at by college coaches. And also just like a practice, there's a difference between going to practice and actually working hard at practice. Anyone can go to practice and just fool around, but make sure you're working hard like every minute of that practice and make sure it's worth your while. You're going to get better, you're going to get college recognition if you put in the work."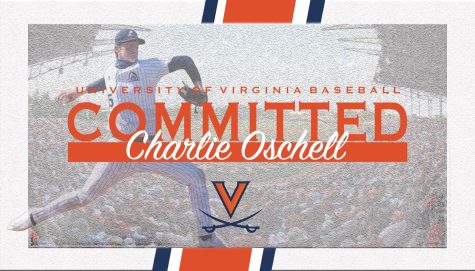 Charlie Oschell – University of Virginia – Baseball 
Another Oschell impact pitcher looks to carve out his own path and shares his story on his future at the University of Virginia.
Charlie Oschell, recently committed to Virginia for baseball, found his way through the recruiting process and found his home in Charlottesville.
Charlie's passion for baseball started at a young age. 
"I think my love for baseball came right away from Little League. I've always been a big baseball guy. I'm a dual sport athlete with baseball and basketball, but I've always had a passion for baseball," Oschell said.
To put things in perspective, only approximately 2% of high school baseball players continue to play Division 1 baseball in college.
"Around the end of freshman year and beginning of sophomore year was when I realized that I've got a shot…especially playing at a top baseball program has me super excited that it became reality," Oschell said.
Oschell, also a varsity basketball player at Malvern, speaks on how his experiences, especially as a leader, can translate onto the baseball field and beyond.
"Teamwork and leadership are two of the top characteristics I've learned…being able to be a leader on your team and being a good teammate lead towards creating a team that's going to be successful and possibly win championships," Oschell said.
A unique aspect of Malvern is its collegiate atmosphere which can translate to feeling comfortable on college campuses. Charlie speaks on visiting Virginia's campus and compares it to Malvern's own.
"The second I stepped on campus, it was a really welcoming feeling, I felt right at home. Coming from Malvern, I felt comfortable, so being in the Virginia baseball atmosphere felt great," Oschell said.
The University of Virginia, being a prestigious institution, with immense academic reputation, can be difficult for many and Charlie reflects on his time so far at Malvern and how that could help him.
"Virginia has a rigorous academic reputation, although I believe that Malvern does a great job creating a similar tough academic atmosphere that will prepare me for the intensified academics in college," Oschell said.
Amazingly, Charlie is not the only Oschell who will play ACC baseball as his older brother, Fran Oschell, is currently a freshman pitcher at Duke. He reflects on the possibility of facing his older brother. 
"That's going to be really cool, I've only competed with Fran throughout my life, and he's been a huge supporter of mine so it's going to be a really good change of pace and hopefully go out there and kick his butt a bit," he said. 
The recruiting process can be daunting for many and Charlie looks back on his process and gives some advice to others aspiring to do the same as him.
"The biggest thing I would say is the recruitment process is full of ups and downs and not everything is going to go your way so just have fun with it," Oschell said. "At the end of the day you're going to end up where you're meant to be. God has a plan for all of us and sticking to that is really important."