Sports Team Feature: Swimming
Fresh off of success at National Catholic Championships, DeWitt and the Friars get ready to take on the Inter-Ac in mid-January.
Bethany DeWitt, Malvern Prep's head coach, continues to adjust to her new role. Coach and the team have many goals and aspirations for the year, which included tearing up competition at the National Catholic Championships and winning the Inter-Ac.
Senior Patrick Rooney, F&M Swimming commit and Malvern co-captain, was determined to perform at a high level at National Catholics. He has now directed his focus on winning the Inter-Ac, which was something that has always been a goal for the team. 
"Success would be winning the Inter-Ac, but it can also be measured in many different ways. I think our season is already a success from our Top 3 placement at National Catholics, but we definitely are not settling for just that," Rooney said.
Because this year's team means something a little more to him than prior years, Rooney believes that they have what it takes to succeed.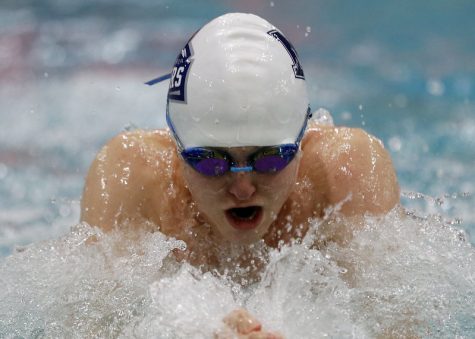 "At meets, everyone is electric and always cheering our guys on. I've never experienced something like this group of guys this year—they are something special," Rooney said.
Senior Nick Harris, University of Texas Diving commit and Malvern co-captain, thrives off of the people he is surrounded by in the program.
"Everyone always walks in with a smile on their face and knows how to bring positive energy into the room," Harris said.
Harris is setting high standards for the team and himself, to him, a successful season consists of impressive achievements.
"A successful season looks like winning every dual meet and breaking some pool records," Harris said.
According to Rooney, the biggest adjustment the team has had to make this year was a coaching change, but it has been smooth so far. 
"The biggest adjustment we all had to make was a brand new head coach. Most of us were already familiar with Coach DeWitt, so it wasn't that big of a deal, but it was still an adjustment because everyone has a different style of coaching," Rooney said.
Bethany DeWitt, Head Swim and Dive Coach and School Counselor, has done an outstanding job so far, leading the team to a 3rd overall finish at National Catholic Championships.
As she continues to improve, DeWitt is still trying to define what success looks like for her athletes.
"The Swim and Dive Team members have excellent energy. We have a great group of guys on the team this year and it is fun to see them work together towards a common goal. It has been a pleasure to work with them and be their head coach so far this season," DeWitt said.
Coach DeWitt believes that the team is in a good place and mentally prepared for the challenges that come with the sport of swimming.
"Swimming is a very mental and grueling sport that takes a lot of dedication," she said.
Coach DeWitt is confident in the program's direction while being mindful of the successes and high standards previously set by Malvern's acclaimed past swimming coaches.
"A challenge has been that there are big shoes to fill given the rich history of swimming success and tradition from both Mr. Hornsleth and Mr. Schiller and I hope to hold the athletes to the same standards," DeWitt said.