Meal Move
Information on the new Christian Service Intiative Meal Move led by Leonardo Scarpato, Jermey Jacobs, Jimmy Bobbit, and Aidan Kelly.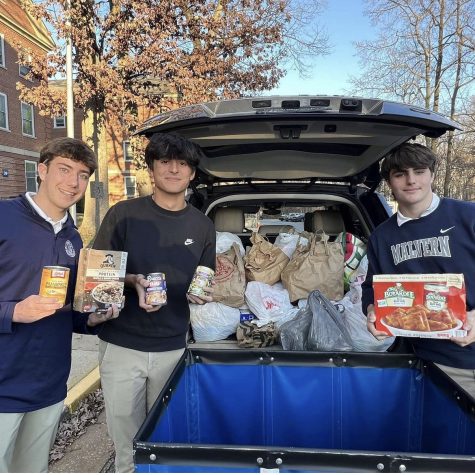 Leonardo Scarpato and other members of the Junior class started an organization in the Spring of 2022 called Meal Move.
"It [Meal Move] is a Christian service initiative that started in a social entrepreneurship class last spring. Luka Webb, Jeremy Jacobs, Jimmy Bobbit, and Aidan Kelly are all a part of the start-up group. We knew we wanted to do food security and benefit the students in a way. That's where our idea formed. It takes excess food from restaurants and food places and delivers them, from the use of student drivers, to homeless shelters, pantries, and parishes to get students service hours," Scarpato said.
In the entrepreneurship class last spring, the class started to brainstorm ideas on how they can help with food issues. 
"In social entrepreneurship, they challenge us to identify problems we are related to and we feel inclined to help. Being from the Philadelphia area, it's [food insecurity] already a big problem over there. In a much more local sense, students were getting service hours and they were stressed out so we wanted to component that somehow," Scarpato said.
Meal Move has been around for almost a whole year. Leonardo Scarpato explained there is an even brighter future for the new initiative. 
"It's only growing—transitioning from one to two [deliveries] a month to two a week…We just had one [delivery] over 1,000 pounds." Scarpato said.
Working with Scarpato, a Junior, Luca Webb, agreed that Meal Move is running smoothly, in large part, because the student drivers play a huge role in its operation.
"They pick up food that has been organized through donations from Malvern and the students will come to Austin [Hall]. We load their car and it's delivered Friday night or Saturday morning and transport the food to their drive," Webb said.
Mrs. Catania, the Christian Service Learning Director, is impressed with the complexity of Meal Move. 
"It has grown dramatically this year. We have 40 drivers who are juniors and seniors and they volunteer to deliver to feed the homeless. They also help deliver blankets and clothing to those families in need. They deliver to St Patrick's in Norristown, Cradles to Crayons, The Nativity Parish, the homeless in Kensington, and the West Chester cupboard," Mrs. Catania said 
Meal Move has changed lives, made an impact, and got students service hours. 
"From an idea that started last year to a club moving over 10,000 lbs of food, Meal Moves will continue to grow. We see this as a tiny step toward solving food insecurity. The goal is to spread our simple, but effective solution to other schools in our area or even across the Nation. Just imagine how many pounds of food could be donated if every school had a system like Meal Move," Webb said.