Flagstaff Friendships – Arizona Christian Service Trip
This past month, students and faculty traveled to Flagstaff, Arizona for a Christian service trip and now describe the memorable experience.
On February 15th, over twenty students and faculty members began their journey to Flagstaff, Arizona. Students were starting a week-long trip filled with service, sightseeing, and bonding. They visited landmarks such as the Grand Canyon, Sedona, Sunset Crater, and Lowell Observatory throughout the week. Despite the unfathomable size of the Grand Canyon and other tourist attractions, members of the trip remarked that their friendships with one another were far more notable.
Mrs. Dougherty, the family outreach coordinator and a chaperone on the trip, is known to be a friend of most students around campus due to her work primarily in CSI. This trip would allow her to become closer to students she urged to become more familiar with.
"I wanted to get to know a group of juniors better. That class was the COVID year [their freshman year], and I feel I really don't know a lot of them", Mrs. Dougherty stated.
DJ Peterson, a Junior on the trip, had similar goals, as the opportunity to spend time with people he wasn't close with was intriguing.
"I've talked to a couple of seniors, and they had always told me to look forward to the service trips. I was really looking forward going into it, expecting to make new friendships. Then, do good work, but also have fun because we will have some downtime and make better connections", Peterson said.
Colby Weaver, another Junior on the trip, remarked on a similar excitement and the opportunity to rekindle some friendships first formed in middle school.
"I was excited to spend time with my brothers that I've known since eighth grade, people that I haven't really talked to much since", Weaver stated.
However, upon arrival in Arizona, the weather greatly exceeded some expectations. The temperature and climate, as opposed to Pennsylvania, were a shock for Mrs. Dougherty and the group.
"I was not expecting it to be 17 inches of snow and as cold as it was. When we arrived in Phoenix, which was warmer, it was still unusually cold.", Mrs. Dougherty remarked.
The students, however, seemed to turn the icy situation on its head and use it to bond and amuse each other. Peterson remarks on the group's first encounters with the immense amount of snow.
"We had a nice two-and-a-half-hour car ride to El Nathan, which is the place where we stayed. Everyone was jumping through the roof, and when we got there, everyone was running around like crazy. There were 17 inches of snow, so imagine what it was like. Everyone who didn't pre-plan to go to Arizona had shorts and a T-shirt. Running without boots in like 17 inches of snow, but it didn't matter. Everyone was just super excited", Peterson stated.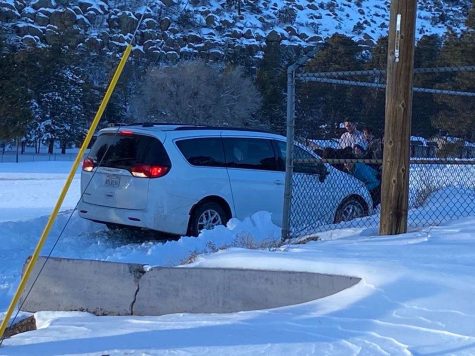 Similar to Peterson, Junior student Tonio Sciole saw the weather as an experience the group could share with one another.
"It was just so cold, but it was like, 'we're all in this together,' so it actually became pretty fun. The fact that everyone was like, 'I'm so cold right now, but at least I am not the only one,'" Sciole remarked.
Besides the snow, arriving in Arizona was an experience of its own, as the recurring stories of comradery premiered early into the trip.
"The people stood out to me. It was a good group, but there were definitely groups within the group. Different friend groups, and everything stood out, but they were right there for each other. For the people in the airport, they saw us as one group," Mrs. Dougherty stated.
The students also felt the same comradery early on and throughout the service. The bonds formed at the start of the trip played an integral role in producing greater service for the community.
"We were surprised by how much fun we could have together doing service. Some of the activities were very monotonous, where we were just packaging a bunch of cans in bags. You can imagine it would be really boring, but we all enjoyed each other's company. We all made jokes and got a lot of work done because of it. We actually set a couple of records for the food bank", Peterson remarked.
Another Junior on the trip, Dean Difabio, also touched on how the friendship carried on throughout the service and made it easier to get through the repetitive tasks.
"We got enjoyment out of doing the service, but at the same time, also enjoying the time spent with one another. We're going to be in this room for a few hours, might as well have fun doing it", Difabio stated.
Mrs. Dougherty also touched on the service portion of the trip, witnessing the motivation for more service through the group's unity.
"It became a competition of how many sandwiches everyone could make. When you're filling a little bag with food and Gatorade, it can be monotonous work, but the guys made it fun. They played music, picked each other up, and rotated roles. They were a really good team," Mrs. Dougherty stated.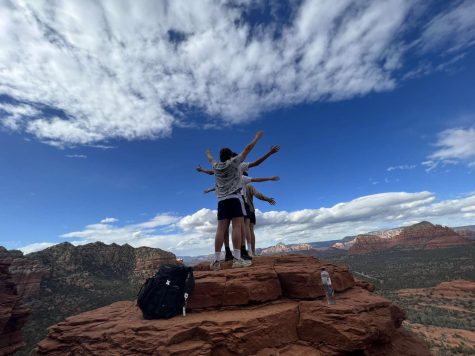 Aside from the bonds forming, the students gained a greater understanding of the service industry. Working directly with one of the largest food banks in the US was a memorable experience for everyone on the trip.
"I think it was definitely eye-opening to them. A lot of times when we have done work in the food banks or making sandwiches, were not seeing the people that are actually picking up the food," Mrs. Dougherty remarked.
The students were also able to see the service's impact on the community they were serving by handing out food directly to the homeless.
"I've never seen somebody get so excited over seeing milk or eggs. It was a reassuring feeling. It was really something special. It was 100% worth my time," Peterson stated. 
For some students, outside of donating food, some of the people being helped brought gifts for the students as a form of gratitude.
"One lady that came through, she was Native American, decided that when she received her food to give us some food to donate to other people that came after her. She gave us homemade chocolate cakes and traditional Native food. Even though this lady may be going through a hard time, she still made sure to think about those around her," Difabio stated.
After the long days of service, the nights were far from over. The students stayed overnight in a shared space, and despite the suboptimal conditions, making the most out of the situation was crucial.
"My expectations were that we were going to be in a more comfortable room or at least heated rooms. I think we all were a little shocked with where we were staying," Weaver stated.
Though the situation eventually subsided as the group began to form nightly habits that not only deterred them from the weather and long days of service but provided more competition and bonding within the group.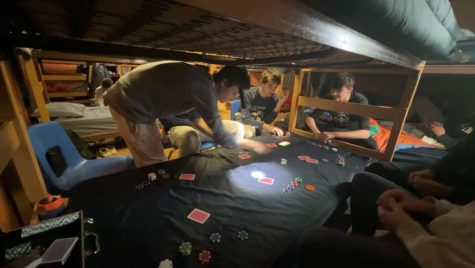 "One thing that brought us all together was playing poker at night. We would play after everything was done, and we'd all be tired. Though we'd have like long two-hour games, it became a big bonding experience for me," Weaver stated.
Locations played a huge role throughout the trip. The group experienced thrilling moments at some of Arizona's many tourist attractions creating many memorable memories.
"One of my favorite memories was climbing up a giant mountain in Sedona. All of us tried to climb up the mountain in the sketchiest ways possible. There wasnt a designated path to get up, and as we kept getting higher, it became harder. When one rock would slip, everyone would freak out. Eventually, most of the group finished the climb, and we got to enjoy the views," Weaver stated.
For other students, though, the distance from home made the whole experience more impactful and memorable.
"When you are on the other side of the country with each other, you almost act like brothers. The experience feels a lot more personal," Difabio said.
As the journey began to close and almost all expectations were exceeded, students were left with new friends and a complete understanding of how friendship can impact those around them.
"I made friendships with people who I wasnt really expecting to be friends with. But it was super easy to set stuff aside and build relationships through simple activities. Living with a bunch of other guys, you would assume there'd be problems, but there weren't any. I was really surprised by how much we could grow as a family together. Everyone was awesome," Peterson stated.
Throughout the week-long trip to Arizona, students and faculty came together and used their bonds to make the most out of their time together. A trip filled with poker parties, mountain climbing, shorts in the snow, record-breaking, costume-wearing, sightseeing, and friendship-making eventually came to an end. However, the newfound friendships and an expanded view on service will surely stick with all members for years to come.