Massive Chess Tournament takes Malvern
LATE BREAKING:  Congratulations to Tournament Winner Jack Buttimer '16
With Malvern's increasing interest in chess, Mr. Rogai set up a 47 competitor chess tournament to determine Malvern's Friar Chess Champion.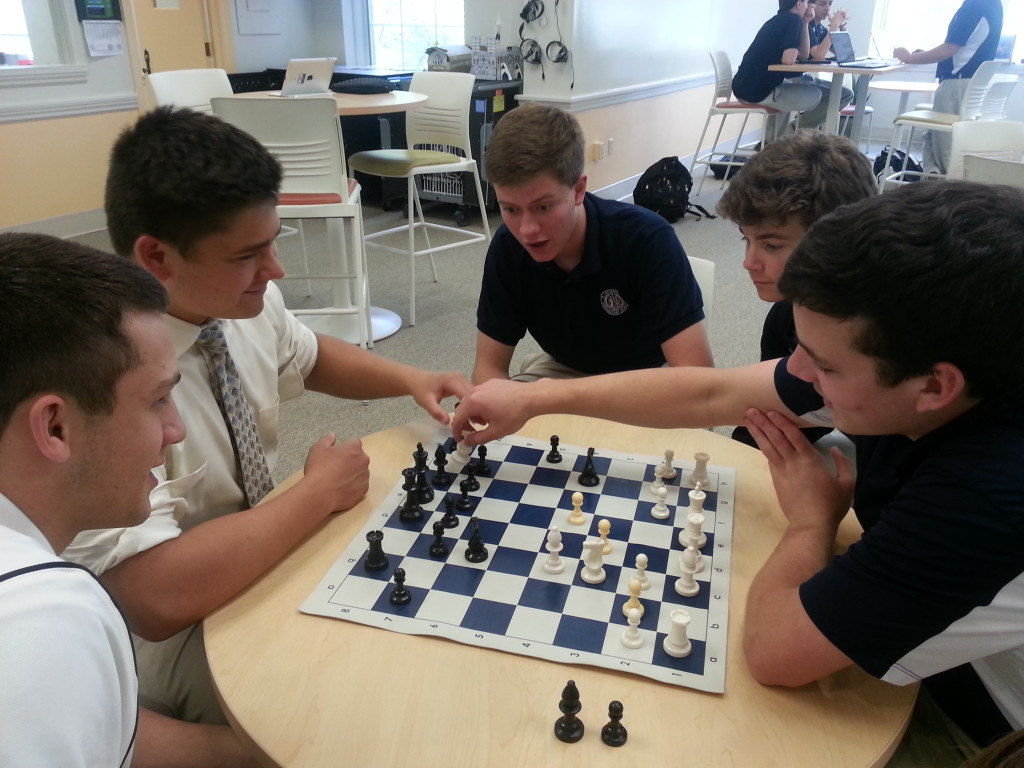 As part of the recent surge of interest in chess, Mr. Rogai, advisor of the Chess Club, started Malvern's first ever chess tournament. Readers may have noticed that the now-commonplace chess matches in the learning commons were slightly more serious these past weeks. The tournament, which started on April 24, is still ongoing as we go to press.
The chess tournament included a total of 47 competitors from all high school classes, competing for the title of Friar Chess Champion, and a Chipotlegift card.
Students were bracketed off, allowing 2 days to complete best-of-three style matches against opponents. Matches were scheduled by the students themselves on their own time, with most happening at lunches and 9ths. Wins and losses of the 2 or 3 games were reported to Mr. Rogai.  If the students failed to schedule matches, they would both be disqualified. If a student failed to make the games, the other would move on. Students were not required to make Chess Club meetings, or even be in the Club.
Mr. Rogai, who has run the Chess Club for years, confirmed that this is indeed the greatest interest in chess at Malvern he has ever seen. "Two years ago it was basically the wrestling team playing chess… the addition of the learning commons has really contributed to the success I think," said Rogai.
Making sets available is key. An initial concern was whether students would respect the sets and boards enough to put them all away for the next players. "There is nothing worse than opening up a set and finding it's not all there, which is why there is a policy," said Rogai.  He explained a simple arrangement where students must turn in their cell phone in order to receive a set, and only a complete set would return the phone.
According to Rogai, Alex Yablonski '15 originated the idea for the tournament. Alex, one of 11 juniors that entered in the competition, was initially a likely winner, a top 6 at least, but was unexpectedly defeated by sophomore Jack Buttimer in only the second round.
"We need seedings next time, but it is what it is," said Yablonski. This complaint was common among the competitors, and will be addressed in future tournaments.
Harrison Locke '15 was also eliminated in the second round, but he was more than happy with the results. "I played chess already, so I figured it would be a fun thing to do. I was eliminated early on, but I still had a lot of fun," said Locke.
Although Alex Yablonski was defeated in the second round, his younger brother, freshman Adam Yablonski, has made it to the final 2.Does the younger sibling think he is a better player than his brother?  "I've won against him before, but I'm not sure I'm better than him, yet," said Adam.
With less than a week left to finish the tournament, the competition has been narrowed down to Adam Yablonski and Jack Buttimer. Buttimer, who defeated the highly respected older Yablonski in only round 2, now has to finish off the younger brother to claim the title.
Mr. Rogai plans on continuing the chess tournament next year, and possibly adding seeding to the brackets. "A middle school tournament is on the way," added Rogai. Eighth grader Rohan Jhunjhunwala wished he could have competed in the high school tournament, but loves the idea of a middle school version. "I'm excited, I'm definitely interested in it," said Jhunjhunwala.
With 47 total competitors, the chess tournament was larger than anyone ever expected, and it is likely next year's will be even grander. With the addition of a middle school tournament, chess will soon become a skill fostered early on in students' Malvern careers.