Ryan Doane and the Student Council are at it again, this month bringing about a Student Council-sponsored book drive.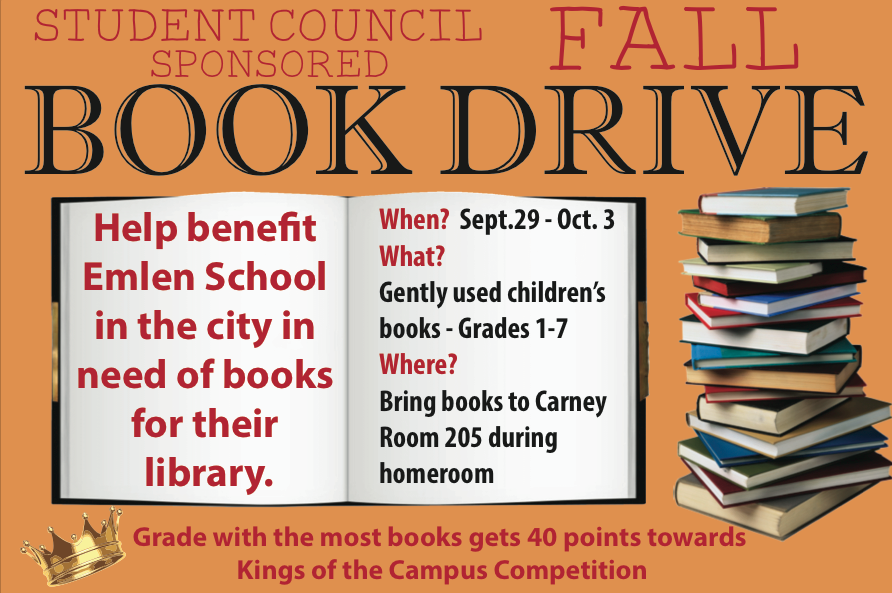 Throughout the week of September 29-October 3, Malvern students have the ability to donate books to the Emlen School.
Student Council President Doane received the idea from a friend, Maggie Curry '15, a student at Notre Dame Academy.
"[Maggie's] tutor is heavily involved in the Emlen project, which is a charity that helps support the needs of the Mt. Airy school who can't afford to get the supplies they need," said Doane. Curry brought the project to Notre Dame Academy as well.
In order to spark interest in the project, Doane has decided to make the drive a competition among all grade levels. Each book donated should be for readers on a 1st-7th grade level and in good condition. Whichever class donates the most will earn points in Malvern's Kings of Campus competition.
Doane initially wasn't sure that his idea would be a success.
"Malvern already does an unbelievable job with service and helping those in need, so I was afraid they would say no because they already do too much. But after a meeting with Ms. Lohse and Dr. Dlugos, we agreed that it was worth a shot," he said.
"Mr. Legner also went through loops to make sure this week would work, so I give a great deal of credit to him," Doane added.
Doane also credited the rest of the student council, who worked tirelessly in this effort.
To donate books to the Book Drive, deliver them to Carney Hall Room 205.