Friar knees see the light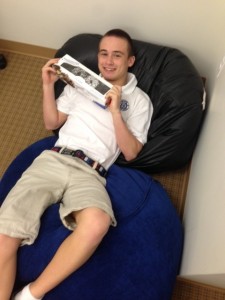 On Wednesday April 10th and Thursday, April 11, Malvern students had the option to wear shorts instead of the regular Khaki pants dress attire. As Mr. Doc loosened the rules, many students decided to let their legs out from the dark, embracing the warm weather and an early preview of summer.
Some more courageous than others, going for the high thigh cut, made sure they took the relaxed rules to their advantage.
The students' shorts not only added a relief from the heat, but also brought some color to campus. Perhaps inspired by the brightly colored walls that now flow through out the classrooms and hallways in Sullivan, students wore brightly colored shorts. Reds, blues, and greens were the norm, but when Jake Anderson was asked about his kelly green turtles on dark blue, he simply said, "I wore it because it makes me happy."
Mr. Dougherty stated that the rules were relaxed because air conditioning had not yet been turned on in the classrooms.  He commented on the variety of styles and colors by saying "It is simply their own flavor."
Should Malvern students invest in a new wardrobe of shorts?  Dougherty said no, with a slight head shake and a smirk.
"There was a massive Twitter conversation last night – #malvernshortsday – about the debate on what color shorts to wear." according to Brian Tatlow '14.  "Also, socks or no socks with the sperrys."  Tatlow opted for classic dark blue sperrys with low white socks.   Matt Miller '13 said, "I like it because I get a nice leg tan," showing off his classic khaki pinstripes.
Brendan Hollingsworth '13 exclaimed, "I just want to let my knees breathe!" noting that the 80+ degree heat had been too much. Mike Cenci '13 sighed, "I am disappointed that I didn't wear shorts this morning," explaining that he missed the Twitter feed.
Although the heat may not last that long, we all know one thing. Whether or not it does, summer cannot come soon enough and the students are prepared. For some seniors it was their last day outside at Black Friar Pond with Mr. Dienna.   I observed that bird watching in the beautiful weather with a loose pair of cargos couldn't be a better ending, as I Instagrammed a photo of the outdoor classroom.
So bring it on May, let's see what you got.  The Friars are ready with the fashion.  (At least make up for the lack of snow days this year.)