Student Council has asked Malvern homerooms to write letters to troops serving in the military.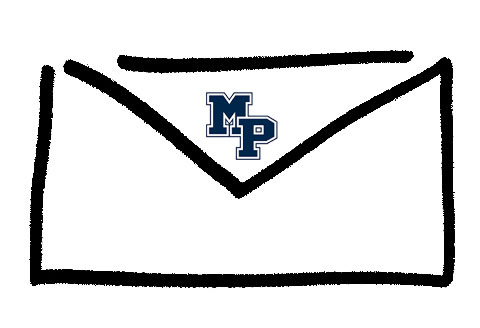 When was the last time you got a letter in the mail, not an email, pen to paper? Can someone writing a letter make a difference?
On Wednesday October 29, a Student Council Officer came into each homeroom at Malvern Prep with a stack of yellow papers and instructed everybody to write a letter to a soldier. Students are writing letters this week during homeroom and lunch periods.
This may seem like it came out of the blue – because it did.
Andy Johnson '12, who is in ROTC at Catholic University, texted Ryan Doane asking him if he could set up the whole school writing a letter to soldiers. Doane snapped up the request right away.
"It is for a good cause," said Doane.
Johnson received the assignment to collect letters through his ROTC program. "When we were given the assignment to collect letters my first thought was that Malvern would be the perfect community to reach out to," he said in an email. "I know what a caring, supportive environment Malvern is, but these letters will show the rest of the world."
Johnson said that the letters will be sent to an organization called A Million Thanks. According to the organization's website, they have delivered over 6 million letters to military active, reserve, and veterans.
Through the Student Council moderators, Doane sent out a list of do's and don'ts to the Upper School on Monday. It included suggestions like trying to make the reader smile, keeping it upbeat, and not talking about death or anything sad.
One man who would know what it is like to receive a letter while serving our country is science teacher Mr. Robert Boyce, who was a Captain in the US Navy for 26 years. "People don't realize how touching it is for a soldier to receive a letter," said Boyce.
Student Council Moderator Dr. Joan D'Lugos said that this was all a result of Ryan's efforts. "He took the reins on this," said D'Lugos.
You might not know the value of receiving a written letter if you can't remember the last time you received one. But soon enough, thanks to our Student Council's efforts, a brave man or woman defending our country will.