2016 Already on our minds
We just got through a grueling election season, but already some are thinking ahead to the elections in 2016, which will name the successor to President Obama.
Even though talks of 2016 are picking up steam now, it has even been talked about before the 2014 midterms, as political analysts, news anchors and politicians try to predict who will not only control Congress, but the White House as well.
"America has to come to grips with what it wants to be in the world," Chemistry teacher and military veteran Mr. Robert Boyce said. "People have to be informed now… It's late now [to be thinking of 2016]."
When asked for the best candidate for both parties, Mr. Boyce said, "There is a populist movement for Mrs. Clinton [in the Democratic Party], because she is another 'experiment,' a woman president.  I have seen her as First Lady and Secretary of State, but I am not impressed. I don't really know who else [the Democrats] have."
Boyce believes that the Republicans aren't free of the confusion as to who will run, however. "There is a conundrum of opposing views. But if I were to choose, it would be Governor Romney," he said.
Mr. Boyce's Chem Lab is not the only place where politics come up in class. Aside from the expected debates in government classes, Mrs. Kenworthey's Church History class is also a center of political thought.
"Although politics in Church History comes up usually, current events will as well… though it usually leads into a discussion on whether or not God intervenes in human events like politics," said Kenworthey.
"There are some times when people's opinions and knowledge can come through," said Kenworthey. "But with the new schedule, we can't spend as much time on it like past years."
Just how informed about politics are students at Malvern? A recent poll conducted with over 180 responses show that most students know at least one possible presidential candidate for 2016.  The most well-known possible candidates include Democrats Hillary Clinton and Vice President Joe Biden, as well as Republican Chris Christie, Governor of New Jersey.
The survey showed that 61% of students state they follow politics in the news. There is a variety of ways in which students get their political news. While 25% of the respondents get their news from multiple sources, 23% get their news either from one source (FOX News, MSNBC, etc.) or shows such as the Daily Show or Colbert Report. 13% get their news solely from internet sources.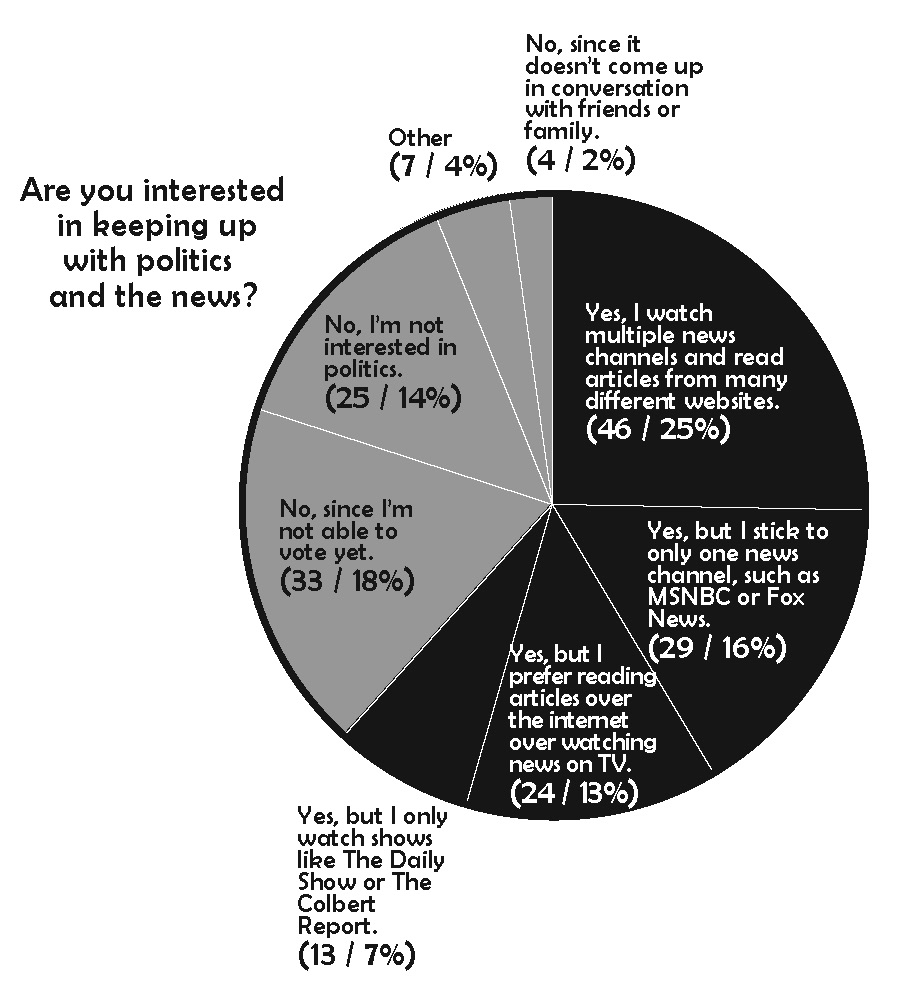 When asked if they did vote in the midterm elections, only 6% answered yes, with over 66% saying they couldn't vote, and 28% saying they did not vote.
"Do not throw away one of the biggest and strongest rights we have as American citizens," Mr. Boyce said, "[You] need to make sure you are influencing the future."
Students at Malvern seem to be taking Mr. Boyce's advice, as over 67% of students plan on following the elections, and 56% will be able to vote. Only time will tell if students will get out to vote.  Especially in politics, words can only go so far.