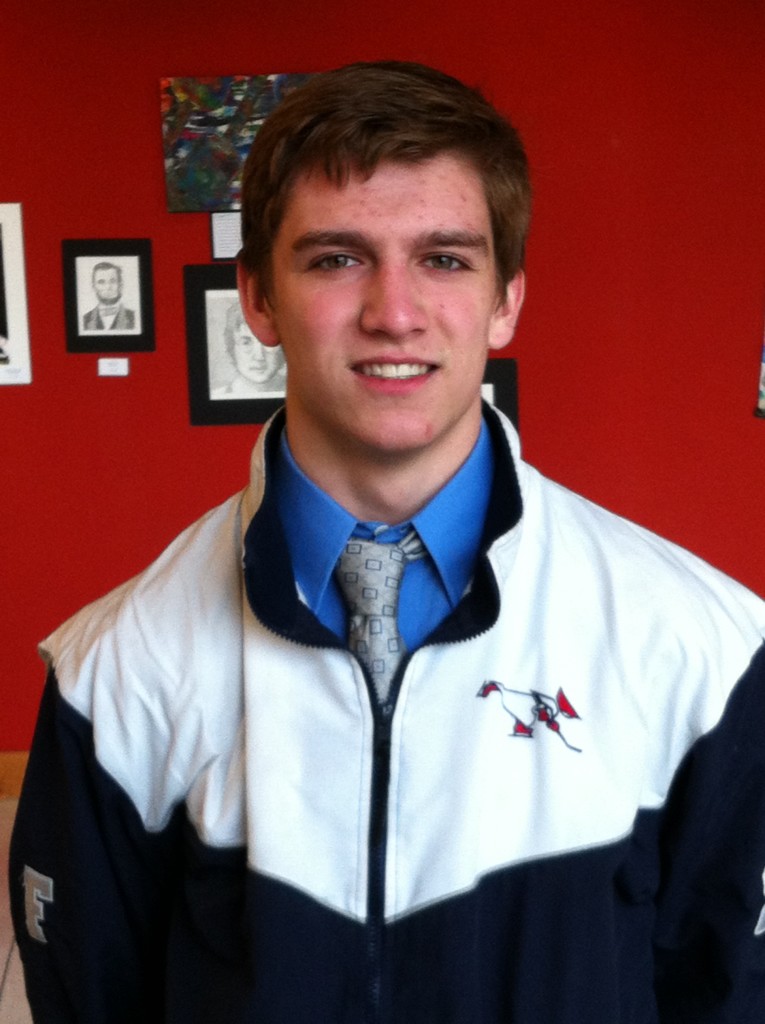 Where did you go to school?
Joey Abel: I went to school at Paxon Hollow Middle School in Marple Newtown before I came to Malvern in 9th grade.
How has your time here at Malvern been for you?
Malvern has been a great fit for me. It has been a terrific two and a half years so far and I cannot wait for the rest of my time here.
How is the hockey team doing this year? Any big matchups coming up?
We started off the season really well. Our play has dropped off a bit in our most recent games, but we know we can play better. Everyone on the team knows we can keep improving. The biggest stretch of the year is coming up. We play LaSalle this Friday, which also happens to be Senior Night. Next week we play Prep, another huge game.
What position do you play? Why are you that certain position?
I play center. Mostly because I am good at taking faceoffs and responsible defensively. The most important attribute that centers should have is versatility.  I take pride in preventing the other team from scoring and then turning that defense to offense.
What is the team goals this year and how do you hope to achieve them?
Our team goal this year is to win the Flyers Cup. I hope to be able to lead the team as much as possible by going out and beating some of the teams we have had trouble with in the past. If everyone continues to buy in to what Coach Dorman wants us to do, I don't see a reason why we won't win the Flyers Cup.
How do the coaches prepare you to succeed?
Coach Dorman has been an exceptional leader for us this year. It starts at practice, where he gets us to work hard and even have some fun while doing it. Every game he comes in the locker room with a specific goal, which he reminds us about throughout the game. Whenever we reach the goal he sets, whether it be blocked shots or crashing the net more, nine times out of ten, we win.
Do you have any superstitions before you play?
I try not to have any superstitions because if I happen to not do it before a game, I'll keep thinking about it and not be focused on the game. But, there are two that I never forget to do. The first is to never allow anyone to touch my stick after I tape it. The second is to always be the last player on to the ice for the game. I learned the first from Sidney Crosby and I have no clue why I like being the last player on the ice, but its stuck with me now.
Do you have a specific routine? If so, what is it?
Before every game, our team warms up together for about 15 minutes. Once that is complete, I stretch a little bit by myself. Then, Doug Hook and I usually juggle a soccer ball for a few minutes in the hallway. Next, I un-tape my stick and start to get dressed in my equipment. Finally, once I am finished getting dressed, I tape my stick
Hockey is such a fast moving sport, how do you slow the game down when it is run at such a high rate?
You have to have great poise and patience with the puck while playing in order to slow the game down. Also, you have to learn to speed your body and your mind up in order to keep pace with the game.
What has been your highlight playing for the Malvern Prep Hockey Team?
Freshman year, we played St. Joe's Prep in the Flyers Cup and it was a great game. It ended up going to overtime and Patrick Porkka scored the game winner. Everyone joined him at the student section and it was just a great moment.
What does Malvern mean to you?
Malvern means so much to me. Everyone talks about the brotherhood here and it's true. Nothing is better than being able to come to school every day and enjoying every minute spent.
What is your favorite part of Malvern?
My favorite part of Malvern is the prayer the hockey team does before a game. It usually is an "Our Father" or a "Hail Mary" followed by an "Our Lady of Victory" and an emphatic "Pray For Us!" by the whole team. These prayers are special because Father Flynn usually leads them.
Every team needs a good leader; how do you lead your team on and off the ice?
I try to be the best leader I can by leading by example on the ice. If I can go out and work hard every shift it usually makes everyone go out and work every shift. On the ice, I try to stay positive even through tough parts of the game.
Off the ice, I try to help the seniors conduct the warm-ups and keep everyone in the locker room positive and focused on the game. If everyone on the team is focused and prepared, we have a better chance to win the game.