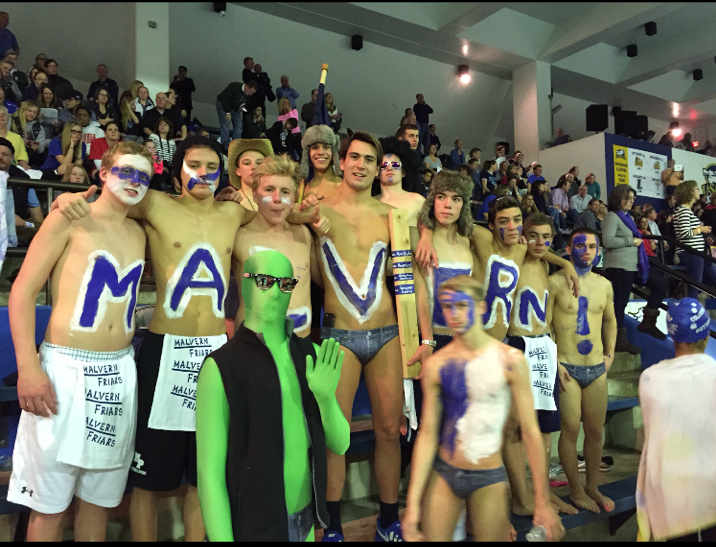 With their third straight Inter-Ac championship, the Malvern Swim team proved that winning an Inter-Ac Championship requires hard work, constant training, and dedication.
The Friars took the title with four wins against Episcopal, Germantown Academy, The Haverford School, and Penn Charter.
"I am of very proud of my team's accomplishments.  Number one in the classroom, number two in the pool, and number three the legacy that gets passed from the senior class down to the younger swimmers," said Head Coach Mr. Jay Schiller.
However, this type of success does not happen overnight.  During the season, the team committed six to eight workouts a week, including vigorous practices every Wednesday, where the team practiced from 6:15 to 7:15 AM and again at the end of the school day.
Also, during the off season, several swimmers train with club teams. They are also encouraged to work out with Mr. Miller in the weight room.  The constant effort the players and coaches put into  these workouts and practices are the biggest reasons why the swim team has been a dominant force for the last three years.
The team took a trip to Florida over Christmas break to train. During this trip, they swam between five and six miles a day. This trip also gave the team an opportunity to bond as a team.
The captains this year were Peter Calvaresi '15 and Brandon Fronczak '15. According to Schiller, these captains along with the other senior swimmers have been great leaders and role models for the younger guys.
Calvaresi shared his most memorable moment this year, the victory over Episcopal.
"It wasn't as close as some of our other meets, but the win secured our third consecutive Inter-Ac title," said Calvaresi. "After the meet, the team was really energized and during our post-meet huddle, we managed to throw the coaches in the pool."
The juniors and seniors on this team are in the unique position of winning Inter-Ac Championships for three years in a row. Few Malvern sports teams who have had such an accomplishment.
Calvaresi said the biggest challenge this year to win the Inter-Ac for a third straight year was defeating The Haverford School. "We knew going into the final relay that we couldn't let them get first and second in order to win and our 'A Relay' made sure that didn't happen, which allowed us to win the meet."
After winning two championships, Coach Schiller said, "The team had a target on their back and all of the other teams were gunning for them. Winning under this type of pressure is a testament to the camaraderie of the team."