Athlete of the Issue: Brent Greeley '16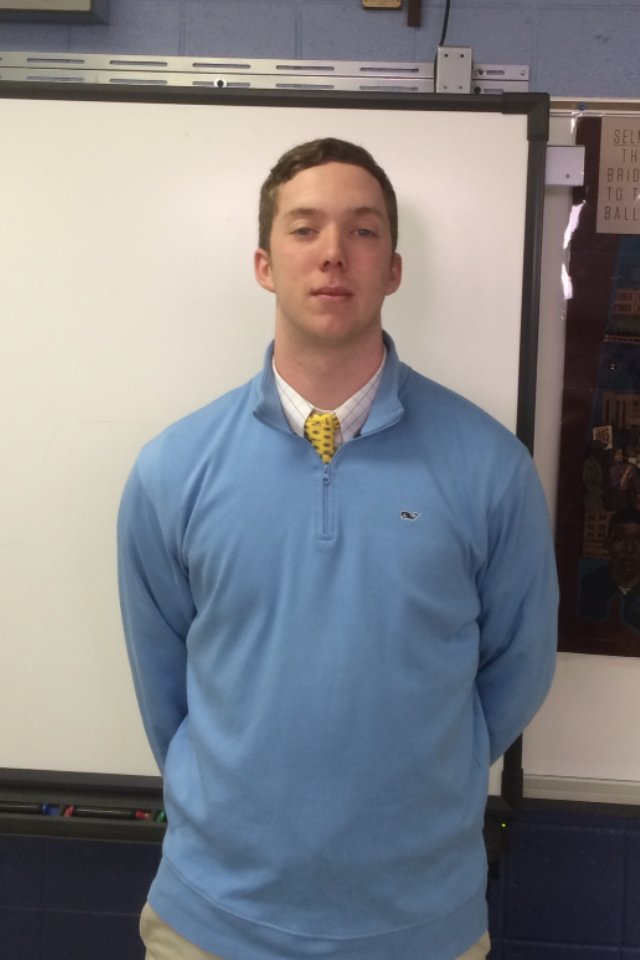 Being a part of the Malvern Baseball pitching staff is an achievement in of itself, but to excel at is even more of an accomplishment. Junior pitcher Brent Greeley has done just that during his time at Malvern. We interviewed him about his baseball experiences as well as team expectations.
Where did you go to grade school before you attended Malvern?
I went to Pocopson Elementary school in the Unionville Chadds-Ford school district and I came to Malvern in 6th grade.
When did you first fall in love with the game of baseball?
I always wanted to play sports at the next level, and I felt like baseball presented me with the best opportunity to achieve that. I've been playing all my life and have always loved the game.
What does Malvern mean for you?
Malvern is like my second home. The brotherhood and family I have developed with my classmates is a bond that I will share with them for the rest of my life.
So, with the start of a new season, what are the expectations for this year?
I think we have a special team this year. I'm looking forward to contributing to helping our team win an Inter-Ac title and also the Independent State Championship. I think we have a very talented group with some determined senior leaders that will carry us a long way this year.
What have you and your team done to prepare for this year's season?
We had team workouts throughout the fall and winter, and have been trying to get in shape so when the weather gets better we will be ready to go. Being prepared and doing offseason work is something we take advantage of every year.
What has been your best moment playing for the Friars?
Being part of the team that won the Independent State Championship last year has been my best moment so far playing for the Friars. We beat the Haverford School in the semi-finals in one of the closest games I've been apart of and used that momentum we had to beat the Perkiomen School later that day. It was an awesome experience and I hope I have more like that this season.
The team went to Myrtle Beach last year. Is this going to happen again this year? When? What does this trip do for the team?
We are going to Florida this year over the spring break during the first week of April. This trip is something that we look forward to as a team every year. It gives us the opportunity to get into the warm weather and play against teams from other areas that we don't normally play. It also brings us closer as a team by spending a week together, which always helps us when we come back.
Being a pitcher is widely considered the toughest position in all of baseball; what goes through your mind throughout a game? (Starter or Relief?)
I play both roles as a starter and relief pitcher, and looks forward to filling in wherever is needed this year. Staying calm and focused is a huge part of pitching. When I'm out there, I try to stay calm and not overthink what I'm doing. With all the practice and reps our team puts in, I always feel like I'm prepared when I enter in a game to pitch.
How do you decide what to pitch? Is it mostly the catcher, coaches, or yourself calling the shots?
Coach Moyer is our pitching coach and he calls all of the pitches. He has been the pitching coach at Malvern for a long time and has always called the pitches.
What pitches are in your repertoire?
I throw a two and four seam fastball, a curveball, and a changeup. I have been working on a slider as my fourth pitch but it still needs some work.
So, bases loaded, ninth inning, up by one run, full count; what pitch are you throwing? (Which is most comfortable?)
I feel comfortable with the defense I have behind me. I would throw a fastball and try and let the players behind me get the out to win us the game.
So before a start/ appearance, what are your antics that are unique to you when you pitch? Any superstitions of any kind?
I like to go off and stretch on my own and get mentally prepared for the game. I follow a pretty basic protocol and always make sure I hydrate before I get ready to go out on the mound.
Do you know your stats off the top of your head?
I don't know the my stats off the top of my head, but as a team we finished 27-9.
Describe the teaching strategies your coaches enhance?
I think a huge thing that our coaches stress are taking things one step at a time, game by game. We always need to be 100% focused on the task at hand if we plan on succeeding, we can't be looking ahead to the future.
As a team we try and set high goals and expectations. Our goal is to win the Inter-Ac and State Championship and I don't think there is any reason why we can't do that if we play as a team and execute one game at a time.